Main content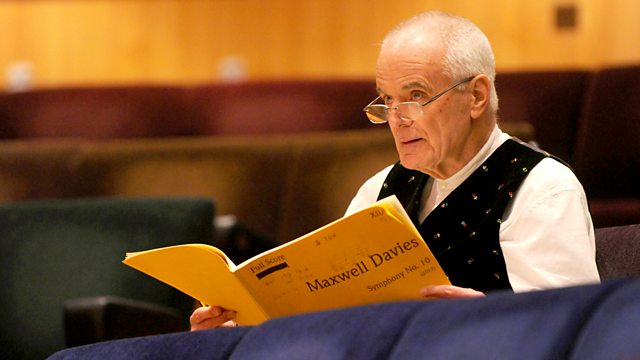 Donald Macleod explores how the landscape and people of the Orkney Islands influenced Peter Maxwell Davies's music.
Donald Macleod explores the music of Peter Maxwell Davies, who died a year ago this week at the age of 81. The contribution this former Master of the Queen's Music had made to the musical life of these islands as a hugely prolific composer, performer and teacher, is incalculable. Born in Salford in the 1930s, one of the composer's first musical memories was listening to foxtrot records under his parents' staircase as the bombs were falling during the Second World War. In the 1960s he was considered the 'enfant terrible' of new British music, writing the soundtrack for Ken Russell's controversial film 'The Devils' and even provoking an audience walk-out during the BBC Proms. However his music and life was to change as he came under the spell of the desolate Orkney islands, which he first visited in the early 1970s before moving there a few years later for the rest of his life.
Composing in a small crofthouse overlooking the dramatic seascapes of Rackwick Bay on the isle of Hoy to the sounds of the wind and sea, it was inevitable that the landscape would influence his music. Maxwell Davies was obsessed with the wave forms he could see through his window and devised a mathematical formula that reflected their different forms which provided the musical basis of his Second Symphony. Presenter Donald Macleod, who visited the composer twice in the Orkneys, also looks at how old Scottish tales of the sea provided inspiration as well as a unexpected visit from a rare sea bird and a dramatic sunrise under the influence of whisky.
Golden Whale, Ancient Trust and 3 Seascapes - from Westerlings
BBC Singers
Simon Joly, conductor
Symphony No.2 (fourth movement)
BBC Philharmonic
Peter Maxwell Davies, conductor
Sea Eagle (first movement)
Michael Thompson, horn
The Lighthouse (excerpt)
Neil Mackie, Sandy
Christopher Keyte, Blaze
Ian Comboy, Arthur
BBC Philharmonic
Peter Maxwell Davies, conductor
An Orkney Wedding with Sunrise
George McIlwham, bagpipes
Scottish Chamber Orchestra
Peter Maxwell Davies, conductor.