Main content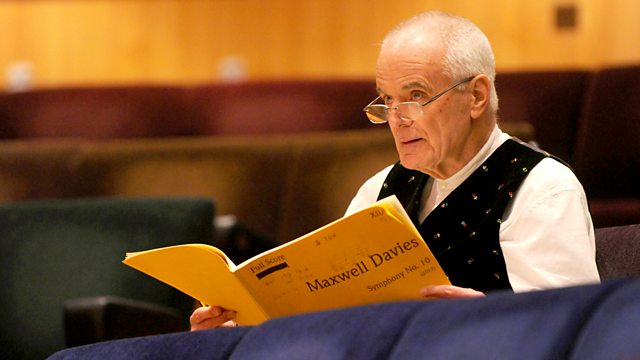 From plainchant to foxtrots, Donald Macleod explores how Peter Maxwell Davies delved into the past for musical inspiration that shocked 1960s audiences.
BBC Radio 3 explores the music of Peter Maxwell Davies, who died a year ago this week at the age of 81. The contribution this former Master of the Queen's Music had made to the musical life of these islands as a hugely prolific composer, performer and teacher, is incalculable. Born in Salford in the 1930s, one of the composer's first musical memories was listening to foxtrot records under his parents' staircase as the bombs were falling during the Second World War. In the 1960s he was considered the 'enfant terrible' of new British music, writing the soundtrack for Ken Russell's controversial film 'The Devils' and even provoking an audience walk-out during the BBC Proms. However his music and life was to change as he came under the spell of the desolate Orkney islands, which he first visited in the early 1970s before moving there a few years later for the rest of his life.
In 1953 Peter Maxwell Davies went to Manchester University to study music. The Professor of Composition had two pieces of advice for the budding composer - 'don't listen to anything before 1550' and 'no music after Delius is worth bothering with'. It was advice that Maxwell Davies pointedly ignored as he pored over volumes of Tudor sacred music as well as studying the latest avant-garde techniques in Europe. From the sad incarceration of George III to the story of Tudor composer John Taverner, Donald Macleod takes a look at how Maxwell Davies' modern treatment of historical subjects and musical forms both enchanted and enraged 1960s concert-goers.
Suite from The Devils, Sister Jeanne's Vision
Aquarius
Nicholas Cleobury, conductor
Five Pieces for Piano, Op.2
John Ogdon, piano
Points and Dances from Act 2 of Taverner
The Fires of London
Peter Maxwell Davies, conductor
Pavans 1 and 2 from Fantasia and Two Pavans
The Fires of London
Peter Maxwell Davies, conductor
Eight Songs for a Mad King (excerpts)
Julius Eastman (singer)
The Fires of London
Peter Maxwell Davies, conductor
Worldes Blis (sixth movement)
Royal Philharmonic Orchestra.