Main content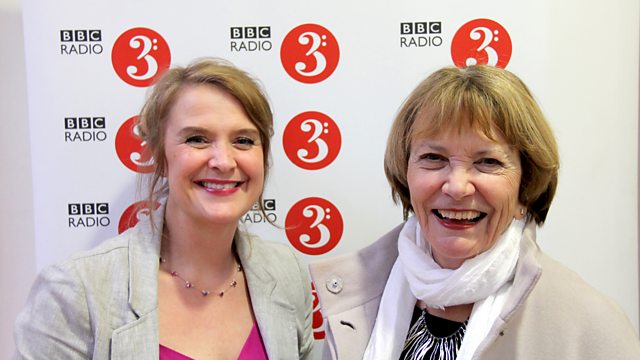 Tuesday - Sarah Walker with Joan Bakewell
With Sarah Walker. Includes Musical challenge; Music in Time: arrangements of British folk songs; Artist of the Week: pianist Dinu Lipatti, featured performing Bach's Partita No 1.
9am
Sarah sets the tone and mood of the day's programme with a range of music to intrigue, surprise and entertain.
9.30am
Take part in today's musical challenge: listen to the clues and identify a mystery musical person.
10am
Sarah's guest in the week leading up to Radio 3's Free Thinking weekend, 'The Speed of Life', is the broadcaster, novelist and journalist Joan Bakewell. Joan began her TV career in the 1960s presenting shows such as Late Night Line-Up, later becoming BBC TV's Arts Correspondent. She has specialised in programmes about religion and ethics - presenting Heart of the Matter on BBC 1, also Belief on BBC Radio 3, and Inside the Ethics Committee on BBC Radio 4 - and she is currently the presenter of Portrait Artist of the Year and Landscape Artist of the Year on Sky Arts. Over the course of her career, Joan has written for most of the UK's newspapers including The Sunday Times, The Guardian and The Daily Telegraph and has published a number of novels and autobiographical books, most recently discussing ageing and the changes in today's society. She's also served as chair of the British Film Institute and on the council of the Aldeburgh Festival. As well as discussing her life and work, Joan has chosen a selection of her favourite classical music.
10.30am
Music in Time: Classical
Today Sarah's in the Classical period unearthing a rather forgotten part of the repertoire. Beethoven is renowned for his symphonies, but he composed more folksong arrangements than any other type of composition, most of them from the British Isles. Sarah explores the long tradition of continental composers arranging folksongs in return for a British pound!
Double Take
Sarah explores the nature of performance by highlighting the differences in style between two versions of Pergolesi's Stabat Mater, one accompanied by a modern symphony orchestra and the other by a period ensemble.
11am
Artist of the Week: Dinu Lipatti
Sarah's Artist of the Week is the Romanian pianist Dinu Lipatti. Severely restricted by his delicate health, he never attended school, toured only within a small area of Europe and died aged only 33. The life and career of Dinu Lipatti was cut tragically short, but despite this he became a critically acclaimed pianist and composer. After unofficially entering the Bucharest Conservatory aged 11, he came second in the Vienna International Piano Competition only five years later. One of the judges at the competition was the pianist Alfred Cortot who, hearing the result, resigned in protest. Cortot later became his teacher and, on Cortot's advice, he studied composition with Paul Dukas and after his death, with Nadia Boulanger. There are very few recordings of Lipatti's playing, but from this limited catalogue Sarah has chosen his classic interpretations of Chopin's Piano Sonata No.3 in B minor, Mozart's Piano Concerto No.21, the piano concertos of Schumann and Grieg, a range of shorter works by Chopin and Liszt, and Myra Hess's arrangement of Jesu, Joy of Man's Desiring, the last piece he played in concert before his death.
J.S. Bach
Partita No.1 in B flat major, BWV825
Dinu Lipatti (piano).
Music Played
Joan Bakewell's First Choice

Joan Bakewell's Second Choice

Music in Time: Classical

Double Take

Artist of the Week: Dinu Lipatti
Musical Challenge: Mystery Person
The composer in question was Eric Coates - composer of, amongst other famous tunes, 'By the Sleepy Lagoon', which is heard every week on Radio 4 as the theme tune to Desert Island Discs.