Main content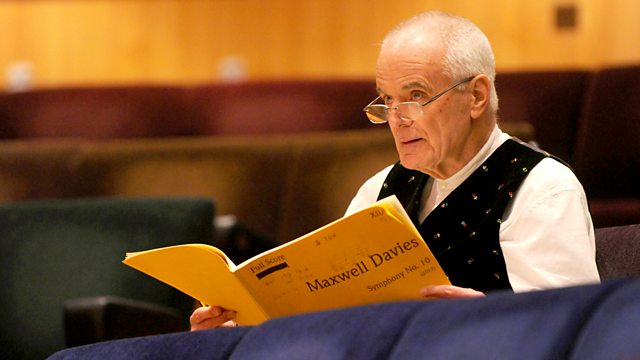 Donald Macleod considers how the Orkney Islands' landscape, history, environment, myths and its people inspired Peter Maxwell Davies's work.
Donald Macleod explores the music of Peter Maxwell Davies, who died a year ago this week at the age of 81. The contribution this former Master of the Queen's Music has made to the musical life of our islands is incalculable. He was a hugely prolific composer, performer and teacher. Born in Salford in the 1930s, one of the composer's first musical memories was listening to foxtrot records under his parents' staircase as the bombs were falling during the Second World War. In the 1960s he was considered the 'enfant terrible' of new British music, writing the soundtrack for Ken Russell's controversial film 'The Devils' and even provoking an audience walk-out during the BBC Proms. However his music and life was to change as he came under the spell of the Orkney islands, which he first visited in the early 1970s before moving there a few years later for the rest of his life.
Donald Macleod twice visited the composer in Orkney, and begins the week with an exploration of how the islands' landscape, history, environment, myths and its people inspired his work.
Farewell to Stromness
Peter Maxwell Davies, piano
Symphony No.1 (second movement)
Philharmonia Orchestra
Simon Rattle, conductor
Martyrdom of St Magnus (excerpt)
Earl Magnus, Christopher Gillett (tenor)
Herald of Earl Magnus, Peter Thomson (tenor)
Earl Hakon, Kelvin Thomas (baritone)
Herald of Earl Hakon, Richard Morris (baritone)
Music Theatre Wales with the Scottish Chamber Opera Ensemble
Michael Rafferty, conductor
Black Pentecost (second movement)
Della Jones, mezzo soprano
David Wilson-Johnson, baritone
BBC Philharmonic
Peter Maxwell Davies, conductor
A Spell for Greencorn: The MacDonald Dances (excerpt)
James Clark, violin
Peter Maxwell Davies, conductor.
More episodes
Previous
You are at the first episode