Main content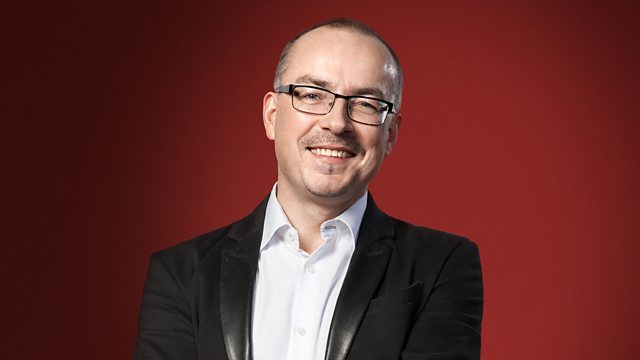 Andrew McGregor with Nicholas Baragwanath and Erica Jeal
With Andrew McGregor. Including Building a Library: Schoenberg's Gurrelieder; New releases, including Nielsen, Szymanowski, Dvorak, Saint-Saens and Brahms; Disc of the Week.
with Andrew McGregor.
0930
Building a Library on Schoenberg's epic cantata Gurrelieder. Nicholas Baragwanath guides us through this gargantuan late flowering of 19th-century Romanticism in which Schoenberg wove together a sumptuous score that can be surprising to people accustomed to the more astringent sound world of his later works.
1030
Erica Jeal reviews a collection of new orchestral releases including music by Nielsen, Szymanowski, Dvorak, Saint-Saëns and arrangements of pieces by Brahms.
1145
Andrew chooses an outstanding new release as his Disc of the Week.
9am
Beethoven: Violin Sonatas Nos. 6 & 9
BEETHOVEN: Violin Sonata No. 6 in A major Op. 30 No. 1; Violin Sonata No. 9 in A major Op. 47 'Kreutzer'
James Ehnes (violin), Andrew Armstrong (piano)
ONYX ONYX4170 (CD)
Beethoven - Complete Works for Solo Piano Volume 15
BEETHOVEN: Diabelli Variations Op. 120; National Airs with Variations (6) Op. 105
Ronald Brautigam (fortepiano)
BIS BIS1943 (Hybrid SACD)
Bacewicz: Chamber Music from 1934-1965
BACEWICZ: Quartet for Four Violins; Mazovian Dance; Trio for Oboe, Violin and Cello; Theme and Variations; Quartet for Four Cellos; Polish Dance; Trip for Oboe, Harp and Percussion; Slavonic Dance
Diana Ambache (piano), David Juritz (violin), Victoria Sayles (violin), Richard Milone (violin), Charlotte Scott (violin), Ashok Klouda (cello), Rebecca Knight (cello), Sarah Suckling (cello), Morwenna Del Mar (cello), Jeremy Polmear (oboe), Lucy Wakeford (harp), Tristan Fry (percussion)
AMBACHE RECORDINGS AMB2607 (CD)
Trio Mediaeval & Arve Henriksen – Rimur
Chats, hymns, folksongs and improvisations based on Icelandic, Norwegian and Swedish sources
Trio Mediaeval: Anna Maria Friman (voice, hardangar fiddle), Linn Andrea Fuglseth (voice, shruti box), Berit Opheim (voice), Arve Henriksen (trumpet)
ECM 4814742 (CD)
9.30am - Building a library
Building a Library: a weekly look at a piece of music, a comparison of the available recordings, and a recommendation.
Composer: Arnold Schoenberg
Piece: Gurrelieder
Reviewer: Nicholas Baragwanath
Building a Library: Schoenberg's Gurrelieder
Recommended recording:
Thomas Moser (Waldemar), Karita Mattila (Tove), Anne Sofie von Otter (Waldtaube), Philip Langridge (Klaus-Narr), Thomas Quasthoff (Bauer/Sprecher), Rundfunkchor Berlin, MDR Rundfunkchor Leipzig, Ernst-Senff-Chor Berlin, Berliner Philharmoniker, Sir Simon Rattle (conductor)
Part of the Second Viennese School box
BERG: Lulu-Suite (Five Symphonic Pieces) for soprano and orchestra; Violin Concerto 'To the Memory of an Angel' (1935)
BRAHMS: Piano Quartet No. 1 in G minor Op. 25 (arranged for Orchestra by Schoenberg)
SCHOENBERG: Erwartung Op. 17; Chamber Symphony No. 1 in E major Op. 9; Variations for Orchestra Op. 31; 5 orchestral pieces Op. 16; A Survivor from Warsaw Op. 46
City of Birmingham Symphony Orchestra, Birmingham Contemporary Music Group
WARNER CLASSICS 4575622 (5CD)
Other recommended recordings:
Below is a shortlist of other recordings which Nicholas Baragwanath also liked, although we can't guarantee the availability of these discs.
Stig Andersen (Waldemar), Soile Isokoski (Tove), Monica Groop (Waldtaube), Andreas Conrad (Klaus-Narr), Ralf Lukas (Bauer), Barbara Sukowa (Sprecher), Philharmonia Voices, City of Birmingham Symphony Chorus, The Philharmonia Orchestra, Esa-Pekka Salonen (conductor)
SIGNUM SIGCD173
James McCracken (Waldemar), Jessye Norman (Tove), Tatiana Troyanos (Waldtaube), Kim Scown (Klaus-Narr), David Arnold (Bauer), Werner Klemperer (Sprecher), Tanglewood Festival Chorus,  Boston Symphony Orchestra, Seiji Ozawa (conductor)
PHILIPS 4125112
Siegfried Jerusalem (Waldemar), Susan Dunn (Tove), Brigitte Fassbaender (Waldtaube), Peter Haage (Klaus-Narr), Hermann Becht (Bauer), Hans Hotter (Sprecher), Stadtischer Musikverein Dusseldorf, Deutsches Symphonie-Orchester Berlin, Riccardo Chailly (conductor)
DECCA E4737282
Stuart Skelton (Waldemar), Alwyn Mellor (Tove), Anna Larsson (Waldtaube), Wolfgang Ablinger-Sperrhacke (Klaus-Narr), James Creswell (Bauer), Sir Thomas Allen (Sprecherr), Bergen Philharmonic Choir, Choir of Collegium Musicum, Edvard Grieg Kor, Orphei Drangar, Students from the Royal Northern College of Music, Bergen Philharmonic Orchestra, Edward Gardner (conductor)
CHANDOS CHSA5172(2)
10.20am – Mozart new releases
Mozart & Schumann: Fantaisies
MOZART: Fantasia in C minor, K475; Piano Sonata No. 14 in C minor, K457
SCHUMANN: Fantasie in C major Op. 17; Theme with Variations in E flat major WoO 24 ('Geistervariationen')
Piotr Anderszewski (piano)
WARNER CLASSICS 9029588855 (CD + DVD Video)
MOZART: Mass in C minor, K427 'Great', ed. Wolf and Bernius
Sarah Wegener (soprano), Sophie Harmsen (mezzo-soprano), Colin Balzer (tenor), Felix Rathgeber (bass), Kammerchor Stuttgart, Hofkapelle Stuttgart, Frieder Bernius (conductor)
CARUS CARUS83284 (CD)
Mozart: Mass in C minor, K427 'Great'
MOZART: Mass in C minor, K427 'Great', ed. Beyer; Exsultate, jubilate, K165
Olivia Vermeulen (mezzo), Makoto Sakurada (tenor), Christian Immler (bass), Carolyn Sampson (soprano), Bach Collegium Japan Chorus, Orchestra, Masaaki Suzuki (conductor)
BIS BIS2171 (Hybrid SACD)
Loves me… Loves me not… Camilla Tilling sings Gluck and Mozart Arias
GLUCK: Qual vita e questa mai...Che fiero momento (from Orfeo ed Euridice); Che fiero momento (from Orfeo et Euridice); Enfin, il est en ma puissance (from Armide); Quel trouble me saisit (from   Armide); Ah! Si la liberte me doit etre ravie (from Armide); O malheureuse Iphigenie! (from Iphigenie en Tauride)
MOZART: Idomeneo, K366: Overture; Quando avran fine omai ... Padre, germani, addio! (from Idomeneo); Zeffiretti lusinghieri (from Idomeneo); Giunse alfin il momento... Deh, vieni, non tardar… (from Le nozze di Figaro); Temerari!...Come scoglio! (from Cosi fan tutte); Ei parte...Per pieta (from Cosi fan tutte); E Susanna non vien! … Dove sono i bei momenti (from Le nozze di Figaro)
Camilla Tilling (soprano), Musica Saeculorum, Philipp von Steinaecker
BIS BIS2234 (Hybrid SACD)
MOZART: La clemenza di Tito, K621
Kurt Streit (Tito), Karina Gauvin (Vitellia), Julie Fuchs (Servilia), Julie Boulianne (Annio), Robert Gleadow (Publio), Kate Lindsey (Sextus), Le Cercle de l'Harmonie, Jeremie Rhorer
ALPHA ALPHA270 (2CD)
10.50am – Erica Jeal reviews new orchestral releases
Dvorak: Symphony No. 9 & The Hero's Song
DVORAK: The Hero's Song Op. 111; Symphony No. 9 in E minor Op. 95 'From the New World'
NDR Elbphilharmonie Orchestra, Krzysztof Urbanski
ALPHA ALPHA269 (CD)
Brahms-Glanert: Four Serious Songs
BRAHMS – GLANERT: Vier Präludien und Ernste Gesänge (based on Four Serious Songs Op. 121 arr. for baritone and orchestra by Detlev Glanert)
GLANERT: Weites Land (Distant Land)
BRAHMS – BERIO: Op. 120 No. 1 (Clarinet Sonata No. 1 arranged for clarinet and orchestra by Luciano Berio)
Michael Nagy (baritone), Kari Kriikku (clarinet), Helsinki Philharmonic Orchestra, Olari Elts
ONDINE ODE12632 (CD)
Nielsen: Flute & Clarinet Concertos
NIELSEN: Flute Concerto, FS119; Clarinet Concerto Op. 57 (FS129); Aladdin Suite Op. 34
Samuel Coles (flute), Mark Van de Wiel (clarinet), Philharmonia Orchestra, Paavo Jarvi (conductor)
SIGNUM SIGCD477 (CD)
Karol Szymanowski: Modern Times
SZYMANOWSKI: Concert Overture Op.12; Symphony No. 4 Op. 60 (Sinfonia Concertante); Nocturne & Tarantella Op. 28; Slopiewnie (Wordsong) Op. 46b
Ewa Kupiec (piano), Marisol Montalvo (soprano), Staatsphilharmonie Rheinland-Pfalz, Karl-Heinz Steffens
CAPRICCIO C5280 (CD)
Saint-Saens: Piano Concertos Nos. 1 and 2
SAINT-SAENS: Piano Concerto No. 1 in D major Op. 17; Piano Concerto No. 2 in G minor Op. 22; Allegro appassionato for piano & orchestra Op. 70
Romain Descharmes (piano), Malmo Symphony Orchestra, Marc Soustrot (conductor)
NAXOS 8573476 (CD)
11.45am – Disc of the Week
The Masque of Moments: Theatre Of The Ayre
Ayres from 17th century masques by Anon, Campion, Coperario, Ferrabosco II, Bateman, Johnson, Coleman, Henry and William Lawes, Locke, Lanier.
Theatre Of The Ayre, Elizabeth Kenny (conductor)
LINN CKD542 (CD)