Main content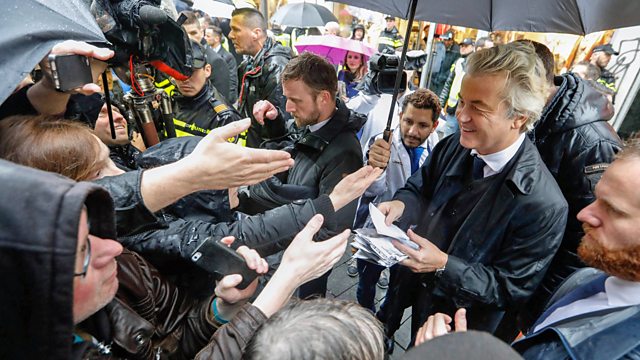 Holland's Challenge to Tolerance
Why is liberal, tolerant Netherlands home to a major anti-immigration, anti-Islamic party? Tim Whewell investigates.
Why is liberal, tolerant Netherlands home to one of Europe's most successful anti-immigration, anti-Islamic parties?
Geert Wilders' radical right-wing Party For Freedom (PVV) - which wants to close mosques and ban the Qur'an - will be one of the biggest in the new Dutch parliament. So have its voters - whom Wilders once described as "Henk and Ingrid", Holland's Mr and Mrs Average - turned their backs on centuries-old Dutch values? Or do they just understand those values in a different way?
Unlike some far-right parties elsewhere in Europe, the PVV has no neo-Nazi roots. It's loud in its support for gay and women's rights. It promotes itself as a strong defender of Holland's Jewish community. Is its ideology just an opportunistic mishmash? Or does it make some sense in a Dutch context? Searching for Henk and Ingrid, Tim Whewell sets off through Dutch "flyover country" - the totally un-photogenic satellite towns and modern villages that tourists, and Holland's own elite, rarely see.
He asks if the PVV's platform is just thinly disguised racism. Or has it raised important questions about immigration and multiculturalism that other European countries, including the UK, have been scared to ask?
Producer: Helen Grady.