Main content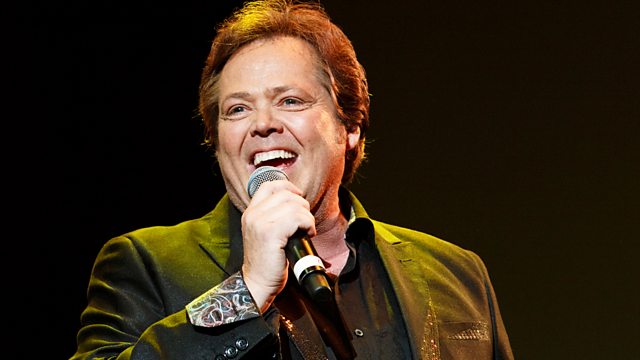 Jimmy Osmond
Aasmah Mir and the Rev Richard Coles are joined by singer Jimmy Osmond, forensic jeweller Maria McLennan, gardener Hollie Newton and former DJ Tony Prince.
Jimmy Osmond is only 53 - but has 50 years of showbiz under his belt. How does he do it?
Maria MacLennan trained as jewellery designer but found her way, unexpectedly, into a very different (if related) field. She's now developed a career as a forensic jeweller, sent for to reunite owners with jewellery, but also, in the event of disasters like a plane crash, or a building collapse, to reunite owners with their identities when dental records or DNA may not be forthcoming. And to capture the stories that jewellery tells about owners, relationships, family histories.
The choreographer was Dougie Squires, who in seven decades has worked with around ten thousand dancers, is best known for the Second Generation. Now Dougie's come out of retirement with seventy five of those dancers to celebrate Dame Vera Lynn's 100th Birthday. We sent JP Devlin, whose running man at Belfast's Sugar Sweet helped define the Northern Ireland of the early nineties, to meet Dougie during a break in the rehearsals.
If you're like Aasmah and have finally acquired a garden, then you know that you should be planting stuff in it around now. But what if you're not sure where to start? Hollie Newton was a stressed-out agency worker who started planting things in a window box and making lots of mistakes. These days she knows what she's doing and has written a book for people like me who haven't a clue, containing useful jargon-free chapters like 'Things I Wouldn't Bloody Bother With' and 'Overplanting Compulsion Disorder'...
Tony Prince the disc jockey began his working life as a real jockey, an apprentice with Willie Carson. But it was with spinning discs rather than racing nags that he made his name, on the pirate ship Caroline and then at Radio Luxembourg, before going to a glittering career in dance music. Back then he was already one of the most enterprising of DJs, touring Czechoslovakia in the Communist era, when deviating from the party line was dealt with ruthlessly. He met there a young railway worker called Jan Sestak, a secret pop fan and aspiring DJ, a risky business back. They have been friends for over forty years and they've written a book - "The Royal Ruler and The Railway DJ".
The Inheritance Tracks
Fearne Cotton - DJ, presenter, 20 years in showbiz - says it's time to slow down a bit and appreciate the simple things in life. This is someone who started in TV at the age of 15 after winning a competition to present The Disney Club. 20 years on, she has worked on Fame Academy, Top of the Pops, Children in Need, The BRIT Awards and of course Radio 1. But Fearne recently talked about her experience of depression and described how she used to put on a fake smile and go into "robot mode" to do her job. We asked her to chill out while she picked her inheritance tracks.
Fearne's tracks were (Good Times Bad Times) Led Zeppelin & (Rocket Man) Elton John (Rocket Man)
Editor: Eleanor Garland.
Last on
Credits
| Role | Contributor |
| --- | --- |
| Presenter | Aasmah Mir |
| Presenter | Richard Coles |
| Presenter | JP Devlin |
| Interviewed Guest | Jimmy Osmond |
| Interviewed Guest | Maria MacLennan |
| Interviewed Guest | Dougie Squires |
| Interviewed Guest | Hollie Newton |
| Interviewed Guest | Tony Prince |
| Interviewed Guest | Fearne Cotton |
| Editor | Eleanor Garland |
Broadcast