Main content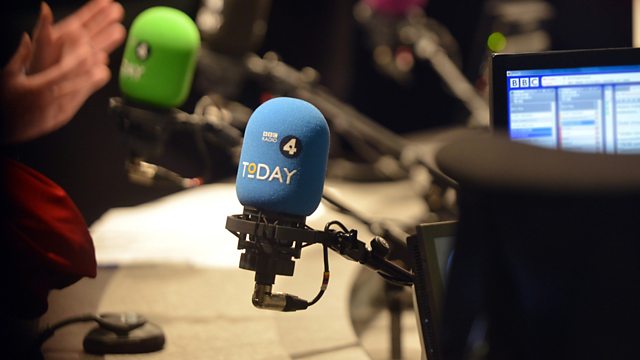 14/03/2017
Morning news and current affairs. Including Yesterday in Parliament, Sports Desk, Weather and Thought for the Day.
Last on
Today's running order
0650
Parenthood can make you live longer, according to new research published in the Journal of Epidemiology and Community Health.  Karin Modig is a research author from the Karolinska Institute in Stockholm.
0655
Half of employers say that British graduates lack the skills needed for the workplace when they are first hired. Stephen Isherwood is the chief executive of the Association of Graduate Recruiters.
0710
It's reported in the Times that Theresa May will reject Nicola Sturgeon's demands for a second independence referendum within the next two years. Anas Sarwar is Labour MSP for the Glasgow Region. 
0720
The public are at a growing security risk because of all the gadgets we use, including smart phones, fitness trackers and televisions. Donald Toon is Director of Prosperity (Economic crime and cyber crime) at the NCA.
0730
Violence in jails in England and Wales is at record levels - much of it fuelled by the illicit trade in drugs, such as the synthetic cannabis Spice, and the supply of mobile phones. John Podmore is a former head of the Prison Service's Anti-Corruption Unit and now an International Prison Services consultant.
0740
Muirfield golf club is set to announce the result of a vote on whether to admit female members. Maureen McGonagle is from the Scottish Women in Sport Foundation.
0750
Serious concerns have been raised over the use of public money by one of David Cameron's flagship projects – the National Citizen Service. Meg Hillier is Labour chair of the Public Accounts Committee and Stephen Green is chair of the National Citizen Service.
0810
It is reported in the Times that Theresa May will reject Nicola Sturgeon's demands for a second independence referendum within the next two years. Fiona Hyslop is the SNP's Culture and External Affairs Minister.

0830
More than 450 researchers from all over the country descend on Aberdeen today for their annual conference on dementia. Hilary Evans is chief executive of Alzheimer's Research UK.
0850
A new after-school vlogging club says it's been "blown away" by demand for its classes after they opened last month. Nick Ellison is founder of the Tubers Academy which teaches children vlogging skills.
All subject to change.
Today's running order
0650
An oil tanker has been hijacked by suspected pirates off the coast of Somalia. Reports suggest it is the first such hijacking in the region in five years. Gerry Northwood is chief operating officer at MAST, the maritime risk management consultancy, and former Royal Navy counter-piracy commander.
0655
You may have seen male banana fiddler crabs, on nature documentaries, waving their brightly coloured giant claw to catch a female's attention, but scientists have now studied their drumming signal as well. Dr Sophie Mowles is a lecturer in behavioural ecology at Anglia Ruskin University.
0710
Donald Trump earned more than $150 million in the year 2005 but paid just a small percentage of that in regular federal income taxes. Betsy Mccaughey is a former economic advisor to the Trump campaign.
0715
Some Conservative MPs are furious at their own party about the way it's handled allegations about election expenses. Today's Ross Hawkins reports.
0730
Voters are due to go to the polls across the Netherlands in a closely watched general election. The BBC's Europe correspondent, Gavin Lee, reports.
0740
Are we ready for driverless cars? A report into Driverless cars by the House of Lords Science and Technology Committee claims the Government suggests we may not be. Professor Paul Newman is a BP professorial fellow in information engineering at the University of Oxford and founder of Oxbotica and Steve Gooding is director of the RAC Foundation.
0750
There's been a record number of incidents of identity theft, according to the fraud prevention organisation CIFAS. It says there were over 170,000 incidents in 2016. Mike Haley is deputy-chief executive of CIFAS.
0755
East African nations on the brink of famine are facing 'the worst humanitarian crisis since WW2' according to the United Nations. Andrew Harding is the BBC's Africa correspondent and Saleh Saeed is chief executive of the Disasters Emergency Committee.
0810
An increasing number of European lorry drivers are being forced to live in their vehicle. Today's reporter travelled across northern Europe investigating living conditions for drivers described by one judge as "inhumane". Zoe Conway reports and Agnes Jongerius is a Dutch trade unionist and politician.
0820
Germany's justice minister is proposing fines of up to 50 million euros ($53 million) for social networking sites that fail to swiftly remove illegal content, such as hate speech or defamatory ``fake news.'' James Blessing is a chair of The Internet Service Providers' Association
0830
The European Union (Notification of Withdrawal) Bill has cleared its hurdles in the Commons and Lords and is awaiting Royal Assent. Lord Ricketts is a former Permanent Secretary to the Foreign and Commonwealth Office (2006-2010).
0840
The Supreme court rules later on whether the Court of Appeal was right to award inheritance money to a daughter, who'd become estranged from her mother. Clive Coleman is the BBC's legal correspondent,
0850
This year marks a hundred years since the Russian revolution. Robert Service is a professor of Russian history at St Antony's College, Oxford. His book 'Last of the Tsars: Nicholas II and the Russian Revolution' was published this month.  Catherine Merridale is a writer and historian, whose latest book, 'Lenin on the Train', is out in paperback next month.
All subject to change.
Broadcast