Main content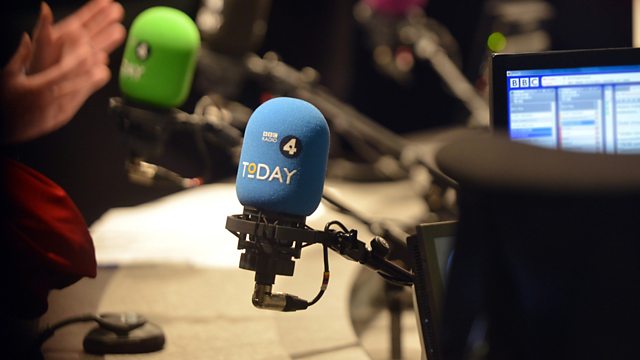 02/03/2017
Morning news and current affairs. Including Yesterday in Parliament, Sports Desk, Weather and Thought for the Day.
Last on

Today's running order
0650
A number of species of curlew and godwit are under threat according to a new study published in the journal Bird Conservation International. Nicola Crockford is the principal policy officer at the RSPB.
0655
An Institute for Fiscal Studies report looking at living standards, poverty and inequality suggests that household income will not grow at all for the next two years. Andrew Hood is one of the authors of the report and a senior research economist at IFS.
0710
Late last night in Washington, the Department of Justice confirmed the new Attorney General Jeff Sessions had met the Russian Ambassador during the Trump election campaign. The BBC's North America editor Jon Sopel reports.
0715
Policing in England and Wales is in a "potentially perilous state" according to the police standards watchdog. Dr Alan Billings is South Yorkshire police and crime commissioner.
0720
A key member of a Vatican commission set up to tackle child abuse has resigned. Marie Collins, who is herself a survivor of clerical abuse, said the Vatican bureaucracy was failing to cooperate with the commission's work.
0725
People in Surrey opposed to drilling for oil in a beauty spot near Dorking now say they aren't able to support a protest camp set up where the drill would go. The BBC's environment correspondent Claire Marshall reports.
0730
The chief inspector of hospitals in England has said that the NHS stands on a 'burning platform' and that the traditional care model was 'no longer capable' of delivering the needs of today's population. Professor Sir Mike Richards is chief inspector of hospitals in England for the Care Quality Commission.
0740
Its 50 years since the playwright Joe Orton was killed by his gay lover. Orton remains an iconic figure who challenged public attitudes towards gay people through his plays like What the Butler Saw, which is currently being staged in his home town of Leicester. Today's Sima Kotecha went along to rehearsals.
0750
Government sources say ministers will seek to overturn the defeat on its Brexit bill. The House of Lords voted to guarantee the rights of EU nationals living in the UK after Brexit. Laura Kuenssberg is the BBC's political editor and Baroness Meacher is a crossbench peer.
0810
Policing in England and Wales is in a "potentially perilous state" according to the police standards watchdog. Zoe Billingham is Her Majesty's inspector of constabulary and Mike Barton is the National Police Chiefs Council lead for crime operations.
0820
The Russian athletics federation were suspended from the Olympics in Rio, and will also be banned from the World Athletics Championships in London this August because of state-sponsored drug cheating. President Putin has now said they will establish an independent system to combat doping in his country. Garry Richardson talks to Lord Coe, head of the International Association of Athleticss Federations.
0830
Mental health and its related illnesses are estimated to cost the UK almost five per cent of its GDP, according to the OECD. Stephen Martin is the new director general of the Institute of Directors and Catherine Gazzoli is founder of Piccolo baby foods.
0840
Senior MPs from all parties have demanded the publication of the government's long delayed 25-year-plan for nature as they promised they would leave nature in a better state than they inherited it. The BBC's environmental analyst Roger Harrabin reports.
0850
According to a new study by researchers at Sheffield Hallam University, comics are a better educational resource than traditional textbooks. The study investigated how the way information is presented can affect how easily it can be memorised. Dr Paul Aleixo is the lead researcher on the study and Nicola Streeten is a graphic novelist and comic scholar.
All subject to change.
Broadcast