Main content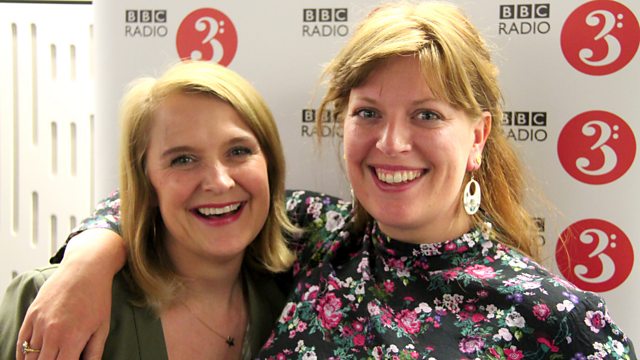 Monday - Sarah Walker with Sarah Perry
With Sarah Walker. Including Musical challenge; Music in Time: A Dufay motet; Artist of the Week: Tasmin Little, featured performing Vaughan Williams's The Lark Ascending.
9am
Sarah sets the tone and mood of the day's programme with a range of music to intrigue, surprise and entertain.
9.30am
Take part in today's musical challenge: listen to the clues and identify a musical mystery object.
10am
Sarah's guest in the week of International Women's Day is the author, academic and journalist Sarah Perry. Sarah was born into a deeply religious household and spent her early life immersed in classical music, classic literature and the King James Bible. She has a PhD in Creative Writing from Royal Holloway which she completed under the supervision of Andrew Motion, and she's been a writer in residence at Gladstone's Library in Wales. Her travel writing about the Philippines earned her a Shiva Naipaul Memorial Prize, her debut novel was longlisted for the Guardian First Book Award and her second, The Essex Serpent was named Waterstones Book of the Year. As well as discussing her writing and her life, Sarah shares some of her favourite classical music by composers including Schubert, Thea Musgrave and Alma Mahler.
10.30am
Music in Time: Medieval
Today Sarah's in the Medieval period exploring an intricate motet by Guillaume Dufay, written for the consecration of Florence Cathedral on 25th March 1436.
11am
Artist of the Week: Tasmin Little
Sarah's featured artist is the English violinist Tasmin Little. After studying at the Yehudi Menuhin School and reaching the final of BBC Young Musician of the Year, Tasmin made her professional debut with the Hallé. Since then she's been a major exponent of British music, recording concertos by Ernest Moeran, Frederick Delius and Samuel Coleridge-Taylor, and Vaughan Williams's The Lark Ascending has become something of a signature piece. As well as featuring Tasmin's interpretations of British music, Sarah's chosen a sonata by Schubert, Arvo Pärt's Fratres and a recent work by Roxanna Panufnik, written especially for Tasmin.
Vaughan Williams
The Lark Ascending
Tasmin Little (violin)
BBC Philharmonic
Andrew Davis (conductor).
Last on
Music Played
Ralph Vaughan Williams

Three Shakespeare Songs: No.2 The Cloud-Capp'd Towers

Choir: Tenebrae. Conductor: Nigel Short.

Hector Berlioz

Beatrice et Benedict Op.27 (Overture)

Orchestra: Staatskapelle Dresden. Conductor: Colin Davis.

Anthony Holborne

'The Image of Melancholy', a pavane

Ensemble: Barokksolistene. Director: Bjarte Eike.

Johannes Brahms

Intermezzo in E flat major, Op 117 No 1

Performer: Clifford Curzon.

Lera Auerbach

24 Preludes, Op.41: No.8 in F sharp minor; No.7 in A major; No.18 in F minor

Performer: Lera Auerbach.

Toumani Diabaté

Bansang

Ensemble: Sidiki Diabaté.

Wolfgang Amadeus Mozart

March No.1 in D major, K.335

Orchestra: Concentus Musicus Wien. Conductor: Nikolaus Harnoncourt.

Richard Wagner

The Flying Dutchman: Overture

Orchestra: Chicago Symphony Orchestra. Conductor: Georg Solti.

Steve Reich

Nagoya Marimbas

Performer: Colin Currie. Performer: Sam Walton.

Sarah Perry's CHoice No.1

Sergei Prokofiev

Peter and the Wolf, Op.37: Wolf Theme

Narrator: Peter Ustinov. Orchestra: Philharmonia Orchestra. Conductor: Herbert von Karajan.

Sarah Perry's CHoice No.2

Henry Purcell

Dido & Aeneas: "Thy hand, Belinda...When I am laid in earth"

Singer: Susan Graham. Ensemble: Le Concert d'Astrée. Conductor: Emmanuelle Haïm.

Sarah Perry's CHoice No.3

Sergey Rachmaninov

Piano Concerto No.2 in C minor, Op.18: II. Adagio sostenuto

Performer: Sequeira Costa. Orchestra: Royal Philharmonic Orchestra. Conductor: Christopher Seaman.

MUSIC IN TIME: MEDIEVAL

Guillaume Dufay

Nuper rosarum flores

Choir: Pomerium. Director: Alexander Blachly.

Anton Bruckner

Locus Iste

Choir: Polyphony. Conductor: Stephen Layton.

Charles Koechlin

Wind Septet

Performer: Berlin Philharmonic.

ARTIST OF THE WEEK: TASMIN LITTLE

Ralph Vaughan Williams

The Lark Ascending

Performer: Tasmin Little. Orchestra: BBC Philharmonic. Conductor: Sir Andrew Davis.

William Shield

The Plough Boy

Music Arranger: Benjamin Britten. Singer: Christopher Maltman. Performer: Julius Drake.

Maurice Ravel

Le Tombeau de Couperin

Performer: Louis Lortie.

Béla Bartók

Hungarian Sketches for orchestra (Bear Dance)

Orchestra: Bournemouth Symphony Orchestra. Conductor: Marin Alsop.

Bartok: Miraculous Mandarin (The) (Complete Ballet) / Hungarian Pictures / Dance.
Naxos.
19.

ARTIST OF THE WEEK: TASMIN LITTLE

Gustav Holst

A Song of the Night

Performer: Tasmin Little. Orchestra: BBC Philharmonic. Conductor: Sir Andrew Davis.
Broadcast

The Classical Companion Collection