Main content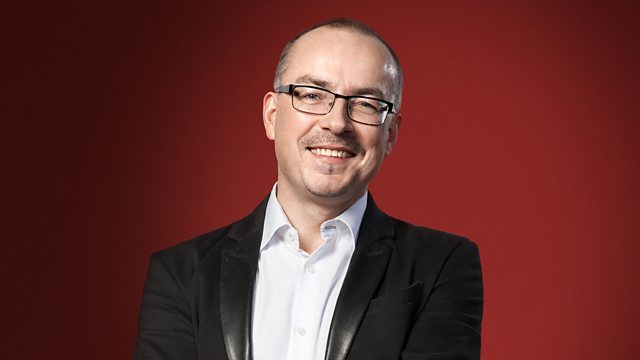 International Women's Day: Andrew McGregor with Kate Kennedy and Alexandra Coghlan
With Andrew McGregor. Including Building a Library: Music by Dame Ethel Smyth; Alexandra Coghlan reviews a selection of new releases of music by female composers; Disc of the Week.
with Andrew McGregor.
0930
Building a Library survey on the music of Dame Ethel Smyth. As part of Radio 3's celebration of International Women's Day, Kate Kennedy explores the music of an underrated English composer and a member of the women's suffrage movement. Smyth showed tenacity and courage in pursuing her career as a composer at a time when this was an unusual path for women. Sir Thomas Beecham visited her when she was in prison for her political activities, and discovered her leaning out of a window conducting with a toothbrush as her fellow inmates marched around the prison yard.
1030
Alexandra Coghlan reviews a clutch of new releases of music by women composers including a recording of The Liberation of Ruggiero from Alcina's Island by Francesca Caccini and other music by Caccini's contemporaries, Barbara Strozzi, Claudia Sessa and Lucrezia Vizzana.
1145
Andrew chooses an outstanding new release as his Disc of the Week.
9am
British Composers: A Celebration
WARNER CLASSICS 0954802
Ives: Orchestral Works, Vol. 3
IVES, C: Orchestral Set No. 2; Symphony No. 3 'The Camp Meeting'; Symphony No. 4
Jean-Efflam Bavouzet (piano), Melbourne Symphony Orchestra, Sir Andrew Davis (conductor)
CHANDOS CHSA5174 (Hybrid SACD)
Thrive on Routine
ADAMS, JOHN LUTHER: In a Treeless Place, Only Snow
ANDRES, T: Thrive on Routine
BURHANS: Jahrzeit
SHAW, C: In manus tuas; Gustave le Gray
Clarice Jensen (cello), Timo Andres (piano), ACME (American Contemporary Music Ensemble)
DORIAN SONO LUMINUS DSL92211 (CD + Blu-ray)
Ades: Asyla, Tevot & Polaris
ADES: Asyla; Tevot; Polaris: Voyage for orchestra; Brahms Op. 21
Samuel Dale Johnson (baritone), London Symphony Orchestra, Thomas Ades (conductor)
LSO LIVE LSO0798 (Hybrid SACD + Blu-ray)
Hungarian Treasures: Notos Quartett
BARTOK: Piano Quartet in C minor Op. 20
DOHNANYI: Piano Quartet in F Sharp Minor
KODALY: Intermezzo for string trio
Notos Quartett
RCA 88985411882 (CD)
Fricker: The String Quartets
FRICKER: First Quartet; Second Quartet; Third Quartet; Adagio and Scherzo
Villiers Quartet
NAXOS 8571374 (CD)
9:30am - Building a Library
Building a Library: a weekly look at a piece of music, a comparison of the available recordings, and a recommendation.
Composer: Ethel Smyth
Reviewer: Kate Kennedy
Building a Library: Survey of Ethel Smyth recordings
Recommended recording:
The Boatswain's Mate

Nadine Benjamin (Mrs Waters), Edward Lee (Harry Benn), Jeremy Huw Williams (Ned Travers), Simon Wilding (Policeman), Ted Schmitz (The Man), Rebecca Louise Dale (Mary Ann), Lontano Ensemble, Odaline de la Martinez (conductor)
RETROSPECT OPERA RO001
Other recommended recordings:
Below is a shortlist of other recordings which Kate Kennedy also recommends
SMYTH: Sonata for Violin and Piano in A minor Op. 7
Clare Howick (violin), Sophia Rahman (piano)
NAXOS 8572291 (CD)
Ethel Smyth: Complete Piano Works
Liana Serbescu (piano)
CPO 9993272 (Download only)
10:20am – Baroque Opera and Cantata
Queens - Opera arias by Handel
HANDEL: Scherza in mar (from Lotario); Se mai turba il tuo riposo (from Poro); No che servire altrui (from Berenice); Traditore, traditore (from Berenice); Giulio Cesare : Overture; Piangero la sorte mia (from Giulio Cesare); Tu la mia stella sei (from Giulio Cesare); Da tempeste il legno infranto (from Giulio Cesare); Che sento?...Se pieta di me non senti (from Giulio Cesare); Scipione: Sinfonia; Scoglio d'immota fronte (from Scipione); Ah! mio cor! (from Alcina); Quel torrente (from Giustino)
Roberta Invernizzi (soprano), Fabio Ciofini (harpsichord, direction), Accademia Hermans
GLOSSA GCD922904 (CD)
HANDEL: Catone
(including music by Leo, Hasse, Porpora, Vinci and Vivaldi)
Sonia Prina (Catone), Lucia Cirillo (Marzia), Riccardo Novaro (Cesare), Kristina Hammerstrom (Arbace), Roberta Invernizzi (Emilia), Auser Musici, Carlo Ipata
GLOSSA GCD923511 (2CD)
Pace e Guerra
GASPARINI: A dispetto (from Il Bajazet)
HANDEL: Rosmira, ove ti guida…Ch'io parta (from Partenope); Furibondo Spira Il
Vento (Partenope); Alla tenda reale... Non disperi peregrino (from Lotario)
HASSE, J A: Dal mio ben che tanto amai (from Demetrio)
POLLAROLO: Gia mi par (from Ariodante)
SARRO: Quell'usignuolo (from L'Arsace)
TORRI: Pace e guerra (from Lucio Vero); La cara tua favella (from Amadis di Grecia); Parto, non ho costanza (from Venceslao)
VINCI, LEONARDO: Taci o di morte (from Il Medo); Sento scherzar (from Il Medo)
Terry Wey (countertenor), Vivica Genaux (mezzo), Valer Sabadus (countertenor), Bach Consort Wien, Ruben Dubrovsky
DEUTSCHE HM 88985410502 (CD)
Sacred Duets
BONONCINI, G B: La conversione di Maddalena: Cor imbelle a due nemici
CALDARA: La frode della castita: Si pensi alla vendetta; Santa Francesca romana:
E ristoro a un cor che pena
COLONNA: Salomone amante: Partite dolori; Salomone amante: Su l'arco d'amore
GABRIELLI: Sigismondo, re di Borgogna: Aure voi de' miei sospiri
LOTTI: L'umilta coronata in Esther: Sempre fido, sempre grato
PASQUINI, B: Sant'Agnese: Vaga rosa
PORPORA: Il Gedeone: Quasi locuste che intorno; Il martirio di San Giovanni Nepomuceno: Della fragile mia vita; Il verbo in carne: Lascia ch'io veda almeno
SCARLATTI, A: San Casimiro, re di Polonia: Al serto le rose
TORELLI: Concerto grosso in C minor for violin Op. 8 No. 8
Nuria Rial (soprano), Valer Sabadus (countertenor), Julia Schroder (violin), Kammerorchester Basel
SONY 88985323612 (CD)
10:35am – Alexandra Coghlan on women composers
Heroines of Love and Loss
BENNET: Venus' birds whose mournful tunes
CACCINI, F: Lasciatemi qui solo
KAPSBERGER: Toccata arpeggiata (1604)
PICCININI: Chiaccona in partite variate
PURCELL: O lead me to some peaceful gloom (from Bonduca or The British Heroine, Z574); When I am laid in earth (from Dido and Aeneas)
SESSA: Occhi io vissi di voi
STROZZI: L'Eraclito amoroso Op. 2 No. 14; Lamento; Lagrime mie
VIVALDI: Cello Sonata in G minor, RV42
VIZZANA: Componimenti musicali (1623): O Magnum mysterium
Ruby Hughes (soprano), Mime Yamahiro Brinkmann (cello), Jonas Nordberg (lute / theorbo / archlute)
BIS BIS2248 (Hybrid SACD)
CACCINI, F: La liberazione di Ruggerio dall'isola di Alcina
Elena Sartori (harpsichord/direction), Elena Biscuola, Mauro Borgioni, Gabriella Martellacci, Francesca Lombardi Mazzulli, Emanuela Galli, Raffaele Giordani, Yiannis Vassilakis, Allabastrina, La Pifarescha
GLOSSA GCD923902 (CD)
Femina moderna
AUERBACH: Lullaby
CEDERBERG-ORRETEG: Jordnara
FORTE, N: Libera me
GRIGORJEVA: In paradisum
KLOCKAR: Speeches
LARSEN, L: Songs of Youth and Pleasure
LINDSJO: The Find
LOFBERG: Sandskrift
MCDOWALL: Regina Caeli
MONNAKGOTLA: Apelsinen har mognat
REHNQVIST: Tilt
ROSENBERG, SUSANNE: Pust
TARRODI: Lume
Allmanna Sangen, Maria Goundorina
BIS BIS2224 (Hybrid SACD)
The Franklin Effect - Electric Voice Theatre
Electric Voice Theatre
FIRST HAND FHR51 (CD)
The Romantic Piano Concerto 70 - Beach, Chaminade & Howell
BEACH, A: Piano Concerto Op. 45
CHAMINADE: Concertstuck for Piano and Orchestra Op. 40
HOWELL, D: Concerto for Piano and Orchestra in D minor
Danny Driver (piano), BBC Scottish Symphony Orchestra, Rebecca Miller
HYPERION CDA68130 (CD)

11.45am – Disc of the Week
MACMILLAN: Stabat Mater
The Sixteen, Britten Sinfonia, Harry Christophers (conductor)
CORO COR16150 (CD)