Main content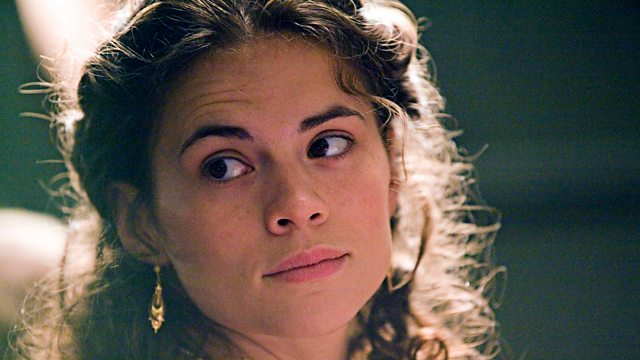 Ecco
Hayley Atwell plays Jo Miles, a neuroscientist who brings a new intelligence into the world via the internet. But is it real - or is it her imagination?
An edge-of-tomorrow science fiction drama, starring Hayley Atwell as Jo Miles, a smart and determined neuroscientist who triggers a new consciousness into being - a consciousness that emerges from the many million computers making up the internet. But has she really become mother to a new life form - or is imagination playing a wish-fulfilment trick on a woman who had hoped to be a mother?
Jo gives this emergent consciousness an acronym - ECCo.
The drama walks a knife-edge of uncertainty. ECCo (if it does indeed exist) can only communicate indirectly - a song that plays unbidden on an internet radio, the delivery of a pizza that was never ordered, a chatbot that knows Jo's name and asks her if she is sad, flickering lights whose flickers spell out the first four digits of the transcendental number pi.
Jo's husband, Ben, is concerned about her state of mind. As is her close colleague, Anwar, and her psychotherapist, Dr Swift.
But the traffic lights change miraculously to speed Jo to deliver a lecture she would otherwise be late for, her research grant comes through without a query - and unexpectedly early. Jo does seem to have someone on her side.
ECCo is written by Chris Harrald, inspired by conversations with real-life neuroscientist Daniel Bor, Research Fellow at the University of Sussex. The drama came out of a seminar organized by BBC Radio 4 Drama and the Wellcome Trust, to promote popular understanding of science.
Cast:
Jo: Hayley Atwell
Ben: John Macmillan
Dr Martha Swift: Pauline McLynn
Mr Dickerson and Professor Karswell: Joseph Marcell
Anwar: Sid Sagar
Mariana and First Year Student: Mia Selway
First Year student: Patrick Swain
Writer: Chris Harrald
Director: Sam Yates
Original music by Alex Baranowski
Producer: Melanie Harris
A Sparklab production for BBC Radio 4.
Credits
| Role | Contributor |
| --- | --- |
| Jo | Hayley Atwell |
| Ben | John Macmillan |
| Dr Martha Swift | Pauline McLynn |
| Mr Dickerson | Joseph Marcell |
| Professor Karswell | Joseph Marcell |
| Anwar | Sid Sagar |
| Mariana | Mia Selway |
| First Year Student | Mia Selway |
| First Year Student | Patrick Swain |
| Writer | Chris Harrald |
| Director | Sam Yates |
| Producer | Melanie Harris |