Main content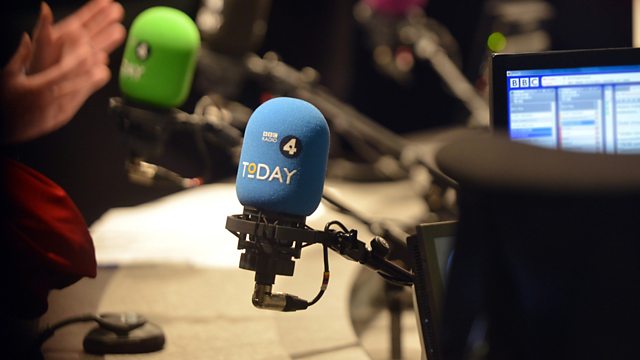 08/03/2017
Morning news and current affairs. Including Yesterday in Parliament, Sports Desk, Weather and Thought for the Day.
Today's running order
0650
One of the most famous fossils in the World is leaving the Natural History Museum in London, for the first time in more than 150 years, to be part of a touring exhibition in Japan. The limestone slabs carry the bones of a bird-like dinosaur, or Archaeopteryx. Lorraine Cornish is head of conservation at the Natural History Museum.
0655
Spending on schools in England is set to increase but by less than the number of pupils and a new national funding formula looks set to leave schools in Cheshire with even bigger cuts to their funding. Clare Hogg is headteacher of St Thomas More Catholic High School in Crewe.
0710
Wikileaks has published a cache of almost 9000 CIA documents including details of what it says are wide-ranging hacking tools used by the agency. Major General Jonathan Shaw was the Ministry Of Defence's first head of cyber security and Peter Ekersley is chief computer scientist at the Electronic Frontier Foundation, a digital civil liberties organisation.
0720
Team Sky principal Sir Dave Brailsford says "mistakes were made by Team Sky" in relation to anti-doping and medical practices. Michele Verroken is former director of ethics and anti-doping at UK Sport.
0730
Only hours before Chancellor Philip Hammond delivers his first Budget, what should we expect? Laura Kuenssberg is the BBC's political editor and Kamal Ahmed is the BBC's economics editor.
0740
The airport of Nigeria's capital Abuja is to shut down for six weeks' worth of repairs because work on the runway - fifteen years overdue - is finally about to take place. The BBC's Nigeria correspondent Martin Patience reports.
0750
Former cabinet minister Lord Heseltine was sacked last night as a government adviser after rebelling over Brexit. We speak live to Lord Heseltine.
0810
Chancellor Philip Hammond is to use his first Budget on Wednesday to help prepare Britain for a "new chapter" in its history following the Brexit vote. John Roberts is founder of AO World and Rachel Bailey is head of Cheshire East council.
0820
Wikileaks has published a cache of almost 9000 CIA documents including details of what it says are wide-ranging hacking tools used by the agency.
0830
Muzoon Almellehan has been called the Malala of Syria. She came to the UK four years ago as a refugee and has since carried on her work championing the education of young Syrians in the refugee camps. She is in London this week where she addressed members of the House of Lords last night as well as the Women of the World festival.
0835
The government has suffered a second Brexit defeat in the House of Lords as peers backed, by 366 votes to 268, calls for a "meaningful" parliamentary vote on the final terms of withdrawal. Mark Harper is a former government chief whip.
0840
Last night was another bad one for Arsene Wenger as his team crashed out of the Champions League against Bayern Munich 10-2 on aggregate. But when is the right time to step down from a job? Gerald Ratner is former chief executive of Ratners jewellery chain and Deborah Bull is a former ballet dancer and now assistant principal at Kings College London.
0850
How far should the Budget be preparing the economy for Brexit? Ed Cox is director of IPPR North and Gerard Lyons is former economic adviser to Boris Johnson.
All subject to change.