Main content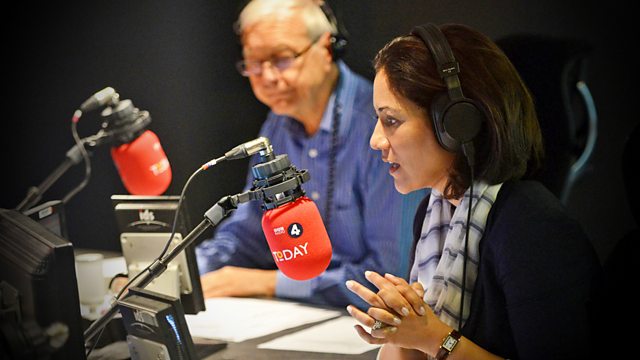 04/03/2017
Morning news and current affairs. Including Yesterday in Parliament, Sports Desk, Weather and Thought for the Day.
Today's running order
0710
A parliamentary committee says Britain would not be legally obliged to pay a final budget contribution to the EU after Brexit. Baroness Kishwer Falkner is chair of the EU Financial Affairs Sub-Committee.
0715
Sinn Fein has had its best ever result in elections to the Northern Ireland Assembly. Chris Page is our Ireland correspondent and Danny Morrison is a former publicity director for Sinn Fein.
0720
Egypt's highest appeal court has acquitted the former President, Hosni Mubarak, in a final ruling in a long-running case.  Mr Mubarak was found not guilty of involvement in the killing of protesters during the 2011 uprising that forced him from power.  Ahdaf Soueif is an Egyptian writer and commentator.
0730
Pro-Trump marches are being held in Washington DC and across the United States today. Tori Alby is an organiser and spokeswoman for the March 4 Trump rallies. Farhana Khera is president and executive-director of Muslim Advocates.
0740
Today's Jim Naughtie presents Meet the Author with Howard Jacobson.
0750
Significant quantities of human remains have been discovered in underground chambers at the site of the former mother-and-baby home in Tuam, Co Galway. Annette Mckay's mother lost her baby at the Tuam home. Catherine Corless is a local Tuam historian who brought the case to light.
0810
This week the senior police officer responsible for shaping policies to protect children from sexual abuse told Today that not everyone who views online images of child abuse should be prosecuted. Tim Loughton is on the Home Affairs Select Committee and is a former Minister for Children and Families.
0820
According to a YouGov survey commissioned for BBC Radio 4's Mars Week more than one in ten of us would take a one-way ticket to the red planet. Claudia Hammond presents All In The Mind on Radio 4 and also presents a programme in Mars Week.    Ryan Macdonald is doing a PhD in Astronomy at Cambridge University; he is one of 100 volunteers currently selected for the  Mars One (one way) mission to Mars.  
0830
Sinn Fein has had its best ever result in elections to the Northern Ireland Assembly. Theresa Villiers is former Northern Ireland Secretary and Lord Trimble is former First Minister of Northern Ireland.
0840
Rutger Bregman is a Dutch author who has been described as one of Europe's most prominent thinkers for advocating utopian ideas for the modern world. But is there support for open borders and a universal basic income in the world's current political climate? Rutger Bregman is a journalist at The Correspondent.
0850
New technology that claims to be able to translate speech through an earpiece worn by the user – like the fictional Babel Fish in The Hitchhiker's Guide to the Galaxy – has been unveiled at the Mobile World Congress in Barcelona. Rod Alexander is from Mymanu, a technology company behind the latest earpiece voice translation technology. Danielle D'hayer is associate professor of Interpreting Studies at London Metropolitan University. 
All subject to change.