Main content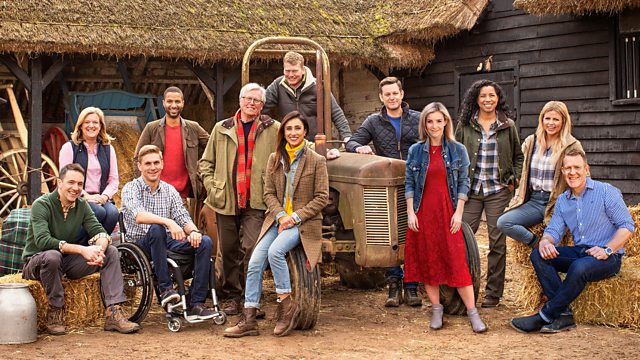 Somerset
Ellie abseils with a team from the National Trust to help give Cheddar Gorge its annual clean-up and make sure there are no loose rocks.
It is the time of year when the Cheddar Gorge has its annual clean-up, but Ellie hadn't reckoned with dangling from a rope to do it. She is abseiling with a team from the National Trust, high up on the cliffs, making sure there are no loose rocks that could fall on the public. Back on terra firma she helps the volunteers clear back the undergrowth and hears how rare Soay sheep do their bit too. She also meets a carpenter and ecobuilder who is on a mission to get everyone living in trees.
Matt visits one of the only organic herds of Guernsey cattle in England and discovers that, although these are dairy animals, the beef they produce is pretty special. Their milk is used to produce yoghurt, but not the kind Matt is used to. He dons a blindfold for a taste test to see if he can guess the far-out flavours.
Adam is on call with the farm vets, ready at a moment's notice to deal with any emergency. And, as the environment agency says it cannot protect everyone at risk from flooding, Tom Heap asks if people in rural areas should be more self-reliant.
Music Played
Timings (where shown) are from the start of the programme in hours and minutes
00:22

White Noise Research

An Evening On Condale Lake
Sky high conservation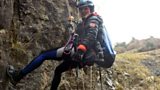 Ellie's joins a team of National Trust conservationists on their annual clean of Cheddar Gorge. As she abseils over the precipice loose rocks that could be dangerous to tourists are removed, and swathes of scrub and brush are cut back. Ellie learns that it's a constant battle to keep the Gorge clear of scrub, but with the help of goats, sheep and an army of volunteers, swinging axes and wielding saws. 
Organic Guernsey's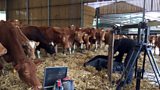 Matt meets Judith Turner, her husband Clive and their herd of organic Guernseys, one of the rarest breeds of farm cattle and one of only two organic herds in the entire country. But these cows are special and Judith and Clive have confounded conventional farming wisdom. Guernseys are traditionally diary cattle, but this herd has been winning awards for its beef. Their Guernsey meat is feted by high end butchers and top chefs, who liken it to kobe or wagyu! So what's it like? Luckily for Matt, he gets a taste.
The flood proof house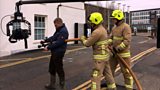 Tom gets a first look at a house with special powers. This unassuming Victorian terrace has been been built from the ground up to beat back the flood waters. Tom gets a tour and then gets to flood the house himself to see how it copes. Now that we are all paying towards flood insurance, whether we're in a high risk area or not, a house that can be dried out in days rather than rebuilt in months must be a good idea, so why isn't it being used across the country?
Emergency vets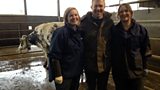 Adam is out with the farm vets in Wiltshire watching routine procedures like hoof trimming, but then an emergency call comes in. Adam races off to join vet, Will Sommerville, who is with a cow struggling to give birth. Despite their best efforts the calve just won't be born, the only option is a Caesarian section right there in the barn. 
Romesh Ranganathan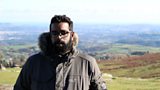 This week comedian Romesh Ranganathan returns to the English Riviera in Devon to relive his first experiences of the countryside when as a teacher he led a large group of sixth form students on a field trip to the Dartmoor National Park. Romesh takes us down memory lane returning to Ansteys Cove in Torquay where he and the group took part in coasteering and sea Kayaking. It didn't quite go according to plan at the time, but today he's looking to reconcile this and face his fears. 
Tree houses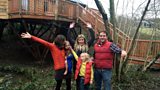 For many of us, childhood memories evoke long days playing outdoors. Adventures at every turn. Running through woodland and scrambling up trees without a care in the world. But what if you could have a model which was anything but child's play? There's central heating, a kitchen and a bathroom with all mod cons...  and it's 20 feet above the ground on stilts.  Ellie gets the low down on high living from Eco Architect Simon Parfett, a man whose mission is to see us living in trees. But Ellie can't help wondering whether tree houses could be a property for the future or just big kids play thing and given they can cost as much as a house it's a question worth asking. 
Guess the yoghurt!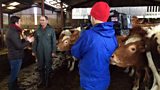 Plain or Vanilla, Greek or natural, we've all got our preferences when it comes to yoghurt. But Judith and Clive Turner along with their Guernsey herd have a few flavours we bet you've never tried. They've already turned convention on its head with their beef from dairy cattle, but is the world ready for their vegetable yoghurts? Matt and Ellie are in for a taste sensation!
Credits
| Role | Contributor |
| --- | --- |
| Presenter | Ellie Harrison |
| Presenter | Matt Baker |
| Presenter | Adam Henson |
| Presenter | Tom Heap |
| Executive Producer | William Lyons |
| Series Producer | Joanna Brame |