Main content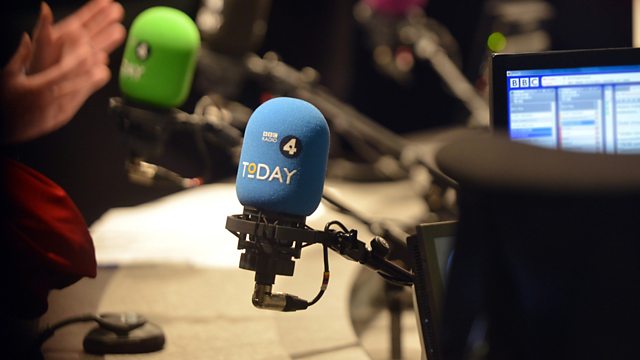 01/03/2017
Morning news and current affairs. Including Yesterday in Parliament, Sports Desk, Weather and Thought for the Day.
Last on

Today's running order
0650
After a fractious election campaign, voters in Northern Ireland go to the polls tomorrow to choose a new assembly. The BBC's Ireland correspondent Chris Page reports.
0655
The government is announcing its long-awaited digital strategy today. What will the UK tech industry look like after Brexit? Charlotte Holloway is head of policy at Tech UK.
0710
Nigel Farage, former UKIP leader has called the party's sole MP, Douglas Carswell, a "Tory party posh boy" and said he should be expelled. We speak to Mr Farage.
0715
During his speech to the US Congress last night, Donald Trump touched on anti-Semitism and the apparent hate crime in Kansas, but the centrepiece was a promise to spend on the military and on infrastructure in the US. The BBC's North America Editor Jon Sopel reports.
0720
New by-laws are coming into force at one of Britain's most popular national parks, Loch Lomond and the Trossachs, which will mean wild campers who don't get a permit could be fined and get a criminal record. Phoebe Smith is a wild camper and adventurer.
0730
Today the government is announcing its digital strategy that is said to have been delayed because of Brexit. What will the government's boost to artificial intelligence mean for everyone's existing jobs?
0740
Sergei Polunin is considered to be one of the greatest ballet dancers the world has ever seen. The story of his turbulent life in ballet is the subject of a new documentary out this week called Dancer. Sarah Montague has been speaking to him.
0750
New drivers will lose their licence if they are caught using a phone behind the wheel illegally as penalties for offenders are being doubled to six points. Paul Newman's sister was killed by someone using a phone while driving and David Jamieson is police crime commissioner for the West Midlands.
0810
Thousands of gravely ill people in England are being left with inadequate round-the-clock pain relief and poor access to end of life care, according to new research published in the BMJ today. Baroness Ilora Finlay is the chair of 'dying matters' and author of the BMJ report and Lesley Goodburn's husband died of pancreatic cancer.
0820
There was no mention of American carnage, fake news or enemies of the people from President Trump as he addressed the US Congress last night. Instead he spoke of the renewal of the US and touched on anti-Semitism. What did Trump's supporters think? Scott Taylor is a Republican Congressman.
0830
Osteoporosis affects 3 million people in this country and is most likely to be treated with bisphosphonates. However, new research has suggested that using the drugs for long periods may lead to tiny cracks in bones. Today's science editor Tom Feilden reports and Professor Justin Cobb is chair of Orthopaedic Surgery at of Imperial College London and was one of the co-authors of the study.
0840
Last year a religious fanatic from Bradford, Tanveer Ahmed, murdered a Glasgow shopkeeper and then calmly waited for the police to arrest him. Although Ahmed is serving a life sentence, he's gathering a growing fan base in Pakistan. The BBC's Pakistan correspondent Secunder Kermani reports.
0845
After one of the most fractious campaigns of recent times, voters go to the polls in Northern Ireland tomorrow to elect a new assembly. Michael Collins is a candidate is the People Before Profit Alliance candidate in West Belfast and Jordan Armstrong is a Traditional Unionist Voice candidate in East Londonderry.
0850
The Donald Trump who spoke to the US Congress last night sounded quite different to the President we have seen for the last few weeks as his speech was considerably more measured than that at his inauguration. Steven Erlanger is the London bureau chief of The New York Times and Charlie Wolf is former communications director of Republicans Abroad UK.
All subject to change.
Broadcast