Main content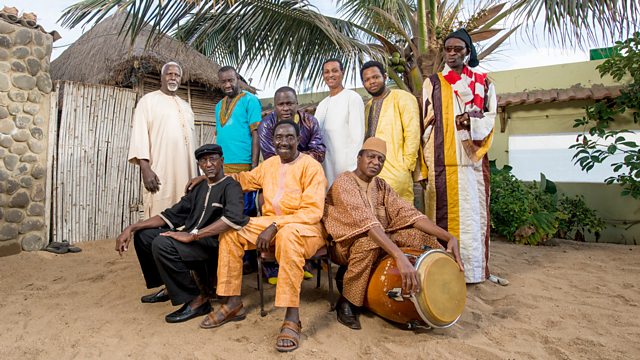 Orchestra Baobab
A concert given at the Roundhouse in Camden by Senegalese Afro-Cuban big band Orchestra Baobab. Introduced by Kathryn Tickell, with ethnomusicologist Lucy Duran.
Orchestra Baobab, the legendary Senegalese Afro-Cuban big band, recorded in concert at the Roundhouse in London in January. The gig is introduced by Kathryn Tickell, who is joined by Lucy Duran to discuss the Baobabs' long history (they formed in 1970 in Dakar).
The band take their name from the Dakar nightclub where they were resident. They fused Afro-Cuban rhythm and Portuguese Creole melody with Congolese rumba, high life and a whole gamut of local styles, kick-starting a musical renaissance in their native Senegal, which turned the capital, Dakar, into one of the world's most vibrant musical cities.
The band released dozens of recordings before disbanding in the mid-80s but it was their neglected 1982 album Ken Dou Werente that became a cult-classic, re-released to huge acclaim in 1989 under the title Pirate's Choice. They reformed in 2001, and now Orchestra Baobab are back in the studio recording a new album, which is set for release in Spring 2017.
Seven pioneering figures in world music
BBC Introducing on World on 3