Main content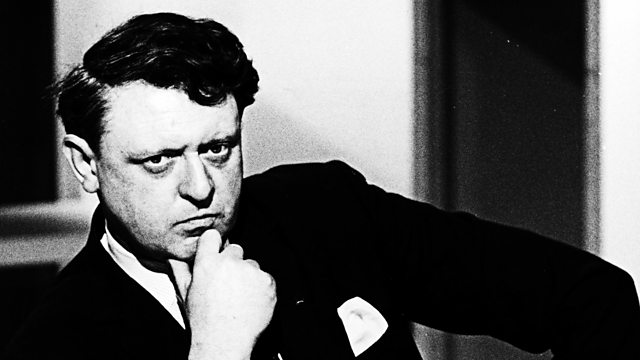 Burgess and the Morality of Contemporary Culture - AL Kennedy
An essay by AL Kennedy about writer Anthony Burgess.
Anthony Burgess is one of the best-known English literary figures of the latter half of the twentieth century. A polymath of the highest order, he was a novelist, composer, translator, screenwriter, travel writer, teacher, linguist, phoneticist, essayist, short-story writer, critic and poet.
Five writers, some of whom knew him in person, reflect on their favourite Burgess incarnation, exploring this extraordinary 20th-century man of letters from different angles. Everything Burgess wrote contributed to his main oeuvre, his musical composition as important to him as his novels that were shaped heavily by his critical analysis of others' fiction which was informed by his poetry and so on. Burgess at 100 offers personal as well as critical insight into why and how he is a literary figure of such importance.
Part of Radio 3's Burgess Centenary programming, marking 100 years since the birth of Manchester-born novelist and playwright Anthony Burgess.
Burgess and the morality of contemporary culture - AL Kennedy
AL Kennedy was born in Dundee in 1965. She is the author of 17 books: six literary novels, one science fiction novel, seven short story collections and three works of non-fiction. She is a Fellow of the Royal Society of Arts and a Fellow of the Royal Society of Literature. She was twice included in the Granta Best of Young British Novelists list.
Her prose is published in a number of languages. She has won awards including the 2007 Costa Book Award and the Austrian State Prize for International Literature. She is also a dramatist for the stage, radio, TV and film. She is an essayist and regularly reads her work on BBC radio. She occasionally writes and performs one-person shows. She writes for a number of UK and overseas publications and for The Guardian Online.
Anthony Burgess is a key figure in 20th century world literature. His dystopian satire A Clockwork Orange is still a global best seller, and was adapted into a highly controversial film by Stanley Kubrick in 1971. Burgess produced numerous other novels, including the Enderby quartet, and Earthly Powers, regarded by many as his greatest novel. He wrote librettos and screenplays, including for the 1977 TV mini-series Jesus of Nazareth. He worked as a literary critic for several publications, including The Observer and The Guardian, and wrote studies of classic writers, notably James Joyce. A versatile linguist, Burgess lectured in phonetics, and translated Cyrano de Bergerac and the opera Carmen, among others. Burgess also composed over 250 musical works.
Producer, Polly Thomas
Production Coordinator, Sarah Kenny
Executive Producer, Eloise Whitmore
With thanks to Andrew Biswell and the International Anthony Burgess Foundation
A Naked Production for BBC Radio 3.
More episodes
Previous
You are at the first episode