Main content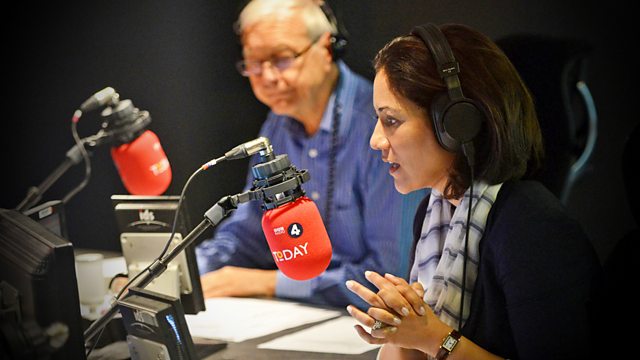 21/02/2017
Morning news and current affairs. Including Yesterday in Parliament, Sports Desk, Weather and Thought for the Day.
Today's running order
0650
Specialist police teams are digging up the gardens of two properties in Swindon. One is believed to be the former home of Christopher Halliwell, who is serving a whole life sentence for the murders of two women. Will Glennon is the BBC's reporter in Swindon.
0655
The United Nations' children's agency Unicef is warning that almost one-and-a-half million children are at risk of starvation in four countries. Justin Forsyth is UN assistant secretary general.
0710
Two thirds of the 44 plans aimed at transforming NHS services in England include either closing a hospital or moving treatments to a different site. That's according to analysis by the BBC published today. Chris Ham is chief executive of The King's Fund.
0712
Just a few months after the migrant camp at Calais was bulldozed, dozens of unaccompanied children are roaming around the area, sleeping rough, hoping to reach the UK illegally. Today's Zoe Conway reports from Calais.
0715
The institute of directors says tens of thousands of firms around England and Wales could go bust as a result of the business rates revaluation. Andrew Bridgen is a Conservative MP.
0720
BHP Billiton is currently embroiled in a stand-off with workers at Chilean copper mine Escondida. The strike at the world's biggest copper mine has now lasted 12 days. Andrew Mackenzie is chief executive of BHP Billiton.
0725
A heterosexual couple who have been living together for the past six years and who want a civil partnership will find out if they have won their appeal. Paul Coleridge is a former High Court judge in the family division, now chairman of the Marriage Foundation.
0730
Iraqi forces have advanced on Mosul airport on the second day of their offensive to drive Islamic State militants from the west of the city. Quentin Somerville is the BBC's Middle East correspondent embedded with Iraqi forces outside Mosul and Aram Shakaram is Save the Children's deputy country director in Iraq.
0740
A team of British women soldiers are preparing to become the first all-female group to cross the Antarctic unaided. The BBC's Phil Mackie has travelled to Norway, where the team is taking part in a three-week training trek.
0750
A specialist children's hospital has become the first of its kind to receive a rating of "outstanding" from healthcare inspectors in England. The BBC's health correspondent Jane Dreaper reports.
0810
Following Kraft Heinz' decision to call off a possible £115bn tie-up with Unilever, the former business secretary Sir Vince Cable says many more less famous companies are "sitting ducks" thanks to the pound's "devaluation". Simon Jack is the BBC's business editor. Amit Pau is managing director of investment company Ariadne Capital and Suranga Chandratillake is former CEO of digital advertising company blinkx.com
0820
It's not often - if ever - that you see the prime minister in the House of Lords. And yet Theresa May chose to go and watch the debate on Brexit there yesterday. Why? Michael Cockerell is a BBC documentary maker and Rachel Sylvester is a journalist for The Times.
0830
There has been a lot of focus in the papers recently on aid - and specifically "direct cash payments" - meaning exactly what it says - sending poor people money either in times of crisis, or to help alleviate poverty. The BBC's Alastair Leithead reports from drought-affected Kenya and Nigel Evans is member of the House of Commons international development committee.
0840
The shortage of teachers is a major challenge for the education sector in England, particularly in computing, physics and maths. Jo Pratt is a physics graduate who worked in finance for a decade before becoming a physics teacher and Charles Tracy gave evidence to the select committee report.
0850
Ballet companies must place more emphasis on business and private sponsorship, and use long runs of classical ballets to fund more innovative works, says David Bintley, director of the Birmingham Royal Ballet. We speak live to Mr Bintley and Deborah Bull, former creative director at the Royal Opera House.
All subject to change.