Main content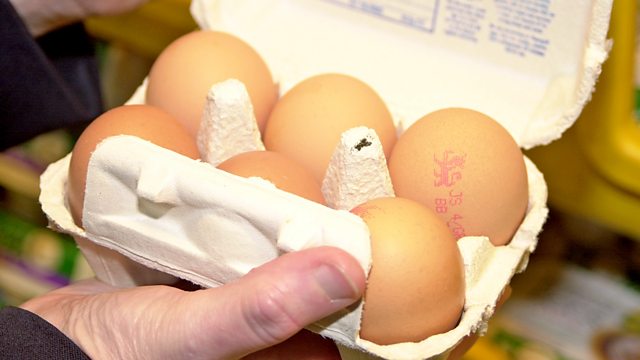 Overheating homes, Late payments, Free-range eggs
We examine research claiming new build properties pose a health risk from overheating.
The Government estimates that the UK's small-to-medium sized businesses are owed billions of pounds in overdue payments. In April, new rules are being introduced to try to stop big companies making their smaller suppliers wait too long to be paid. They'll have to publicly report on their payment terms - if they don't they could be prosecuted. At the moment many small suppliers are too scared to complain - they'd rather suffer in silence than lose their contracts. The Chartered Institute of Credit Management, the charity in charge of implementing the industry's Prompt Payment Code, welcomes the move.
Stickers have begun appearing on free range egg boxes in supermarkets - indicating that they've been affected by bird flu restrictions. For the past few months, birds which are usually free range have been kept indoors - to try to stop the spread of the disease. Retailers are now letting people know the hens who laid the eggs have been kept temporarily in barns for their welfare. This week the rules changed, meaning some hens are now allowed back outside under certain circumstances. But others in high risk areas - those close to the coast or lakes in England - must still being kept inside. But what does that mean for the eggs on supermarket shelves? The Head of Agriculture at Marks & Spencer Steve McLean - says they'll continue to use the stickers - and prices will stay the same.
And a Loughborough academic is warning that the UK is facing a 'public health disaster' if the issue of overheating in homes is not tackled. Professor Kevin Lomas, says the next heat wave to hit the country could have grave consequences for the most vulnerable in our society, as the country now has a stock of new houses unable to keep cool in the warmer months.
Last on
Chapters
Student Figures

Figures reveal dramatic drop in number of mature or parttime students going to university

Duration: 05:40

Mental Health Music

New ways of helping people live with acute mental health conditions via music

Duration: 06:32

Late Payments

New rules preventing large companies delayng payment to smaller suppliers

Duration: 06:34

Overheating Homes

The UK is facing a public health disaster due to the overheating of homes

Duration: 07:27

Tap Dancing

More and more people are taking up tap dancing after the release of popular dance films

Duration: 05:01

Free-range eggs

Stickers on free-range egg boxes indicating they've affected by bird flu restrictions

Duration: 06:14

Broadcast