Main content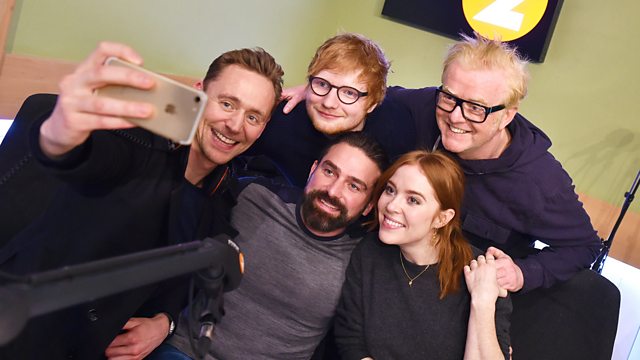 Ed Sheeran, Tom Hiddleston, Ant Middleton and Angela Scanlon
Ed Sheeran plays live in the studio. Chris is joined by Tom Hiddleston to talk Kong: Skull Island, former Special Forces Officer Anthony Middleton, and Robot Wars' Angela Scanlon.
The record breaking acoustic extraordinaire Ed Sheeran will be performing live in the studio on the day his new album Divide is released! The heroic Tom Hiddleston tells us about taking on his biggest challenge as Captain James Conrad in his new film Kong: Skull Island. We'll be putting former Special Forces Officer Anthony Middleton through his paces as he recreates a historical survival journey for Channel 4's Mutiny. Awesome presenter Angela Scanlon revs into the studio ahead of BBC Two's new series of Robot Wars which starts this weekend.
Clips

Pause For Thought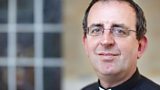 From Reverend Richard Coles, cleric and broadcaster:
On Wednesday, to mark the beginning of Lent, I made the sign of the cross in ashes on my parishioners' foreheads, saying, 'remember you are dust, and to dust you shall return'. A solemn ceremony, with some technical issues, like getting your mixture of ash and gloop right: too little gloop and they will be too ashy and merely smudge; too much and the mixture's too runny, and they leave church looking like Beyoncé in the video to 'Why Don't You Love Me?'

But out we go, marked with the cross, at the beginning of forty days of self-denial.

Someone on Facebook asked, "Why on earth would you deny yourself things you love and make you happy for forty days?"  It's a question which plays on a contemporary anxiety, that self-denial is really self-loathing, dressed up a bit.  

But I don't give up whisky for Lent because I hate myself. I give it up - not including Speyside single malts for emergencies - to make some space, on the crowded buffet of my own gratification, for something better. It is quite difficult to describe what that is, when those of us who live in times of plenty, and with the resources to access them, have got used to grazing that buffet of delights, helping ourselves to whatever takes our fancy.

I think of Lent as an old wireless, in the days when they came in a wooden case, and took a while to warm up, and illuminated a dial on which were printed the names of the cities round the world broadcasting in medium wave: Rome, Dresden, Hilversum, Bratislava, Minsk - less romantically, Droitwich for the BBC. You turned a knob to send the needle round the dial, hissing with static, until it found the signal, sometimes faint, sometimes loud and clear; jigs from Athlone, weather forecasts from Ukraine, flamenco from Seville. Hours of fun.

In Lent we too turn the dial, to tune out of the hiss and burble, half heard dance music, incomprehensible cold fronts, to find a deeper, truer signal, broadcasting still on its old frequency, but so often lost to the world's clamour. Tune in, turn your ear to that peculiar sound, inviting us not to be less than what we are, but to become what we might be.