Main content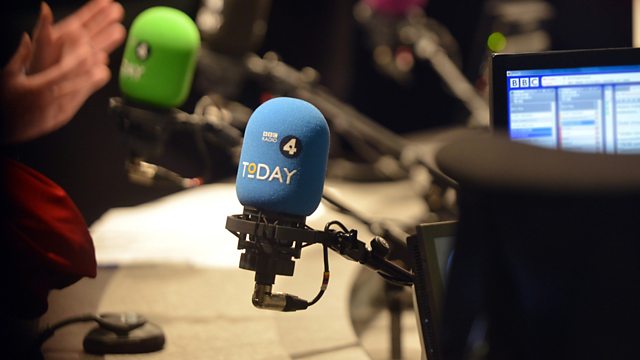 22/02/2017
Morning news and current affairs. Including Yesterday in Parliament, Sports Desk, Weather and Thought for the Day.
Today's running order
0650
A new draft guideline from NICE intends to help more professionals who work with children recognise and respond to any form of abuse and neglect. Professor Gillian Leng is deputy chief executive at NICE.
0655
A new study from Imperial College London says people will be living longer in many countries by 2030, with some places exceeding an average of 90 years old. Professor Majid Ezzat is the lead researcher of the study.
0710
The government is promising an extra 200 million pounds in emergency humanitarian aid to tackle the threat of famine in South Sudan and Somalia. The United Nations says 100,000 people are facing starvation in parts of Unity State. Emma Drew leads Oxfam's humanitarian response in South Sudan.
0715
If you meet your husband or wife outside of the EU and want to bring them to the UK, your income is the deciding factor of whether they can join you - a UK resident must earn over £18,600. Today the Supreme Court will rule on whether these minimum income requirements breach human rights. Saira Grant is the chief executive of the Joint Council for Welfare of Immigrants.
0720
Voters in Northern Ireland are preparing to go to the polls for the second time in less than a year. Colum Eastwood is leader of the SDLP.
0730
Science experiments are facing a 'reproducibility crisis', whereby between 65% and 90% of researchers have tried and failed to reproduce another scientist's experiments. Today's science editor Tom Feilden reports and Professor Mark Walport is the government's chief scientific adviser.
0740
It's more than a month since the winning boat crossed the finish line in the Vendee Globe round the world yacht race, but there are still a few boats competing. One of them is New Zealander Conrad Colman who lost his mast a fortnight ago.
0750
A British IS fighter, who according to so-called IS, died in a suicide bomb attack on Iraqi forces in Mosul is a former Guantanamo Bay detainee. Arthur Snell is former head of the Prevent programme at the Foreign Office and Lord Carlile is a former independent reviewer of terrorism legislation.
0810
European Commission President Jean-Claude Juncker has warned the UK it faces a 'very hefty' bill for Brexit and promised two years of 'tough negotiation'. Damian Grammaticus is the BBC's Brussels correspondent and Stephan Mayer is a senior MP for Angela Merkel's CDU Party.
0820
The first anniversary of the death of MP Jo Cox will be marked by the biggest community event to be held across the UK since the Jubilee. Today the Duchess of Cornwall will launch The Great Get Together, which will be held in June. Brendan Cox is Jo Cox MP's husband.
0830
Should Scotland get its own dedicated Six o'Clock News? We will find out this morning as Lord Hall, the Director General of the BBC, makes his announcement on the BBC's Scotland Charter. Baroness Young of Scone was vice chairman of the BBC in 1998 when the idea was rejected and John Nicholson MP is shadow SNP spokesperson for culture, media and sport.
0835
After years of crisis, the power-sharing institutions at Stormont are on hold as political parties in Northern Ireland are fighting an Assembly election campaign. BBC's Ireland correspondent Chris Page reports.
0840
Science experiments are facing a 'reproducibility crisis', whereby between 65% and 90% of researchers have tried and failed to reproduce another scientist's experiments. Ottoline Leyser is a professor in plant development at the University of Cambridge and Dr Francis Rowle is head of corporate governance and policy at the Medical Research Council.
0850
In the French presidential race that has already seen the current President Francois Hollande and his predecessor Nicolas Sarkozy drop out, Emmanuel Macron is looking like the front runner. Today's Tim de Faramond reports from a Macron rally last night.
0855
Residents in Liverpool could be rewarded with a year of no council tax if they help to catch dog owners who don't pick up their pet's mess or catch people in the act of fly-tipping. Should we be encouraging a society of snitches? Sarah Vine is a columnist in the Daily Mail and Dr David Halpern is chief executive of the Behavioural Insights Team.
All subject to change.