Main content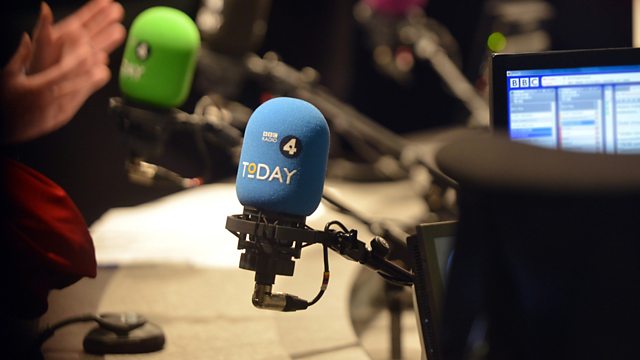 08/02/2017
Morning news and current affairs. Including Yesterday in Parliament, Sports Desk, Weather and Thought for the Day.
Today's Running Order
0650
An appeals court in the United States is considering whether to reinstate President Trump's temporary travel ban on refugees and travellers from seven mainly Muslim nations, after hearing evidence from the two sides involved. Prof Robert Wintemute is the professor of human rights law at King's College.

0655
More than half of councils are unsure if they will have enough childcare available when plans to double the free hours available to pre-schoolers comes into force, a survey suggests. Megan Jarvie is the head of policy at the Family and Childcare Trust.

0710
Plans to treat more patients in the community in England are not easing NHS pressures or saving money, according to a report. Ashley McDougall is the director of the National Audit Office.
0715
On the eve of a crucial Commons debate on a motion of no confidence in the FA, the chairman of the governing body Greg Clarke has said he will step down if he fails to get governance reforms passed. Dan Roan is the BBC's sports editor.

0720
Redrow is one of the big developers in England and Wales and has been growing steadily. But it's the government's housing white paper that will have the biggest impact over the coming year. Steve Morgan is the chairman of Redrow.
0725
Later this morning the UN will launch its latest plans to help millions of people caught up in the crisis that's engulfed Yemen. But while aid agencies are scrambling to keep up with the humanitarian needs, there seems to be no let up from the international community. Jeremy Bowen is the BBC's Middle East editor.

0730
The government's seen off a possible rebellion on Brexit by Conservative backbenchers by promising that parliament will get a "meaningful" vote on the deal before it's finalised. Keir Starmer is the shadow minister for exiting the European Union.

0740
On yesterday's programme we looked at how we should talk to our virtual assistants like Siri and Amazon Alexa. Zoe Kleinman is the BBC's technology reporter.
0750
The Supreme Court is due to rule this morning on the case of a Northern Ireland woman who wasn't allowed to benefit from her partner's local government pension after he died. Gareth Mitchell is a solicitor of Deighton Pierce Glynn.
0810
Plans to treat more patients in the community in England are not easing NHS pressures or saving money, according to a report. Niall Dickson is the chief executive of the NHS Confederation.
0820
BBC One's two-part Shannon Matthews drama The Moorside started last night. The Moorside explores the untold side of the Shannon Matthews case and reveals how a group of women brought their community together in their attempt to find a child who disappeared in their midst. Susan Howgate is Karen Matthews' cousin and Reverend Kathy Robertson is responsible for St John the Evangelist in Dewsbury Moor.
0830
It's more than five years since Sir Brian Leveson began his inquiry on how to regulate the press. But there's still no agreement about how to protect victims of newspaper intrusion while maintaining the freedom of the press. Sir Alan Moses is the chairman of the Independent Press Standards Organisation.

0840
It's no joke being attacked by a seagull. They eat your fish and chips and dive at you like a heat seeking missile. Speaking during a Westminster Hall debate Conservative MP Anne-Marie Trevelyan , talks on the "scourge" of gulls. Dr Mark Nason is the director of science and environment at Cornwall College.
0850
Hans Rosling, a Swedish professor of global health and well-known public educator, has died aged 68. Evan Davis, BBC Newsnight presenter, and David Spiegelhalter, the Winton Professor for the public understanding of risk at Cambridge University discuss Hans Rosling's career.
All subject to change.