Main content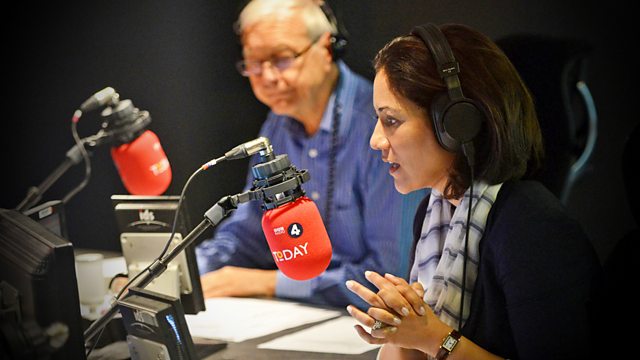 20/02/2017
Morning news and current affairs. Including Sports Desk, Weather and Thought for the Day.
Today's running order
0650
Search engines are pledging to make it harder for UK internet users to find pirated films and music and illegally streamed sport. Eddy Leviten is director general of Alliance for Intellectual Property.
0655
On Sunday the Observer reported that millions of EU citizens living in the UK will be left stranded in a legal no man's land after Brexit because of the weaknesses in Home Office immigration records, after a leaked document drawn up by MEPs warned that the UK has no population register. Sophia in't Veld is a Dutch MEP and deputy leader of the liberal group in the European Parliament.
0710
Nearly all of England's local authorities are planning to increase council taxes in the coming year, but the organisation that represents them warns deep cuts to services will still be needed. Cllr Izzi Seccombe is chair of the Local Government Association Community Well Being board.
0715
The Iranian Foreign Minister Javad Zarif has called on the United States to stop threatening Iran. Mr Zarif has been speaking to the BBC's chief international correspondent Lyse Doucet.
0720
Nearly 500 police investigations are being reviewed after two men were arrested by Greater Manchester Police at a forensics lab used by forces nationwide. Debbie Simpson is the National Police Chiefs' Council lead for forensics.
0725
Political parties in Northern Ireland are fighting an Assembly election campaign – just nine months after the last one. Naomi Long is leader of the Alliance Party.
0730
Today the debate gets under way on the Article 50 Bill in the House of Lords. Baroness Smith is Leader of the Opposition in the House of Lords.
0740
During another ferocious attack on the media at the weekend, US President Donald Trump cited a non-existent incident in Sweden, baffling many - not least Swedes. Maddy Savage is a British reporter in Stockholm and Emma Johansen is a school librarian who was in charge of the official @sweden twitter account on Saturday night and found herself fielding hundreds of questions from concerned people in Sweden.
0750
Iraqi government forces have advanced into a handful of villages on the opening day of an offensive to recapture the city of Mosul from the Islamic State group. The BBC's Middle East correspondent Quentin Somerville reports and Col John Dorian speaks for the coalition on the Mosul operation.
0810
Today the debate gets under way on the Article 50 Bill in the House of Lords. Lord Hill is former UK Commissioner to the EU and John Pienaar is the BBC's deputy political editor.
0820
The UK's only radio drama festival opens today in Herne Bay. Jonathan Banatvala is artistic director of the festival and Karin Berry is one of the jurors at the festival.
0830
A ceasefire between Russian-backed separatists and Ukrainian armed forces should begin today. Natalia Galibarenko is Ukraine's ambassador in the UK.
0835
British scientists will be able to fly to the edge of space to conduct vital medical experiments under new laws being unveiled this week. Lord Ahmad is aviation minister.
0840
Unilever has rejected the US food giant's bid on Friday, saying it saw "no merit, either financial or strategic" in Kraft's offer, worth about $143bn (£115bn). Lord Haskins is former chairman of Northern Foods.
0850
According to a Danish psychologist the art of positive thinking is turning us all into depressive psychotics. Professor Svend Brinkmann is the author of Stand Firm: Resisting the Self-Improvement Craze and Sir Anthony Seldon is vice chancellor of the University of Buckingham, who introduced well-being into schools, and now universities.
All subject to change.