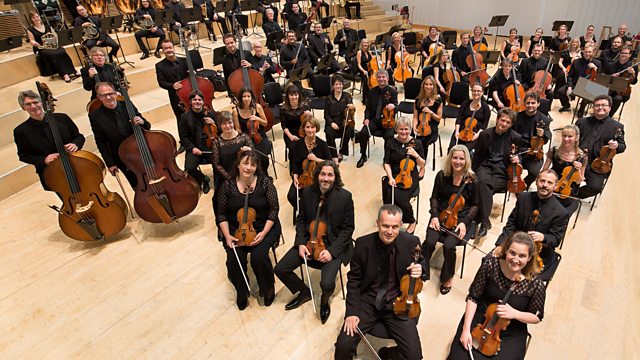 BBC SSO - Edmund Finnis, Rachmaninov, Rimsky-Korsakov
Ilan Volkov and the BBC Scottish Symphony Orchestra perform a new work by Edmund Finnis, Rachmaninov's 2nd Piano Concerto and Rimsky-Korsakov's Sheherazade.
Live from City Halls, Glasgow
Presented by Kate Molleson
Edmund Finnis: The Air, Turning
Rachmaninov: Piano Concerto No 2
8.20 Interval
8.40
Rimsky-Korsakov: Sheherazade
Steven Osborne (piano)
Ilan Volkov (Conductor)
BBC Scottish Symphony Orchestra
From their home at the City Halls in Glasgow the BBC Scottish Symphony Orchestra, and their Principal Guest Conductor Ilan Volkov, explore two familiar Russian works of ostentatious virtuosity, and a new work by composer Edmund Finnis. His piece The Air, Turning receives its world premiere performance at this concert.
Then Rachmaninov's oft-quoted Second Piano Concerto. One of the most commonly heard pieces on the concert platform, despite its ferocious technical difficulties. These are tackled this evening by Steven Osborne.
And the evening concludes with Rimsky-Korsakov's opulent Sheherazade, a work which in 1888 pushed the very limits of creative orchestration. A tuneful masterclass in orchestral sound-painting and tale-telling, taking as it does inspiration from stories of One Thousand and One Nights.
Last on
The women erased from musical history