Main content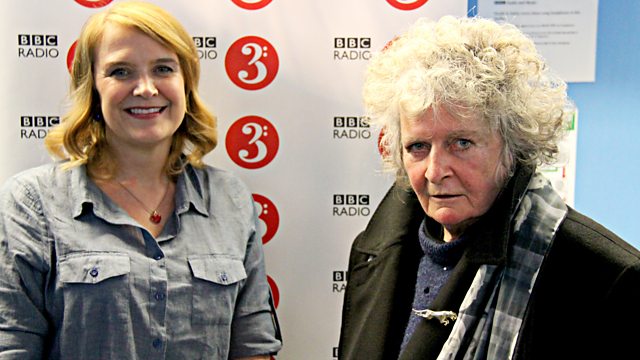 Friday - Sarah Walker with Maggi Hambling
With Sarah Walker. Including Musical challenge; Music in Time: Buxtehude's Membra Jesu Nostri; Artists of the Week: London Sinfonietta, featured performing Gorecki's Symphony No 3.
9am
Sarah sets the tone and mood of the day's programme with a range of music to intrigue, surprise and entertain.
9.30am
Take part in today's musical challenge: listen to the clues and identify a mystery musical personality.
10am
Sarah's guest this week is the artist Maggi Hambling. In a career spanning nearly 50 years Maggi has made her mark in a number of fields, including painting, portraiture and sculpture. Her best-known piece is Scallop, which stands on Aldeburgh beach in Suffolk, and is dedicated to the town's most celebrated son, Benjamin Britten. Another of her sculptures, A Conversation with Oscar Wilde, was the first public monument dedicated to the playwright and novelist. Maggi's portraits include those of fellow artist Francis Bacon and blues singer George Melly and recently, she's produced a number of extremely visceral paintings of waves, the result of daily walks on the Suffolk coast. As well as discussing her life and work, Maggi shares some of her favourite classical music, including Purcell, Britten and the synaesthetic composer Deborah Pritchard.
10.30am
Music in Time: Baroque
Sarah chooses one of the cantatas from Dietrich Buxtehude's passiontide work, Membra Jesu Nostri, a great example of how music-making was a religious vocation for many composers of the Baroque period.
11am
Artist of the Week: London Sinfonietta
Imbued with a mission to perform the best contemporary classical music, develop new work and nurture new talent, the London Sinfonietta are one of the most vibrant and exciting ensembles in the UK, and arguably the world. Since their first concert in 1968 - the world premiere of John Tavener's The Whale - the Sinfonietta have commissioned more than 300 works and premiered hundreds more. This week Sarah explores some of their finest recordings with music by composers including Gorecki, Stravinsky, Takemitsu, Harrison Birtwistle and John Tavener.
Gorecki
Symphony No.3
Dawn Upshaw (soprano)
London Sinfonietta
David Zinman (conductor).