Main content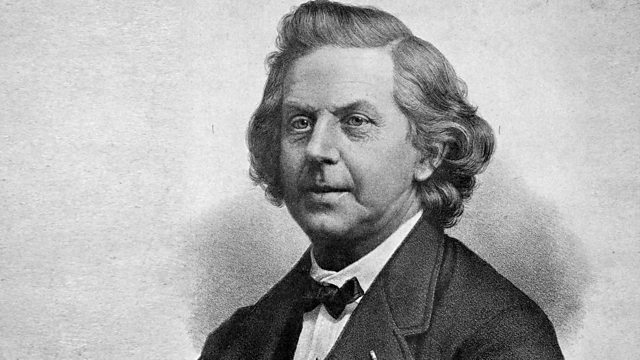 Donald Macleod focuses on the reasons why Gade made a momentous decision to return to Denmark in 1848. With String Quartet in D, Op 63 and Symphony No 4 in B flat.
Donald Macleod introduces a complete performance of Gade's joyous Fourth Symphony.
Taken under his wing by Felix Mendelssohn, in his lifetime the Danish composer Niels Gade was a celebrated figure, who performed to great acclaim in Great Britain and across Europe. In his birthland Denmark, his association with Copenhagen's Music Society and his founding directorship of the Conservatory gave him a voice of influence within musical circles. He remains part of the Danish national consciousness, through the Wedding March from his ballet "Et folkesagn". It's one of the most popular picks for weddings. However, since his death, at the age of 73 in 1890, performances of his music have become all too infrequent leaving most of his considerable legacy largely unheard.
The 200th anniversary of Gade's birth provides a good reason to rediscover his music. Weddings aside, Niels Gade is the composer of no less than eight symphonies; a concerto for his own instrument, the violin; a rich variety of choral settings and solo songs; a host of chamber music, including a piano trio, and no less than five string quartets; piano music and a whole series of large-scale works which we might want to categorise as choral cantatas but which he called "concert pieces".
There is little published information about Niels Gade available in English. Donald Macleod is joined by Dr. Colin Roth, a co-director of the Nordic Research Centre at the University of Sheffield. Across the week, Colin shares his knowledge of both Gade's music and the most detailed biography of the composer, which was published in Denmark in 2002 by Danish musicologist Inger Sørensen.
As war was breaking out across Europe, in 1848 Niels Gade decided to return to Denmark. Today, Donald Macleod explores the reasons why Gade made this momentous decision, which, according to Dr. Colin Roth's studies, are quite frequently misrepresented.
O du, der du die Liebe bist
Musica Ficta
Bo Holten, director
String Quartet in D major, Op. 63
The Copenhagen String Quartet
Symphony No 4 in B flat major, Op. 20
Collegium Musicum, Copenhagen
Michael Schønwandt, conductor.