Main content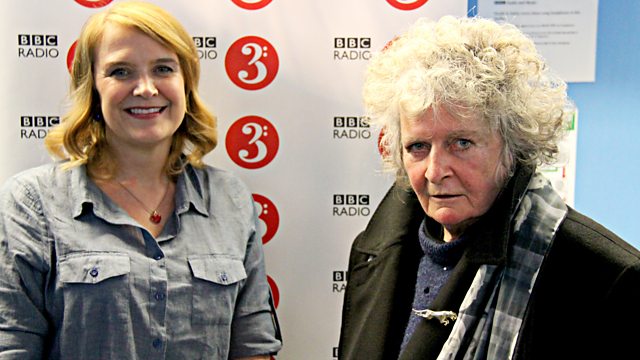 Monday - Sarah Walker with Maggi Hambling
With Sarah Walker. Including musical challenge; Music in Time: Beethoven; Artists of the Week: London Sinfonietta, featured performing Stravinsky's Histoire du soldat.
9am
Sarah sets the tone and mood of the day's programme with a range of music to intrigue, surprise and entertain.
9.30am
Take part in today's musical challenge: listen to the clues and identify a musical mystery object.
10am
Sarah's guest this week is the artist Maggi Hambling. In a career spanning nearly 50 years Maggi has made her mark in a number of fields, including painting, portraiture and sculpture. Her best-known piece is Scallop, which stands on Aldeburgh beach in Suffolk, and is dedicated to the town's most celebrated son, Benjamin Britten. Another of her sculptures, A Conversation with Oscar Wilde, was the first public monument dedicated to the playwright and novelist. Maggi's portraits include those of fellow artist Francis Bacon and blues singer George Melly and recently, she's produced a number of extremely visceral paintings of waves, the result of daily walks on the Suffolk coast. As well as discussing her life and work, Maggi shares some of her favourite classical music, including Purcell, Britten and the synaesthetic composer Deborah Pritchard.
10.30
Music in Time: Romantic
Sarah places Music in Time, heading back to the Romantic period and a late piano sonata by Beethoven that shows how he pushed the boundaries of both form and the piano itself.
11am
Artist of the Week: London Sinfonietta
Imbued with a mission to perform the best contemporary classical music, develop new work and nurture new talent, the London Sinfonietta are one of the most vibrant and exciting ensembles in the UK, and arguably the world. Since their first concert in 1968 - the world premiere of John Tavener's The Whale - the Sinfonietta have commissioned more than 300 works and premiered hundreds more. This week Sarah explores some of their finest recordings with music by composers including Gorecki, Stravinsky, Takemitsu, Harrison Birtwistle and John Tavener.
Stravinsky
Histoire du Soldat
London Sinfonietta
Riccardo Chailly (conductor).
Last on
Music Played
Oliver Knussen

2 Organa Op.27 (no.1)

Orchestra: London Sinfonietta. Conductor: Oliver Knussen.

anon.

Vetus abit lettera

Choir: Tonus Peregrinus. Conductor: Antony Pitts.

Georges Bizet

L'arlesienne: Suite No.11

Orchestra: Orchestre de la Suisse Romande. Conductor: Kazuki Yamada.

Sir Harrison Birtwistle

Virelai [Sus une fontayne]

Orchestra: London Sinfonietta. Conductor: David Atherton.

Isaac Albéniz

Prelude (Cantos de Espana Op.232)

Performer: Catrin Finch.

Nino Rota

Legend of the Glass Mountain (from The Glass Mountain)

Orchestra: City of Prague Philharmonic Orchestra.

Richard Strauss

Alphorn AV.29

Singer: Christiane Karg. Performer: Malcolm Martineau. Performer: Felix Klieser.

Heimliche Aufforderung - Secret Invitation.
BERLIN CLASSICS.
5.

Anonymous

My Lady Carey'S Dompe [c.1525]

Conductor: Andrew Parrott. Ensemble: Taverner Players. Choir: Taverner Choir.

Maggi Hambling's choice No.1

Henry Purcell

Come, ye sons of art, away, Z.323 (extract)

Performer: Michael Chance. Performer: Timothy Wilson. Choir: The English Concert Choir. Orchestra: The English Concert. Conductor: Trevor Pinnock.

Maggi Hambling's choice No.2

Benjamin Britten

Four Sea Interludes: The Storm

Orchestra: Bournemouth Symphony Orchestra. Conductor: Richard Hickox.

Britten: Young Persons Guide to the Orchestra; Bournemouth Symph, Hickox.
Chandos.
37.

Maggi Hambling's choice No.3

Benjamin Britten

War Requiem: Lacrimosa; Move him into the sun

Singer: Galina Pavlovna Vishnevskaya. Singer: Peter Pears. Choir: Bach Choir. Choir: London Symphony Chorus. Orchestra: London Symphony Orchestra. Conductor: Benjamin Britten.

Music in Time: Romantic

Ludwig van Beethoven

Piano Sonata No.30 in E Op.109

Performer: Rudolf Buchbinder.

Élisabeth Jacquet de La Guerre

Violin Sonata no.2 in D major

Ensemble: Les Dominos.

Artist of the Week: The London Sinfonietta

Igor Stravinsky

Histoire du Soldat

Orchestra: London Sinfonietta. Conductor: Riccardo Chailly.

Franz Schubert

Imromptu No.1 in F minor D.935

Performer: Sir András Schiff.

Sir Harrison Birtwistle

Silbury Air

Orchestra: London Sinfonietta.

Johann Sebastian Bach

Cello Suite No 1 in G major, BWV 1007 (Gigue)

Performer: Steven Isserlis.
Musical Challenge: Mystery Object
The Mystery Object being described was an alphorn, or alpenhorn.
Broadcast

The Classical Companion Collection