Main content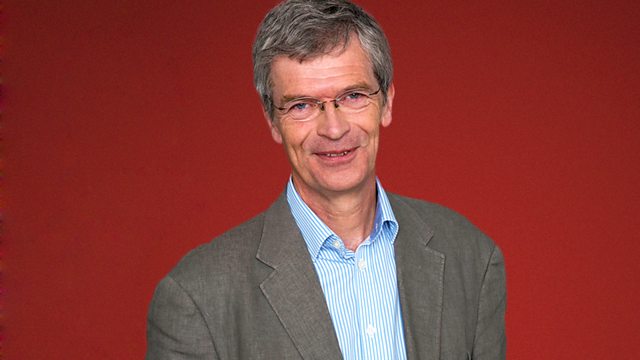 18/02/2017
Alyn Shipton's selection from listeners' requests in all styles of jazz includes a track remembering the brilliant Swedish pianist Esbjorn Svensson with his trio EST.
Performers:
Artist  Gerry Mulligan
Title  Who's Got Rhythm
Composer Mulligan
Album  Meets Ben Webster
Label  Masterworks
Number  21349 Track 4
Duration  7.42
Performers: Ben Webster, ts; Gerry Mulligan, bars; Jimmy Rowles, p; Leroy Vinnegar, b; Mel Lewis, d. 3 Nov 1949.

Artist  Oscar Peterson
Title  Night and Day
Composer Porter
Album  Oscar Peterson Plays Cole Porter
Label  Avid
Number  AMSC814 Track 10
Duration  3.41
Performers Oscar Peterson, p; Barney Kessel, g; Ray Brown, b. 25 Nov 1952.

Artist  Don Byas
Title  London Donnie (Londonderry Air/Danny Boy)
Composer trad. Arr Byas
Label  Savoy
Number  628 Side A
Duration  2.51
Performers: Don Byas (tenor sax), Teddy Brannon (piano), Franklin Skeete (double bass) and Frederick Ratcliffe (drums) in 1946

Artist  Duke Ellington
Title  Cotton Club Stomp / Misty Morning
Composer Ellington, Mills / Ellington, Whetsol
Album  Jungle Nights in Harlem
Label  Bluebird
Number  2499-2 RB Track 1
Duration  3.53
Performers: Cootie Williams, Freddie Jenkins, Arhtur Whetsol, t; Joe Nanton, tb; Barney Bigard, Johnny Hodges, Harry Carney, reeds; Duke Ellington, p; Fred Guy, bj; Wellman Braud, b; Sonny Greer, d. 12 April 1929.

Artist  Clark Terry
Title  Swahili
Composer Jones
Album  Four Classic albums
Label  Avid
Number  1102 CD 1 Track 1
Duration  6.12
Performers Clark Terry, t; Cecil Payne, bars; Jimmy Cleveland, tb; Horace Silver, p; Oscar Pettiford, Wendell Marshall, b; Art Blakey, d. 4 Jan 1955.

Artist  Eddie Thompson
Title  Body and Soul
Composer Heyman, Green, Sour
Album  Piano Moods
Label  Polygon
Number  JTE 101 Side A
Duration  6.39
Performers: Eddie Thompson, p; Barry Hamilton, b; Benny Goodman, d. 1955.

Artist  Esbjörn Svensson
Title  Mingle In The Mincing Mchine
Composer Svensson
Album  Seven Days of Falling
Label  ACT
Number  9012-2 Track 3
Duration  6.53
Performers Esbjörn Svensson, p;  Dan Bergland, b;  Magnus Östrom, d. 2003.

Artist  Neil Ardley
Title  Rainbow 3
Composer Ardley
Album  A Kaleidoscope of Rainbows
Label  AMP
Number  029 Track 4
Duration  3.28
Performers Neil Ardley, director, synthesiser; Bob Bertles, alto saxophone, soprano saxophone, flute; Paul Buckmaster, acoustic and electric cello; Ian Carr, trumpet, flugelhorn; Geoff Castle, electric piano, synthesiser; Tony Coe, tenor saxophone, clarinet, bass clarinet; Dave Macrae, electric piano, synthesiser; Roger Sellers, drums; Ken Shaw, guitar; Brian Smith, tenor saxophone, soprano saxophone, flute, alto flute; Roger Sutton, bass guitar, electric bass; Barbara Thompson, alto saxophone, soprano saxophone, flute; Trevor Tomkins, percussion, vibraphone. March 1976.

Artist  Thelonious Monk
Title  Just A Gigolo
Composer Caesar / Cacucci
Album  Complete Presitge Recordings
Label  Prestige
Number  3PRCD 4428-2 CD 2 Track 6
Duration  3.02
Performers Thelonious Monk, p, 22 September 1954

Artist  David Newman
Title  Ain't That Good News
Composer Sam Cooke
Album  Bigger and Better
Label  Atlantic
Number  1505 track 4
Duration  3.46
Performers: David Newman, ts; Melvin Lastie, Jimmy Owens, t; Benny Powell, tb; Seldon Powell, Haywood Henry, reeds; Eric Gale, g; Richard Davis, b; Chuck Rainey, elb; Bernard Purdie, d. March 1968.
Artist  Bessie Smith
Title  Downhearted Blues
Composer Hunter/Austin
Album  Complete Columbia Recordings
Label  Columbia
Number  8875403102 CD 1 Track 1
Duration  3.28
Performers Bessie Smith, v; Clarence Williams, p, 1923.

Artist  Rod Mason
Title  Potato Head Blues
Composer Armstrong
Album  BBC Jazz from the 70 and 80s
Label  Upbeat
Number  153 Track 5
Duration  2.47
Performers Rod Mason, t; Dick Charlesworth, cl; Roger Marks, tb; Ray Foxley, p; Chris Haskins, b; Tony Allen, d. 3 Feb 1980.