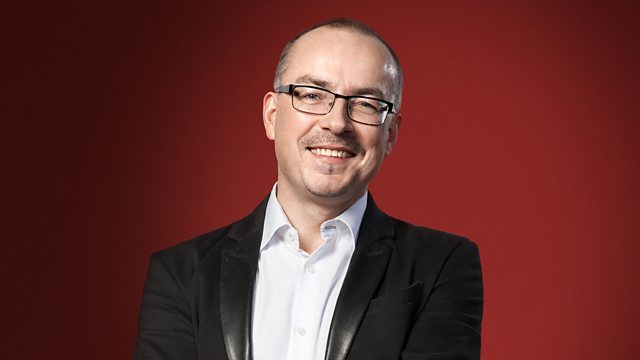 Andrew McGregor with Tom McKinney, Harriet Smith and David Owen Norris
Andrew McGregor and guests review the best recordings of classical music.
0930
Building a Library: Tom McKinney recommends a recording of Joaquin Rodrigo's Concierto de Aranjuez, one of the most popular works ever written.
1040
Andrew is joined Harriet Smith and David Owen Norris to look some recent release of piano music. Recordings in their sights include Bach's Goldberg variations from the young Beatrice Rana, Bartok from Cédric Tiberghien and music by Scarlatti, Handel and Soler played by Linda Nicholson on a copy of a piano by Cristofori, the inventor of the piano.
1145
Andrew chooses an outstanding new release as his Disc of the Week - Monteverdi's Seventh Book of Madrigals from Les Arts Florissants.
Last on
9am
Mariss Jansons conducts Richard Strauss
STRAUSS, R: Eine Alpensinfonie Op. 64; Tod und Verklarung Op. 24
Symphonieorchester des Bayerischen Rundfunks, Mariss Jansons (conductor)
BR KLASSIK 900148 (CD)
Overtures, Preludes & Intermezzi
BELLINI: Norma Overture
BOITO: Prologue from "Mefistofele": Prelude
CATALANI: La Wally: Prelude to Act Three
DONIZETTI: Ugo Conte di Parigi: Sinfonia
GIORDANO, U: Siberia: Preludio
LEONCAVALLO: Die Medici: Prelude to Act 1; I Medici: Prelude to Act III
PONCHIELLI: Dance of the Hours (from La Gioconda)
PUCCINI: Madama Butterfly: Intermezzo Act II, part 2; Edgar: Prelude to Act IV
ROSSINI: La Pietra del paragone Overture
VERDI: Un giorno di regno Overture; Prelude to Act III from I Lombardi alla prima crociata
Filarmonica della Scala, Riccardo Chailly (conductor)
DECCA 4831148 (CD)
Philip Glass: Piano Works
GLASS, P: Opening from 'Glassworks'; Etude No. 9; Etude No. 2; Piano Etude No. 6; Piano Etude No. 5; Etude No. 14; Etude No. 2; Etude No. 13; Etude No. 15; Etude No. 3; Piano Etude No. 18; Piano Etude No. 20; Opening from 'Glassworks'
Vikingur Olafsson (piano), Siggi String Quartet
DG 94796918 (CD)
Tuur: Peregrinus Ecstaticus
TUUR: Clarinet Concerto 'Peregrinus Ecstaticus'; Le poids des vies non vecues; Noesis: Concerto for clarinet, violin and orchestra
Pekka Kuusisto (violin), Christoffer Sunqvist (clarinet), Finnish Radio Symphony Orchestra, Hannu Lintu (conductor)
ONDINE ODE12872 (CD)
9.30am – Building a Library
Building a Library: a weekly look at a piece of music, a comparison of the available recordings, and a recommendation.
Composer: Joaquin Rodrigo
Piece: Concierto de Aranjuez
Reviewer: Tom McKinney

Building a Library: Rodrigo's Concierto de Aranjuez
Recommended recording:  Pepe Romero (guitar), The Academy of St. Martin in the Fields, Sir Neville Marriner (conductor) 
Coupled with:
RODRIGO: Fantasia para un Gentilhombre
PHILIPS 4380162
Other recommended recordings:
Below is a shortlist of other recordings which Tom McKinney also liked, although we can't guarantee the availability of these discs.
John Williams (guitar), The Philharmonia Orchestra, Louis Fremaux (conductor)
SONY G0100033894421
Julian Bream (guitar), The Monteverdi Orchestra, John Eliot Gardiner (conductor)
DUTTON CDLX7333
Craig Ogden (guitar), BBC Philharmonic, Sachio Fujioka (conductor)
CHANDOS CHAN9604 (CD)
10.20am – Choral music
Biber: Missa Alleluja
BIBER: Missa Alleluja a 36; Nisi Dominus; Sonata 'La Pastorella'; Hic est panis
Erich Traxler (organ), Gerd Kenda (bass), Hubert Hoffmann (theorbo), Jan Krigovsky (violone), Gunar Letzbor (violin), St. Florianer Sangerknaben, Ars Antiqua Austria, Gunar Letzbor (conductor)
ACCENT ACC24325 (CD)
Queen Mary's Big Belly
LASSO: Te spectant, Reginalde, Poli
MUNDY, W: Exsurge Christe
NEWMAN, ANTHONY: Fansye
SHEPPARD, J: Christi virgo dilectissima; Deus miseratur nostri; Vaine, all our lyfe we spend in vaine; Martyr Dei qui unicum; Libera nos 1; Vaine, all our lyfe we spend in vaine (II)
TALLIS: Like as the doleful dove; O sacrum convivium; Quod chorus vatum; When shall my sorrowful sighing slake, partsong for 4 voices; Loquebantur variis linguis
TYE: Peccavimus cum patribus nostris
WILDER, P: Pater noster
Gallicantus, Gabriel Crouch
SIGNUM SIGCD464 (CD)
Virgin and Child: Music from the Baldwin Partbooks, Vol. 2
FAYRFAX: Ave Dei patris filia
SHEPPARD, J: Verbum caro factum est
TALLIS: Gaude gloriosa Dei mater; Magnificat for 5 voices; Videte miraculum
TAVERNER: Mater Christi Sanctissima
WHITE, ROBERT: Tota pulchra es; Regina caeli
Contrapunctus, Owen Rees
SIGNUM SIGCD474 (CD)
The Sun Most Radiant: Music from the Eton Choirbook, Vol. 4
BROWNE, J: Salve Regina I; Salve Regina II
HORWOOD, W: Gaude Flore Virginali
STRATFORD: Magnificat
The Choir of Christ Church Cathedral, Oxford, Stephen Darlington (conductor)
AVIE AV2359 (CD)


The Sixteen sings Poulenc
POULENC: Mass in G major; Un soir de neige; Litanies a la Vierge noire; Quatre motets pour le temps de Noel; Quatre motets pour un temps de penitence; Salve Regina; Ave verum corpus
The Sixteen, Harry Christophers (conductor)
CORO COR16149 (CD)
10.45am – Harriet Smith and David Owen Norris on new piano releases
BACH, J S: Goldberg Variations, BWV988
Beatrice Rana (piano)
WARNER CLASSICS 9029588018 (CD)
Discovering The Piano
ALBERTI, D: Sonata in A major
GIUSTINI: Sonate da Cimbalo di Piano e Forte: No. 1
HANDEL: Keyboard Suite, HWV 427 in F major
PARADIES: Sonata No. 10 in D
PLATTI: Sonata in G minor
SCARLATTI, D: Keyboard Sonatas (selection)
SOLER, A: Sonata M(arvin) 23 in C minor
Linda Nicholson (Denzil Wraight copy of the 1730 Cristofori-Ferrini pianoforte)
PASSACAILLE PAS1024 (CD)
Adolf von Henselt: Piano Works
HENSELT: Variations de concert sur le motif de l'opera 'L'elisir d'amore' Op. 1; Petite Valse in F major Op. 28, No. 1; Petite Valse in C major Op. 28, No. 1; Mon chant du cygne ('Mein Schwanengesang'), WoO in A flat major; Tableau musical - Fantaisie sur un air bohemien-russe, WoO (Op. 16) in A flat major; 2 Nocturnes Op. 6; Valse Melancolique Op. 36;    Ballade Op. 31 in B flat; Impromptu for piano Op. 7; Impromptu No. 2 Op. 17 in F Minor; Impromptu No. 3 Op. 34 'Illusion perdue" in B flat minor; Impromptu No. 4 Op. 37 in B minor; Etude Op. 2 No. 6 'Si oiseau j`etais'; Berceuse 'Wiegenlied', WoO (Op. 45) in G flat major; Grande Valse 'L'aurore boreale' ('Das Nordlicht') Op. 30 in C sharp minor
Daniel Grimwood (piano)
EDITION PETERS EPS005 (CD)
Bartok: Sonata for two pianos and percussion
BARTOK: Piano Sonata, BB 88, Sz. 80; 3 Hungarian Folksongs from Csik, BB 45b, Sz. 35a; Sonatina, BB 69, Sz. 55; 3 Rondos on Slovak Folk Tunes, BB 92, Sz. 84; 3 Studies, BB 81, Sz. 72 Op. 18; Sonata for Two Pianos & Percussion, BB 115, Sz. 110
Francois-Frederic Guy (piano), Colin Currie (percussion), Sam Walton (percussion), Cedric Tiberghien (piano)
HYPERION CDA68153 (CD)
11.45am – Disc of the Week
Monteverdi Madrigali Volume 3: Venezia
MONTEVERDI: Tempro la cetra (Symphonia); Al lume delle stelle; Con che soavita (Book 7); Chiome d'oro (Book 7); Interrotte speranze; Lettera amorosa; Tirsi e Clori, ballo concertato (Book 7); Altri canti d'Amor (Book 8); Dolcissimo uscignolo; Lamento della Ninfa (Book 8); Il Combattimento di Tancredi e Clorinda
Les Arts Florissants, Paul Agnew (conductor)
HARMONIA MUNDI HAF8905278 (CD)