Main content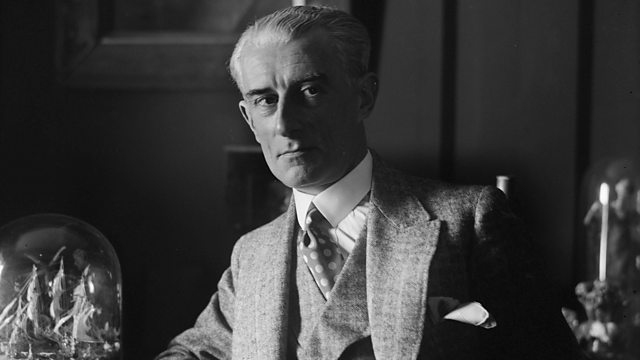 Donald Macleod focuses on how Ravel - long deemed unfit for the army - came to serve his nation bravely during the First World War. Including Bolero (1984 arrangment); La valse.
Donald Macleod explores how Ravel - just over five feet tall, and long deemed unfit for the army - came to bravely serve his nation during the First World War.
Ravel is a musical genius ... with an image problem. Thanks to the efforts of Torvill and Dean (not to mention Bo Derek and Dudley Moore), his is a place in popular culture unmatched by any composer of the 20th century. And all for a piece, Boléro, that he joked to friends "had no music in it" ... Compared to his fellow musical "impressionist" Debussy, Ravel's music is sometimes unfairly characterised as rather shallow - all brilliant artifice and sumptuous detail, but no heart. That reputation's not helped by the man himself. Famously private, Ravel projected the image of a rarefied dandy, whilst keeping his own private emotional world a tightly-kept secret. This week, Donald Macleod seeks to break through the shell of this musical enigma to discover the vast depths beneath.
At the outbreak of the First World War, Ravel was nearly 40 and physically tiny compared to his peers. Yet he was determined to serve his country. Repeatedly requesting enlistment after being rejected by the authorities, the composer was finally called up in 1915, and his bravery and doggedness in the face of horror was praised by his officers. Yet on returning, he famously rejected the Légion d'Honneur, France's highest accolade, claiming he didn't want the praise and limelight the honour would bestow.
Boléro [1984 arrangement for Torvill and Dean]
Trois beaux oiseaux du paradis (Trois Chansons)
Accentus
Laurence Equilbey, conductor
Fugue; Toccata (Le Tombeau de Couperin)
Bertrand Chamayou, piano
La Valse
Montreal Symphony Orchestra
Charles Dutoit
Tzigane [original version for violin and luthéal piano]
Daniel Hope, violin
Sebastian Knauer, luthéal piano
Trois Chansons madécasses
Nora Gubisch, mezzo
Magali Mosnier, flute
Jerôme Pernoo, cello
Alain Altinoglu, piano.