Main content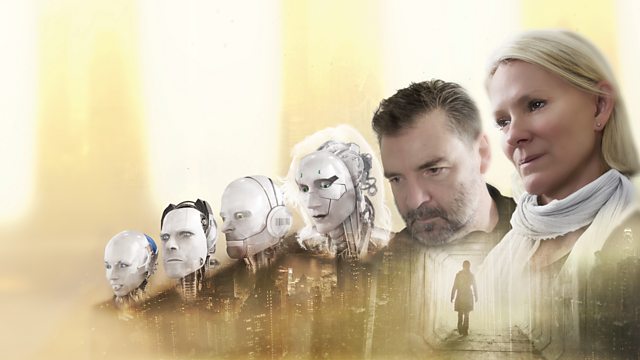 Isaac Asimov - I, Robot (Omnibus)
Stevie is raised by a robotic childminder and the powerful bond formed changes the course of her life. Stars Hermione Norris.
The rise of robotics in the 21st century, told through the poignant and mysterious story of enigmatic lawyer, Stevie Byerley.
As a child, Stevie is raised by Robbie, a robotic childminder, because her parents are too busy working. The powerful bond she forms with the robot is unbreakable.
Their relationship will change the course of Stevie's life.
First published in 1950, Asimov's stories are becoming truer with every day that passes. The world that he imagined is now upon us.
Omnibus of five parts.
Stevie Byerley …. Hermione Norris
George Byerley / Doctor .... Derek Riddell
Grace Byerley / SZ-34 (SUZI) …. Dianne Weller
ROBBIE .... Kelly Burke
Tour Guide …. Rob Blackwood
Young Stevie .... Mia Burgess
Quinn .... Brendan Coyle
Powell .... Doug Devaney
Cutie / Nestor Robots .... Nicholas Briggs
Major Kallner .... Kelly Burke
Doctor Black .... Gary Turner
Psychiatrist .... Diane Spencer
Andrea Ashe .... Corrinne Wicks
Doctor Lanning .... Michael Cochrane
Original Music: Imran Ahmad
Dramatised by Richard Kurti.
Director: Andrew Mark Sewell
A B7 production for BBC Radio 4, first broadcast in February 2017.
Last on
Broadcasts