Main content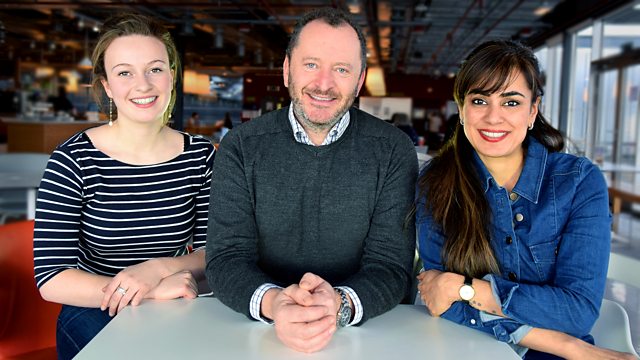 Bisque and Langoustines
Neil Forbes and Sumayya Usmani are joined by Edi Stark to learn how to make shellfish bisque, plus Flora Shedden talks to chef Kirsten Gilmore about writing her first cookery book.
Bake-off star Flora Shedden, acclaimed food writer Sumayya Usmani and top chef Neil Forbes join forces in the kitchen in a programme bursting with flavour but be warned listening to this might seriously increase your appetite!
This week special guest Edi Stark wants to learn how to make a shell fish bisque so Neil roasts up some prawn shells to make a classic bisque with a Scottish twist; Janice Forsyth sets Sumayya the challenge of coming up with a dish which marries Australian and Scottish ingredients and flavours so Sumayya makes succulent spicy Scottish langoustines perfect for the BBQ - yes, even in the depths of a Scottish winter! Plus Flora is off to Aviemore to compare notes on what it's like to write your first cookbook with the Kiwi chef making a name for herself in the Cairngorms, Kirsten Gilmore.
Packed with fresh flavours and fresh faces, grab a fork for the delicious return of the Kitchen Café...radio has never tasted so good!
Flora Sheddon with Chef Kirsten Gilmour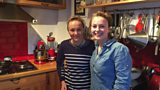 Flora is off to Aviemore to compare notes on what it's like to write your first cookbook with the Kiwi chef, Kirsten Gilmour
Bisque or Bouillabaisse or fish soup ( 4 portions ) Neil Forbes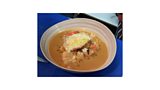 Ingredients
500g prawn heads or any shellfish bodies and shells, lobster, langoustine or even crab
1 small onion, peeled, and roughly chopped
1 carrot, peeled and roughly chopped
1 stick of celery, roughly chopped
1/2 bulb of fennel roughly chopped
2 inch piece of leek, roughly chopped
1 tablespoon of sunflower oil
4 cloves of garlic
sprig of thyme
3 bay leaves
3 star anise
a pinch of saffron
1 tablespoon of tomato puree
1/2 glass of white wine
2 pints water
200ml double cream
juice of lemon
a mix of fish and shellfish to add later, i like mackerel, scallops, turbot whatever you have
croutons for garnish
rouille for garnish
grated hard cheese
good salt and pepper

Method
- in a hot oven 200c, place the prawn heads on a roasting tray and roast for 30 mins until nicely coloured and smelling good.
- in a large pot heat the oil and fry the onion, carrot, celery, fennel and leek until a nice colour, add the garlic, thyme, bay, star anise, and stir, it should take 4 to 5 mins on a high heat.
- add the tomato puree and continue to cook and stir, add the saffron and white wine, deglaze and bring to the boil, cook for a couple of minutes on a high heat and add the water.
- add the shellfish bodies and season with salt and pepper. Simmer the stock for about an hour or two and pass through a fine sieve, bring this stock to the boil in a clean pan and reduce by half
- add the cream and reduce again until a nice consistency is achieved. Add the garnish fish, and squeeze a few drops of lemon, season again and label into warm bowls ensuring the fish is just cooked,
- add a crouton and a spoon of rouille and a grating of hard cheese.  Serve at once.

Langoustines with spice by Sumayya Usmani
Podcast
Celebrate the joy of Scotland's larder with recipes, reviews, tips and delicious ideas!