Main content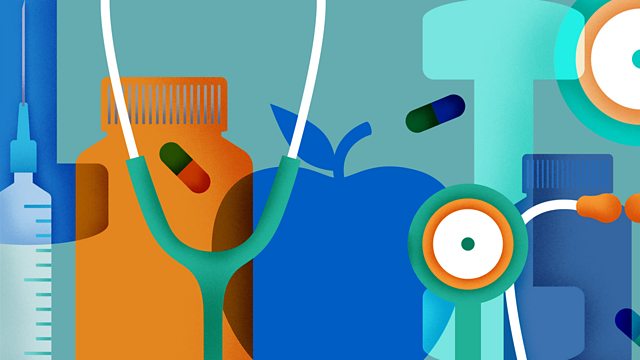 NHS Special: What needs to give?
Dr Mark Porter hosts a special debate on the current state of the NHS.
A special debate on the current state of the NHS. Recorded in front of an audience at the BBC Radio Theatre London.
The last few months have seen the service creaking under unprecedented demand, and there is likely to be worse to come. Something needs to give. Is it simply a matter of more resources, or do we also need to change our expectations of what the NHS provides? Is rationalisation and rationing the way forward?
Dr Mark Porter discusses the issues with a panel including Clare Marx, president of the Royal College of Surgeons, Chris Hopson, chief executive of NHS Providers, David Haslam, chair of NICE, Prof Sir Nick Black, London School of Hygiene and Tropical Medicine and regular contributor Margaret McCartney GP. Issues discussed include whether the NHS should continue to be free at the point of use. Is there too much bureaucracy with too many bosses? Was the internal market evidence based, has it worked and was it fair? Rationing of treatments. And can the NHS be taken out of politics? Inside Health listeners set the agenda by emailing the programme - some of whom joined the audience - so thank you for all your input.
Margaret McCartney writes:
The NHS is never far from the headlines, but the last few months have depicted a service in crisis. It's been made clear that there will be no more money from central government - so what needs to give?
Clare Marx, explained the angst of her members who wanted to operate on people but had been forbidden to. Nick Black, discussed the types of surgery that were now being placed off limits - like hip replacement surgery - even though they were very cost effective. Because of the way hospitals are funded, it is these useful operations that are being stopped rather than the much less cost effective prescription of some very expensive cancer drugs. Chris Hopson described tensions between the expectations being placed on the NHS to provide excellent care despite the funding gap to actually provide it. And David Haslam, chief executive of NICE, expressed his disquiet that patients could no longer expect a consistent service across the NHS. Instead, different Clinical Commissioning Groups decided themselves how many rounds of IVF to fund, for example. The result was a patchwork of provision, and was inherently unfair.
Is rationing therefore the way forward? Some listeners had emailed in suggesting that the NHS shouldn't fund treatments for 'smokers, drinkers and the obese'. Others that people should pay for hospital meals, or there should be a charge made for GP consultations. We already have charges for some things - for example, prescriptions in England, or dental check ups for many people - but as Clare Marx pointed out, removal of teeth is the commonest childhood operation, so can we really say this policy has been successful? I don't believe that we have the evidence to show this is safe: the bureaucracy would be sizeable - I had to sign 12 bits of paper for a routine check when my kids and I last went to the dentist - and then there are unintended consequences. Paying for appointments turns us in to consumers - would doctors feel obliged to give us treatments that people want, even when they don't work well, aren't cost effective or do net harm?
Listeners wanted to know if the NHS was over managed - and had strong opinions on how much could be saved if we got rid of middle managers in particular. But Chris Hopson pointed out that we spend less than the very efficient Germany on hospital managers, and Clare Marx said that hospitals are highly complex places needing a huge amount of organisation to run smoothly. For me it is a question of what managers are doing - is it of value to patients, or is it a waste of time?
Nick Black argued that there was a great deal of waste still in the NHS - and suggested that the internal NHS market may have had some advantages to start off with, but now, the 4.5 billion a year estimated to be spent on it could be better used elsewhere. There is no doubt that the process of bidding and judging for commissioning costs time and money, but how to stop the problem of bad and wasteful policy in the first place? Could politics be taken out of the NHS? I was on my own, arguing that party politics had done avoidable harm to the NHS and that cross party working - as we see in the Health Select Committee and the National Audit Office - was possible. My fellow panellists argued that since the budget of the NHS was such a large amount of money it would be impossible to disentangle it from politics: but Chris Hopson pointed out that defence spending, for example, was ring fenced. The audience overwhelmingly voted to be taxed more to pay for the NHS. If we were sure that extra money would go on human level care, and not wasteful, non evidence based policy making, I would support it completely. But we are not, as a population, being given that option.
Last on
The Panel
Clare Marx, President of the Royal College of Surgeons
Chris Hopson, Chief Executive of NHS Providers
David Haslam, Chair of NICE
Professor Sir Nick Black, London School of Hygiene and Tropical Medicine
Margaret McCartney, Glasgow GP
Programme Transcript - Inside Health
Downloaded from www.bbc.co.uk/radio4
THE ATTACHED TRANSCRIPT WAS TYPED FROM A RECORDING AND NOT COPIED FROM AN ORIGINAL SCRIPT.  BECAUSE OF THE RISK OF MISHEARING AND THE DIFFICULTY IN SOME CASES OF IDENTIFYING INDIVIDUAL SPEAKERS, THE BBC CANNOT VOUCH FOR ITS COMPLETE ACCURACY.
INSIDE HEALTH – The NHS Debate
Programme 7.
TX:  14.02.17  2100-2200
PRESENTER:  MARK PORTER
PRODUCER:  ERIKA WRIGHT
Porter
Hello and welcome to the BBC Radio Theatre for a special Inside Health debate on the NHS.  The last few months have seen the service come under intense pressure.  Emergency departments have featured heavily in the resulting media coverage but they're not the only part of the system that's creaking.  General practices, care in the community and other departments throughout many hospitals are also struggling to manage unprecedented demand with finite resources.  Of course more resources would help but the public purse is under extreme pressure too and while the NHS has fared somewhat better than most public sectors recently the Chancellor confirmed in the Autumn Statement that there are no plans to review current funding in this Parliament.  So with no extra money on the horizon how is the service going to cope?  Something, somewhere has to give.  Can we improve efficiency and reduce waste or might the service have to offer less?  And we adjust our expectations and behaviour accordingly. 
Those are the kind of issues we'll be debating today with the help of our panel.  So let's meet them:
Black
Hello I'm Nick Black and I'm Professor of Health Services Research at the London School of Hygiene and Tropical Medicine.
Marks
My name's Clare Marx, I'm currently the President of the Royal College of Surgeons in England and I'm an orthopaedic surgeon by training.
Hopson
Hello, my name is Chris Hopson and I'm Chief Executive of NHS providers and we represent the frontline hospital community, mental health and ambulance trusts.
McCartney
And I'm Margaret McCartney, a GP in Glasgow, long term contributor to Inside Health, a writer and broadcaster.
Porter
And I'm pleased to say that we're also joined on the internet by the Chair of NICE, Professor David Haslam, who can't be with us in person as he's at home recovering from surgery.  Are you there David?
Haslam
I am indeed Mark, yes.
Porter
Sterling effort David and I think worthy of a round of applause.
[Applause]
And I suppose I should introduce myself – I'm Dr Mark Porter, I'm a half-time NHS GP, half-time journalist but I am not the Chair of the British Medical Association – the BMA – that's another Dr Mark Porter, very confusing I know.
Inside Health listeners have set the agenda for today.  Some of whom are here in our audience and we'll be hearing from them later.  So thank you all very much for your input.  We've lots to cover in a limited time so let's start with one of the basic foundations of the NHS – that it's free at the point of use.  Is it time to introduce charging?  A lot of our listeners seem to think so.  Chang thinks free at point of use is unsustainable.  Rachel says we should be paying £10 to see a GP.  Robert says regrettably my solution is tariff at the front door.  Rosalind suggests paying for hospital food.  Others have suggested paying for not attending appointments.  So Nick what do you think of charging – your gut reaction?
Black
My gut reaction is against it.  First of all, I think we need to be clear – and I understand why people always make these suggestions of payment – is it to raise money or is it to deter demand, to actually put people off, to try and reduce the sorts of pressures we've seen in the system, particularly recently?  Now the fairest way to raise money is through income tax, through a progressive income tax, where we redistribute the money from those who can afford it most to those least.  Turning specifically though to the question of payments for using, for instance, a GP, the other factors you've got to take into account is it costs quite a lot to collect money – staff time and so on.  The other thing is that if we use – people have suggested say £10 a visit to a GP, okay let's take that.  Well if we have the same exemptions as we have for prescription charges at the moment – the elderly, children, pregnant women and so on – that's 90% of the population are exempt.  So in total my estimate is this would raise about £250 million a year in England.  Okay 250 million is useful, we'd all like to have that extra if the government offered it, but it's not going to solve the sorts of problems you're all aware of.
Porter
Margaret, what about this deterrent effect, that it would make people think twice before going to consult a healthcare professional about something that they might be able to manage themselves?
McCartney
I think the very fact that people are worrying about this is a sign that people want to do something for the NHS, people are saying what can we do to help the NHS, how can we manage to make it run better.  But what we have to remember is the NHS was set up on moral principles and that's what I think we're in danger of losing.  It was set up because a mixture of private and charity providers could not give people care free at the point of need and that's what we're in danger of losing right now on our watch.  So as well as that I think when people are paying for service they expect something from it and I really worry that charges will have unintended consequences.  For example, general practitioners feel that they have to treat someone or give a prescription for something whereas in their current practice because we don't pay we feel genuinely if someone doesn't need a particular prescription or offer of treatment it's okay to leave things as they are, that's what we will do.  A consumer based model is a wrong model for the health service.
Porter
Clare Marx.
Marx
I'd like to pick up on Margaret's point about unintended consequences.  If you look at what's happened in dental health where about 50% of the population actually have to pay for their dental care, we know that there is a tendency for people to go less often than they need to the dentist and in particular perhaps not take their children who of course are exempt but they don't necessarily see it that way.  And now one of the biggest reasons why children are admitted to hospital is for removal of their baby teeth because they have such poor dental health, they are just not getting the regular visits.  So anything that deters people from the necessary course of healthcare really can't be condoned and I would agree that actually you're unlikely to raise much money from simply charging at the GP's door and in particular we certainly wouldn't want to charge people for missing appointments because actually they're probably the very people who can't afford to pay it anyway.
Porter
Chris Hopson.
Hopson
So the crown jewel of the NHS is that it's based on a fundamental principle which is you get access to care based on clinical need, not ability to pay and that that care is available free at the point of use.  And I think we nibble at and we tamper with that principle at our peril.  All the evidence suggests that if you start charging it's actually the people who need the services most who actually are most affected and then secondly I think Nick's got a really important point, which is the sums of money that are likely to be raised are, to be frank, a drop in the ocean - £110 billion is the annual NHS budget and if we're talking about taking up a huge amount of admin time and a huge amount of effort to collect an extra £250 million it just seems to us on the basis of just simple extra benefit for the cost involved – it just doesn't make sense so we're strongly opposed to the principle.
Porter
And how would your members feel, as Rosalind was saying, about paying for things like hospital food – she pays for her own food when she's not in hospital why should she get it free when she's in hospital?
Hobson
Well so it goes back to those two points.  There's a whole bunch of different things we could start charging for but I think the whole point of the NHS is it's free at the point of use and secondly it's just the cost of collecting very small amounts of money.
Porter
Can I put this to the audience then?  A show of hands – if you would be in favour of any form of charge being introduced, however small, in the NHS, is anybody in favour?  So probably maybe 10% of the audience.  Those who'd be agin it – I presume that's the rest of you?  Yes okay, so that's an overwhelming majority against.
I want to move on to a different area now and that's the area of waste, which I think is an area that doesn't quite get the airing it perhaps deserves.  Now we've got a listener question here from Carol Cohen from Hertfordshire and she's or was an NHS cardiac technician for over 20 years, Carol what's your question?
Cohen
Would not the NHS be better off without so many managers?
Porter
Well predictably Carol's not alone in her concerns, we've had lots of emails on this – Jane: NHS is middle management heavy; Robert: We were promised high trust, low bureaucracy but we have the opposite; Ann: Management costs are failing the NHS; Christine: There are lots of layers of bosses.  Chris, are we spending too much on bureaucracy?
Hopson
So it's something that often comes up but if I may be so bold it is a bit of an urban myth.  So I have in front of me literally here what percentage of the total healthcare budget in different nations gets spent on admin…
Porter
Please do share.
Hopson
… and the answer is:  In America it's 8%; in France it's 6%; the incredibly efficient Germans it's 5%; the average across the world is 4%.  In the UK it's 2½%, it's half the amount of Germany, it's a third the amount of the United States.  And just to make the point – please nobody forget that hospitals are very complex organisations, we employ 1.4 million people inside the NHS, so you probably might want a quite good HR department.  We spend £115 billion of public expenditure so you probably want quite a good finance department.  We see a million people every 36 hours in hospitals so you'd probably want a bunch of people ensuring that the flow of people coming into hospitals is managed effectively.  And also, and again, we have a practising surgeon on the panel, we have 4,000 operating theatres in the country that are very expensive to run so we must ensure we run them efficiently.  So actually we spend less than virtually any other nation on these things and actually I think it's really important we should recognise the contribution of those managers who, in my view, do just as good a job for the NHS as the frontline practising doctors and surgeons.
Porter
Chris, do we know which way that trend is going – you talk about that figure – are we getting more bureaucracy or less?
Hopson
Down, down – it's definitely going down. 
Porter
Nick.
Black
I'm all in favour that we invest sufficient in management in the health service, so I'm very pro-manager, it's absolutely vital and we could manage the service better than we are at the moment, with all respect to excellent people working in there.  I would take issue though slightly with Chris.  I think we can make major savings in bureaucracy.  I personally would get rid of the so-called internal market.
Hopson
Don't disagree, don't disagree at all.
Black
Chris, good.  Now this isn't for ideological reasons.  None of us are really sure what the benefits – and there may well have been some benefits of introducing the separation as you all know between purchasing – the CCGs and the hospitals and other providers – but the fact is that it's costing a conservative estimate is about four and a half billion out of that 100-110 billion, it's a lot particularly when we're looking at the sorts of redistribution of resources we need.  And that also fits with the whole ethos of transforming health and social care into integrated local services.  So it's a win/win.
Porter
Nick, we've got an email from Peter Gordon who says:  We were told the internal market would increase efficiency through competition, did it work and was it fair?  So you're saying no?
Black
I think the fairest thing to say is there is no good evidence that competition improves the quality of care or lowers the cost of care.  Now it's really difficult – it's a really difficult thing to study and so it doesn't mean that competition and markets have no place but there is no good evidence that it improves quality or decreases costs.  So overall I think it's a pretty low risk to shift from where we are with an internal market to an integrated system and save all those transactions between CCG staff and trust staff.
Porter
Clare Marx, you're a surgeon at the cutting edge – if you excuse the pun – do you feel that you're over-managed, I mean you're the sort of person that a lot of the public, when you stop and ask them, would like more money – let's have more people like you and let's have fewer managers.
Marx
The surgical team could not function without the management skills that enable us to get the patients to the right place at the right time and do the right operation.  And if you can imagine you're baking a cake and you think about all the ingredients you need to put into that well just think about the number of pieces of kit that you need for an orthopaedic operation.  I have great pleasure in opening seven different sets with 40 different instruments in them just to be able to do a standard operation and each of those need to be managed through processes and we need to have that quality assured to make sure that they are sterile and they're there at the right time.  So I don't think that we're over-managed, I think that what – the biggest inefficiency that we're seeing at the moment is that because of perverse issues we're being told not to use those operating theatres at the moment for doing elective patients and you have surgeons standing relatively underused whilst the operating theatre is lying vacant.
Porter
Well explain that Clare, why?
Marx
I'll give you the example, a particular commissioning group has said they haven't got enough money for anymore elective surgery for the next 102 days…
Porter
This is planned – planned operations?
Marx
Planned…
Porter
So hips and knees, things like that?
Marx
Indeed… for about 102 days and so all those surgeons who are fully employed and standing ready will undoubtedly do any emergency case that comes in and even though we know there's been an increase in the emergency cases they're not sufficient to fill every moment of the day.  And normally a surgeon, like myself, would be doing operations on people's hips and knees perhaps a couple of days a week as well as the emergency work.  Now if that couple of days of the week is then barren what a waste of my time.
Hopson
And just to give a real example.  Because the pressure on beds is so great and demand is going up so rapidly and we're not keeping up with it before Christmas, as part of the preparations for the A&E surge that we know happens after Christmas, all of our members were instructed to effectively stop a certain number of elective operations, like Clare's hips and knees, in order to ensure that we had enough beds in each hospital to cope with accident and emergency demand.  And when I go and talk to, for example, the German Hospital Association, as I did – just at the end of last year – they cannot understand why we are running our hospitals at 95% capacity because that's exactly what has to happen – you have to stop elective ordinary operations so that you've got enough bed space to deal with the surgeon A&E demand.  And as they said to me that's absolutely no way to run a hospital system.  So we have to find a way of actually increasing the capacity to meet the bulge in demand that we know is coming.
Porter
So what's happening in countries like Germany – they have some spare, that they have all year, I mean, for instance, let's talk about numbers of beds, they might have 50 beds in the hospital that aren't used during the summer that they bring in during…
Hopson
So two issues, first we have half the number of acute beds that the Germans do but secondly most continental systems run their hospitals at about between 80-85% capacity because they know full well that you do get surges in demand and if you don't have that spare capacity it become incredibly inefficient and you get very well trained, very well paid surgeons sitting around doing nothing.  So we really do – we cannot carry on running our hospitals at the 95% capacity levels that we are currently running them at, it's just not right.
Porter
And Margaret, it's not just about stopping elective procedures, I mean if you're running hospitals at full capacity there are other problems associated with that too, I'm thinking infection.
McCartney
Absolutely and your nurse/patient ratio we know has an impact, we know there's an association with how well patients do, how often patients die even and if you've got fuller hospitals and you're not getting the ratios that we know are safest for patients.  We have this dialogue with patient safety but when do we actually talk about the core issues here – the number of beds and the number of people providing hands on care for those patients when they're in hospital?  It is absolutely absurd.  The other big problem is I think we need our hospitals and our health service to be managed properly but there is no point in putting lots of managers into the NHS if we're asking them to do things that are not evidence based, of things that are low value and low quality for patients.  So if, for example, managers are spending all their time doing commission processes, like having a competitive market, an internal market in the NHS, it's just nonsense.  Why did we spend £640 million in 2014-15 on external management consultants, it is absolutely absurd.  And when we look at some of the conclusions that these management consultants are making they're not based on high quality evidence, they're short term solutions that do not look at the bigger picture and actually what are the harms of introducing these?  I think we've got it absolutely wrong.
Porter
Nick, can I look at other forms of waste within the NHS, in terms of efficiency when we're buying things, do we know much about that?
Black
The main cost in healthcare, as we all know, is staff time and it's how we use them.  And what worries me is that like every other country in the world – this isn't peculiar to this country – we don't actually know what the true cost is of producing healthcare between different hospitals or come to that between different general practices.  What we have is prices – there's a system in the health service of reimbursement, well that's just a price.  The actual true cost of producing a hip replacement will vary from Clare's hospital to the next hospital down the road, it might even vary with her colleague in the same hospital and we don't know.  We don't know how many nurses are present in theatre for a hip replacement and how many are strictly needed.  So there's probably huge amounts of benefit to be got and better use of resources in that way.  I think the most graphic example of waste has been Iris Sibley, who you'll all be familiar with, the woman in Bristol who's been in inappropriate care – it's a lose/lose – worst of all for her and her family, secondly for the hospital…
Porter
This is the woman that couldn't be discharged.
Black
This is the woman that couldn't be discharged for some time, she was ready to go.  And what we know, and you all know, is that there are literally thousands of people like that today in NHS hospitals.  Now that is a dreadful waste of resources, aside from the humanity or the lack of humanity of keeping patients hostages in hospital.  So what we've got to do is transform the system and reorganise it in imaginative ways to make better use of the resources we've got – the people and the beds.
Marx
There's a big piece of work going on in the health service at the moment trying to look at the variability of both process and price so that we're very aware of the need to make sure that we hone down on to the really important aspects of patient care and the way we do operations and the prices we pay for implants and I think that all doctors are up for making those changes because they really want to make the best use of the resource that they have.
Porter
May I quickly add another aspect to this from Caryann and from a number of other people who said:  The NHS should be called the International Health Service.  And that's a reference to the abuse, supposed abuse, that goes on with people arriving here and having treatment they're not eligible to.  Very briefly, very briefly Chris.
Hopson
Well so we recognise it's appropriate that we should collect income, money, from those people who receive NHS care but we just need to keep it in proportion.  So we've been set a target of £500 million collection, we already collect 300 of it, so effectively the only extra amount that would be collected is 200 million on a budget of 110 billion that's a thousandth of the NHS budget.  So yes we need to get better at it and it is something which we are working on but again let's just be realistic that it's not going to solve the underlying problem which effectively is funding is not keeping up with the extra demand that's being placed on the NHS.
McCartney
The bottom line is we cannot afford to keep wasting money on short term party political policies that just don't work, don't have any evidence base for them whatsoever and then try and blame immigrants or foreigners somehow.  It's foreigners that come in and support our NHS – 40% of doctors working in the NHS graduated abroad, we need people from abroad in the NHS just now.
Porter
Okay, I want to move on to another contentious issue now and that's – well call it what you will – rationing, rationalisation, raising the threshold – there's no doubt that CCGs are raising the bar for interventions and it's something we've covered extensively on Inside Health recently for operations like hernias and varicose veins and carpal tunnel syndrome.  We've had lots of emails on this subject.  Jeanette says:  No obesity surgery, no fertility treatment; Patricia says:  IVF, only one cycle; Ian says: No treatment at all for anyone who's seriously overweight or who drinks or who smokes.  Now they're pretty controversial views but you'd be surprised how many people expressed similar things.  So at this stage I'd like to bring in David Haslam who's patiently been listening at home.  David, are you there?
Haslam
I indeed Mark yes, fascinating discussion.
Porter
I wanted to pick up on this – on the IVF example.  NICE, your organisation, is traditionally seen as a gatekeeper for care in the NHS, it has to be effective, it has to be safe and it has to be cost effective.  But here we've got a situation where you're recommending that we do offer IVF in certain criteria which some CCGs are not agreeing to fund, so they're gatekeeping your gatekeeper guidance if you like.  Are you happy with that?
Haslam
No not in the least but I do absolutely understand the financial pressures that CCGs are under and I'm also really, really clear, it's something I've said before on Inside Health, that our guidelines are guidelines, they're not tramlines.  But the simple fact is the way that NICE develops guidelines is first of all to use the evidence as best we can, not just someone's whim or opinion, we try and do everything in as transparent and open a way as we can, we use both experts whether clinicians or others and patients and the public to come up with our guidance, so it's highly unlikely I would say that any local organisation would be able to reach a judgement better than the national organisation like NICE.  And if organisations do do this differently there's a real risk of unjustified postcode variability. 
The other thing, of course, is fertility is deemed to be a core NHS service dealing with it and so NICE has been really careful to look at the most cost effective way of offering such a service.  And parts of England who ignore the NICE recommendations for IVF I think should rethink their approach.
Porter
David, what's the legal situation in terms of you produce some guidance, the CCG in my area, whatever therapeutic area it might be, say well actually no we don't fund that locally despite NICE's recommendations, do I have any redress on that?
Haslam
It's quite complex.  As I've said our guidance is guidance.  There was certainly one court case in May 2014, I think one CCG ruled against offering a patient who'd undergone chemotherapy the opportunity to freeze her eggs because the CCG didn't agree with NICE's guidance and the CCG was actually taken to the High Court and the judge said the CCG was wrong not to follow NICE's guidance because they simply disagreed with it.  So I think the critical thing is to use evidence, I mean it's what Margaret says repeatedly and I agree and applaud her.  The really important thing is to use evidence to do these things on a justifiable just basis, not just based on a whim just because you're trying to save money.
Porter
Thank you David.  Clare Marx.
Marx
I think I just need to set the picture with what's happening across the country at the moment because these are real issues that are very much alive.  And we've got, in Kent at the moment, 102 day ban for all elective surgery, this is not whether you're too fat, too thin – they're just saying, someone is saying we're just not doing it.  Then we've got perhaps the Vale of York where they said if you're a smoker you've got to delay your surgery for six months, if you're overweight delay your surgery for a year.  But actually those people, if you don't give them smoking cessation, is you don't help them to lose weight are still going to be there in six months or a year, so what benefit was that delaying other than to settle on this year's budget?
Porter
Chris, it does seem bizarre to put a moratorium on all elective surgery when you're delaying the inevitable but let's play this from the CCG's angle.  I've got no money, I can't afford to pay you, what am I going to do?  It's a perennial problem in the NHS, isn't it, getting to the end of each year rather than thinking in the longer term?
Hopson
So it's no accident that we've now had a significant number of these over the last 12 months because let's go back to what's really going on here.  There is now clearly a gap between the demand that is coming on the NHS and the funding that is available.  So we do face a fundamental choice as a nation which is are we going to invest more in our NHS, interesting that your BBC poll did show that there was a majority of people in favour of increasing national insurance to put more money into the NHS, but if we don't put that extra money in then the reality is we are having to start to make decisions exactly like this.  Our issue is that we don't think necessarily the best way to do it is to have individual CCGs on a piecemeal basis start to make those decisions, we need a proper national debate.  And what we can't carry on doing is pretending that we can carry on offering the same quality of service to a larger number of people without that extra money and we're not having that debate and that's why individual CCGs are almost being forced into making decisions that, to be frank, I think none of us particularly think are helpful but it's a logical consequence if they haven't got enough money.
Porter
Well how do we force that debate, how do we get that debate to happen?
Hopson
Well so, so I think one of the issues is that I can completely understand – and maybe this might not be very popular – why a government who's been in office for six years will find it quite difficult to have the debate that says we have now reached the point where we're either going to have to diminish the quality of the service or put more money in.  So if our politicians are unable to lead that debate I think we need people like this programme but also the audience, also our media, also those who work in the health service to make sure we do have the debate.  The problem at the moment is that all of our members in terms of our hospitals and our community trusts and our mental health and ambulance trust they're being asked to do impossible things that they cannot deliver because they haven't got enough money and then they're being chastised and criticised for failing to deliver the impossible.  That is not fair to those who are on the frontline.
Porter
Clare Marx.
Marx
What we're not talking about when we're saying that someone is denied a surgical procedure is we're not talking about the cost of not doing something and that is a really big cost.  If I could take someone living on their own with an arthritic hip who can't get to the shops, is taking a bunch of painkillers, may actually cause themselves an ulcer and have a bleed because they have indigestion after taking all the painkillers, what is the cost of that and what is the societal cost and the depression and all these other issues that will arise because we have not actually done an extremely good operation which has huge qualitative improvement of life and good cost benefits.  And I think the health economists would confirm this is one of the most cost effective procedures that we have within the health service and yet these are the very procedures that people are trying to restrict.
Porter
In the audience we've got Dr Mike Smith, who's a trustee of the Patients' Association.  Mike, I can imagine what your association's view on this is.
Smith
Yeah, first of all Mark, why is the Patients' Association representative not on the panel but in the audience?
Porter
Well I'll ask you Mike, why is the Patients' Association represented by a doctor?
Smith
Well… I would put it to you Mark that we're all patients, as you know only too well.  But in terms of, for instance, in the big story last week about the NHS from CCGs – clinical groups – overriding clinical decisions when somebody was too fat or was smoking unless they were in severe pain.  Now a clinical decision having been made by the patient upon the advice of his or her care professionals can be overridden by managers – is that appropriate that this happens?
Porter
A show of hands – do you think that's appropriate or not that somebody might intervene to decide whether a treatment is, for instance, hernia surgery is appropriate or not – hands up?  Well that's pretty well – nobody thinks it's appropriate, so they're with you on that one Mike.  Margaret McCartney, there is some rationale – I mean there's quite a lot of rationale behind this, I mean the idea is a CCG would say they're following an evidence base, that what they're trying to do is improve patient care and spend the money effectively.  So there has to be a threshold somewhere.  For instance, take varicose veins, if someone's coming in with a very, very minor varicose vein is it appropriate that that's treated on the NHS?
McCartney
Well part of this is about morals and it's also about shared decision making.  So I think we have been guilty in medicine for many years of over-treating, over-diagnosing, over-promising results and that's very much a feature of a marketised health service and one of the reasons why I'm so concerned that we keep the NHS the way it is.  But the bigger problem is I think when you start to create rules, binary yes's and no's for who's going to be operated on and who's not.  Life is messy and medicine is messy, people's histories, stories, how things impact on their life is difficult and messy and I think it's a bad idea to take away a shared decision between a doctor and a patient about the risks and benefits they think people could gain from a procedure and put that into a tick box form that's decided by someone who's got nothing to do with that patient care or to do with that patient's life.  I think that is immoral and I think that's wrong.  However, I do think that low value treatments on the NHS we should be looking at them and trying to eradicate them and there are many, many, many of them but usually they come with conflicted interests as part of them.
Porter
Nick.
Black
I trust everybody understands that there will also be rationing, there's rationing in America, which spends perhaps twice what we do on healthcare, it's rationed on the basis of ability to pay.  So even if we get an extra 10 billion overnight suddenly from the Chancellor, unlikely, it would relieve things for a year and Chris's members would all feel the pressure but then we'd be back to having this same debate because of the nature of healthcare.  Now that's a council of despair, we have to live with rationing and the debate really is how do we most fairly ration.  At one level you've got the traditional way which is the individual doctor sees you as a patient and you two between you, ideally, rather than the doctor telling you, make a decision whether to have an operation, whether to have a treatment or whatever.  At the other end we've got the sort of the NICE approach which is to try and get a national level indication of the best ways to use the 110 billion.  And my personal view is we need a mixture of both.  I wouldn't want a completely sort of command and control from the centre – you shall do this and you shall not do that.  The other point is that things like hip replacements – a hip replacement, the way we measure the amount of benefit is a quality adjusted life year.  A hip replacement is about £1,000 a quali and NICE struggles with cancer drugs worrying about should they spend £30,000 a quali.  Surgery is incredibly good value for money and it's crazy not to give it to everybody who needs it.  I'm not just saying that because the President of the College of Surgeons is sitting beside me.
Porter
David Haslam, may I put this to you?  I think people understand that there has to be some form of rationalisation or rationing and indeed that's part of the raison d'être of your group NICE, but for it to be applied universally and fairly and equally across the country so everybody knows what the rules are and we suggest that's not happening at the moment, does that concern you?
Haslam
Of course it does, yes, and if we go back particularly to arthritis the NICE guidelines on osteoarthritis make it absolutely clear that decisions should be based on discussion between patients, clinicians, surgeons and that issues like smoking, obesity and so on should not be barriers to referrals.  So we've been really, really clear about this.  But what I think is particularly important is it sometimes feels to me that some of these restrictions are brought in almost in a punitive way, people who are overweight ought not to be so therefore it's their fault.  And NICE has been really clear about this, we have a thing called the Citizens' Council which is a group of just ordinary members of the public to represent the British public, who look at these complex issues and they've made it really clear to us that NICE should not take into consideration whether particular conditions might be seen as being self-induced because let's be honest it's often almost impossible to decide whether something was dependent on someone's behaviour or not.  So we shouldn't be prejudiced, we should be focused on the evidence, there are difficult – really difficult decisions to be made but they must be based around evidence not just whim or prejudice.
Porter
Margaret, the other concern about this sort of approach is that the squeaky wheel often gets the grease in the NHS and there are certain sectors that are easier to chop than others, and I'm thinking – I mean it's a cliché but I'm thinking about mental health.
McCartney
We're just not resourcing mental healthcare properly at all.
Porter
No I was just saying I've got an email here from Lesley who points out:  King's Fund say that mental health is a quarter of the burden of disease in the UK but mental health only gets a tenth of the NHS funding, so it can ill afford to be further cut – is their point.
McCartney
And these costs are met by individual human beings and their families, if we don't give people proper healthcare that is the price that's being paid but not by the health service by somewhere else.  What I want to see a moratorium on – I want to see rationing of non-evidence based health policy.  I think we should stop doing all the rubbish that we keep being mandated to do by government who does not look at the evidence base before they tell us to do stuff.  Dementia screening, health checks, the entire Health and Social Care Act for example, that's the stuff we should be rationing.
Porter
Chris, quickly.
Hopson
The mental health stuff just seems to me to be extraordinary and if you actually look at the benefits that you gain in terms of the physical health benefits but also people going back to work mental health investment pays for itself three or four times over.  Every pound that we invest in improving mental health you actually get improved physical health, you get people back to work.  So, to be frank, the fact that we're not spending enough on mental health is just actually – we're shooting ourselves completely in the foot.
Porter
Well Teresa Taylor, Inside Health listener in the audience, Teresa you've got a point that I think is relevant to this.
Taylor
There is bound to be a compromise in trust when I don't know whether decisions about my treatment are:  a. the best options for my health or b. the cheapest option for the service or c. the only option permitted by compulsory guidelines.
Porter
Margaret, coming to you because as a practising GP when you're referring or not referring in this case somebody the patient looks you in the eye and they want to know which of those three clauses – are you not doing it because of the money, are you not doing because I don't need it or a combination of the two?
McCartney
Well I think we've got a massive problem in how we incentivise doctors and there's been this sort of philosophy in the last decade or so that only if you give doctors financial incentives will they do the right thing.  And I think we actually have to crush that idea, it's just nonsense.  We recruit medical students because of their vocation and yet we kind of beat it out of people, we create a system that's meant to make money as the only thing that you want to head for.  What I want to do is leave my job everyday feeling that I've done as good a job as I possibly can.  I don't want money to get in the way of my relationship with patients and I think we should be really making our system safe enough that money is no longer the incentive that it has been through the quality and outcomes framework of paying GPs, in particular this tick box approach that we had where an exception report, a say that someone didn't want a particular treatment was seen as something somehow bad or dishonest for GPs to be doing.  We absolutely have to move away from that.  We've got rid of it in Scotland, I don't know what's going to replace it but I hope it's something better.  I think financial incentives are a perverse incentive in healthcare and we really should be designing our systems where they are no longer what we're aiming for.  What we should be aiming for is vocational professional practice and partnership with our patients.
Porter
Nick Black, this trust is crucial.
Black
Teresa your point is so important, we've got to maintain that professional ethos of trust in the doctor, once that goes we're all doomed, that's absolutely fundamental and for the reasons you say there's reasons to doubt.  I think it also illustrates why what we need is much more real informed shared decision making between the patient and the doctor or the patient and the nurse.  That has the obvious advantage that you, as a patient, get what you want but also what we find from research is that on the whole in the area of planned surgery, not emergency, about 20% of patients choose not to have surgery once all the benefits and risks are laid out to them.  So you actually get a saving.  The other big area where there's – it all comes back to this issue about waste and making better use of our resources is end of life care.  I won't ask for a show of hands of how many people in this room have signed an advanced directive – three on the panel.  Oh good there are – actually there are three or four there.  But actually we should all be putting up our hands, everybody over the age of 60-65 should be writing an advanced directive, if they want to, not everybody – you can never make compulsory because we know that lots of people get lots of interventions that if they were in a position to choose would actually reject them.
Porter
I need to move on.  Thank you Nick.  I need to move on now to another group and that's – this is self-help/responsibility – what we can be doing ourselves to help the NHS, it's not about what the NHS is going to do to us but what we can do to ourselves.  Debbie has emailed in to say:  This is a health and behaviour crisis that needs to be solved holistically, teach people to take better care of themselves.  Simon says:  Identify what people should be responsible for themselves.  Chi says:  We must educate people to have the right expectations of what the NHS can and can't do without getting people's backs up.  Clare, patient expectation.
Marx
The role of education is absolutely crucial because we know that education is the way to a better healthier more successful life.  And it's incredible to me that we don't invest more in public health initiatives, in school doctors, in clubs in schools to make sure they eat the right thing at breakfast or clean their teeth.  I think if we don't get the conversations right about the education about sexual health there will be more infertility, there will be more issues.  All these things are bound up in a patient's expectation because when they come to talk to the clinician they very often have only got a bit off the internet and the bit off the internet says – If you take this product, which you can buy on the internet for £100,000 – or whatever it is – you will live forever and you will not need this procedure.  And so without a basis in education we are going to have expectations which far outweigh anything that we could ever possibly afford.
Porter
Chris, Clare's list there included things like sexual health services, health education, now these are the very areas that are being squeezed now and perhaps they should be the areas that we should be investing in.  They're being squeezed in favour of hard metrics like the number of hip and knee replacements that have been done.
Hopson
I think if you look at it doesn't seem to me we have a national health service, we have a national illness service that is effectively designed to treat people when they become ill.  And actually if you look in other nations who are getting this right there's far more being done upstream to prevent illness and to support people for health and wellbeing.  So we must see the NHS as part of a range of public services.  So there's a fantastic initiative up in Morecambe now where a doctor working with local schools has now got a thousand kids running a mile a day.  Another really good example would be the single biggest thing that I think has improved health in this country in the last three years has been what we've done on smoking and if we could do the same on sugar and if we could do the same on other things that would make a huge difference.  So all I'm saying is we quite rightly, in a sense, spend a lot of our time treating people without realising that there's a whole bunch of public health type things that we could be doing.  And Mark you're absolutely right, one of the real false economies we're making at the moment is we are cutting those services just at the point when we should be investing in them.  It's mad.
McCartney
I do think the NHS should stay as being an illness service because really true prevention in terms of healthcare is about social inequalities, it's about addressing poverty in the UK right now, it's about addressing why it is if you're in a poorer area you're likely to die a decade or a decade and a half earlier than someone living in a richer area.  That can't be sorted out by the health service, that's about social and economic policies that we make choices about.  So if we're talking about public health we should be talking about well what about fair alcohol laws, the cheap alcohol that's on sale in supermarkets, often cheaper than plain water for example.  These are the kind of public health issues that are difficult issues but do need to be discussed and that's where proper prevention takes place.
Porter
Can I give you an example that I see on a weekly basis and I'm sure you do and that's the statin versus the lifestyle change.  Someone comes in, an otherwise well middle aged person, wants to take a statin but they're overweight, they don't do any exercise, they have a poor diet but they often want the pill and what they should be doing is doing all the other stuff and leaving the pill till last if at all.
McCartney
Well that's great if you've got the resources in your environment, if it's easy for you to cycle to work, if you've got someone that can childmind for you, if someone else can look after your elderly relative or parent to let you go out for a job or a run, if you've got the money to go and join a gym or to get new trainers.  There's numerous barriers are put in place for people to have the lifestyle opportunities that are taken as granted for people that live or work in richer areas.
Porter
I want to move on to now the issue of community care.  The big mantra in primary care, which is where I work, is we keep people out of hospital at all costs.  And there's good reason for that – if you don't need to go there, why go there, it's a place where things can go wrong.  But one wonders that if you don't have the community services in place there's a risk that people may be languishing in the community.  Nick Black.
Black
What we've actually got to do to transform health and social care is actually change the culture and the whole way we organise and think completely differently, putting the patient at the centre, how we provide care.  That – I know it's not terribly popular at the moment – is what the sustainability and transformation plans are about.  I know they've had a bad press, I know the public weren't involved enough in the early stages for good or bad reasons but trust me that is exactly what those plans are about.
Porter
These are the five year plans and I mean are you confident that that's happening – going to happen?
Black
I don't think anybody's confident because this – no other country has tried it.  What we do know is that it can work in Northumbria, in Rushcliffe around Nottingham, in South Somerset, brilliant successful integration is taking place.  GP practices controlled by the trust, their hospital trust, working together, all sorts of radical things are going on.  So we know it can work.  Bad news – Northumbria probably took at least 10 years, possibly 20 years, of the people working together, we don't have that time, we've got to get this transformation done in the next few years.
Hopson
I think we would all agree with the vision of people being treated closer to home and effectively not being stuck in hospitals when they're medically fit to discharge.  The issue though is that we need to invest in our community facilities.  So here we are in where over the last six years we've taken 450,000 people out of social care because of the pressure on local authority budgets and actually in a survey we did just before Christmas we found that actually intermediate bed capacity has actually gone down in a number of places, not gone up.  And that's one of the reasons as to why we've really struggled over this winter.  So yes we absolutely can see the vision but what you can't do is effectively take the beds away from the hospital without ensuring that we've got appropriate community facilities invested to replace them and that's what we're trying to do.
McCartney
Let's not talk about bed blockers, these are people trapped in hospital because a lack of proper investment in the community.  So we've got social care funding down 14% in real terms over the last few years, district nurses – numbers of district nurses down 28% in the last five years.  We can't talk about care in the community if there is no one to care in the community.
Porter
There are two more areas I want to cover so we're going to need to move on.  And the next one is a question to all the panel really.  Benjamin Tarsh has emailed in to say:  Should we not consider the Australian model where most vulnerable get free at point of delivery care but those who can afford pay some level of payment on a sliding scale.  What I wanted to ask you was looking around the world is there a model that's caught your eye?
Black
Well there's a very nice piece of work done by Mark Britnell a few years back where he came up with the perfect health and social care system and it had about 15 features and it was one from each of different countries.  In other words no country has cracked it all.
Porter
Clare Marx, has anything caught your eye on your travels, either as a patient or as a surgeon?
Marx
No and I think there are some very negative features of many of the health services where the rich get something that the poor can't have.  And I think the United States is a case in point and it's very well known.
Porter
Chris Hopson.
Hopson
The real issue I think is if you look at what's going to come in this country over the next 10, 20 years we all know there's a baby boom, we all know that effectively when you reach 70 that's the point when you start to actually get – need access to more health and care services, 1948 when that baby boom started, plus 70 equals 2018.  There is a very, very big demand bulge coming and we have a fundamental question as a nation which is do we want to continue with our fantastic NHS, if we do I'm sorry we're going to have to invest more money in it.
McCartney
There's a moral imperative about the NHS that we all contribute, we all can take at the point of need, we all have stories about it, we all have histories about it but I think it's about what it means to be part of a society that you contribute into something your neighbour may use before you.  And I think that's something that's good for citizens in general.  I do think though we've got to the point where it does need more money but we also have to think fundamentally about how we organise ourselves, how do we decide as citizens, as a population, what we spend that money on and how we decide where it goes and why.
Porter
Well our last topic is about who should be making that decision for us.  Wendy Wright is a retired doctor, stopped practising I think in 1973, Wendy's in the audience, Wendy what's your question please?
Wright
Can the National Health Service be taken out of politics – is it possible?
Porter
You all get a go at this.  Nick Black first.
Black
No.  I mean okay as we've seen all the topics we've talked about we've actually all – it's all about values and we all have different values.  As such, therefore, and it's tax funded it will inevitably have to go to parliament for these decisions, the high level decisions.  Now the trick is we need a Secretary of State – I'm not thinking particularly of this particular one but all of them – who don't then try and micro-manage, so you've got to have responsibility at parliament, these are political decisions, but you've got to try and persuade secretaries of state not to get involved in trying to run the service.
Porter
Can I bring David Haslam in at this stage?  You're chair of a very important organisation that is supposed to be outside of politics and it's there for the greater good of the NHS, the nation if you like, does it work, can you manage that, can you be an apolitical body?


Haslam
Well absolutely and I think one of the critical things that NICE can do is make some really difficult decisions.  For instance when we're looking at the extremely expensive drugs and my responsibility and NICE's responsibility is to say we understand that for an individual patient any amount of money isn't enough, I mean if it was one of my family I'd want millions of pounds spent upon them but the reality is you can only spend money once.  And so I have to be responsible to the whole population and to make sure that money is spent as wisely as possible.  And so NICE does this by the methods of using, as I've said, evidence of working with patients and the public, using experts and so on, to make these decisions and to take some of those really difficult decisions away from politicians, much to their relief I would say and NICE has been running now since 1999 and I think part of the reason that it's an ongoing organisation is because we're in a good position to make difficult decisions that the politicians are not in a position to make.  But one of the real difficulties I guess is that so much of health policy and health outcomes, the benefits, are longer than the political cycle so the temptation to do things that demonstrate benefit within the term of one parliament is always going to be there for politicians.  And also with Nick Black the simple fact is if we're talking something that's 8-10% of the budget of the country that's never going to be away from the politicians and neither should it be.
Porter
Are you saying that you never get your ear bent by politicians?
Haslam
No we don't and the critical thing is that if the Secretary of State was to phone me up and say – the outcome of a particular drug that we're looking at doesn't suit the government, would we change it – the answer would be no, it absolutely has to be.  But the thing that I always say to politicians is actually leaving us alone is to your benefit, you can blame me, don't take the blame yourself.  And I've met ministers of health from many countries, part of my job is to visit countries where they're really interested in how we do this, and I stress that real benefit of leaving it to an organisation that has really clear values and I can't stress enough it's around evidence, it's around working with patients and so on, rather than making these decisions from a purely political outlook.
Porter
Margaret.
McCartney
I think there's a big difference between party politics and parliamentary politics and I absolutely think that the health service should have parliamentary oversight.  I completely disagree with party politics getting involved in the micro-management, as Nick says, in the NHS because it often, if not almost always, results in incredibly poor value for money, huge human cost.  And what I would really like to move to is a consensus based way forward with the NHS.  So if you look, for example, at the cross-party working in parliament – we've got the health select committee, the audit committee for example, who look at issues, examine them, ask experts for advice, really interrogate that evidence, pull it apart and try and make sense of it.  Just imagine if instead of seven day working as being our party political manifesto promise, we didn't really know what it meant, we didn't know how it was going to be inflicted upon us, we didn't know what it was going to cost, we didn't know what the evidence was – it's taken months and years to actually disentangle the promises that were made by politicians from the evidence on the ground, it has come at a cost of a generation of junior doctors who are disillusioned, frustrated and upset with governments and I think many have left, hopefully not permanently, NHS in service and practice.  So why don't we move to a better way of doing things, why don't we actually ask for evidence first rather than realising it doesn't work afterwards?
Porter
Clare Marx, Wendy's question was is it possible, do you think it's possible?
Marx
I don't think it's possible and the Royal College of Surgeons has been asking for a cross-party commission to actually start talking about all the difficult issues that Margaret and all the others have discussed.  We can't take it away from politics because it is a £110 billion worth of our economy and therefore it's always likely to be a political issue.  What we can do is try and have proper conversations so that when evidence base decisions are made we don't get party politics or local concerns – don't try and change this service.  We have to get away from that and that's part of the conversation we've got to have with the public because we can't go on funding everything that people want in the places they want it and what's more we can't get the quality if we keep on doing that.  So we know that in order to get quality sometimes it will be necessary to reduce the number of places where patients can have a service to actually get people to concentrate on being experts in a service.  So there are lots of conversations to be had and that's why we think a cross-party commission is a good way of actually taking this forward.
Porter
Chris Hopson, it seems to be a popular idea, do you think it's achievable though or is the NHS going to remain this political football, that it's often referred to as?
Hopson
No I think I agree with the rest of my panel members, which is the reality is if you look at the amount of our taxpayers' money that we all pay that goes on the NHS it seems to me inconceivable that we wouldn't have politicians ultimately responsible and accountable for that.  However, I think Nick's absolutely right, we need to ensure politicians let the NHS get on with doing what it needs to do instead of interfering.  Just one final point which is that it seems to me where we are at the moment is a really unhappy place, which effectively for perfectly understandable, you might argue, short term electoral and political reasons we're not able to have the debate that we need about some really big difficult long term issues.  And if I may make the observation – I don't think our politicians always distinguish themselves by their ability to grapple with world class big difficult long term issues.  We have to find a way – we have to find a way where we can have this debate properly about what are we going to do in terms of this fundamental dilemma if we want to carry on providing the excellent quality of service that the NHS currently delivers to the growing number of people, we are going to have to spend more money on it and that is something that we just are not discussing properly.
Porter
May I ask the audience for a final show of hands?  Who would like to see the NHS taken out of politics with some cross-party group that we've been referring to – hands up if you would like to see it take out of politics?  Yeah that's interesting.  So that's just over half, maybe half I would say.  So that's something that well most of us can agree on that perhaps we'd like to see the NHS less politicised than it is now for the good of its own long term future as well as ours.
I'd like to thank our studio audience and our listeners at home for all their input over the last few weeks.  And of course thank you to the panel:  Clare Marx, Chris Hopson, Professor Sir Nick Black, David Haslam and Margaret McCartney.  Goodbye.
ENDS
Broadcasts