Main content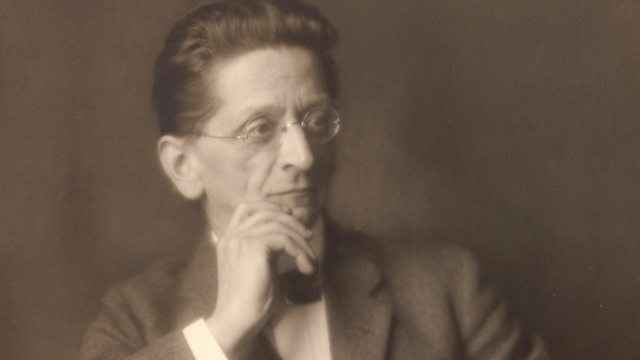 Donald Macleod focuses on Zemlinsky's turbulent early life in pre-war Vienna, including his close relationship with Arnold Schoenberg.
Donald Macleod introduces the ugly, beautiful, hyper-expressive musical world of Alexander Zemlinsky - and his turbulent early life in pre-war Vienna.
Alexander Zemlinsky may have been famously ugly. But his music is amongst the most beautiful, intense and passionate ever written. Pilloried through his life for his gawky, bespectacled appearance and diminutive stature, he lived a life in the shadow of his friend and brother-in-law Arnold Schoenberg, and his one-time lover, the beautiful socialite Alma Mahler. "My time will come after my death", the composer said - and in the last half century audiences have come to love the shimmering details and epic Romantic sweep of his music. Often compared musically to Mahler, Zemlinsky weathered the build-up to two world wars from his beloved home city of Vienna, only to die prematurely in exile in the USA.
Donald Macleod begins the week by painting a picture of "fin-de-siècle" Vienna at the turn of the 20th century - an artistic, philosophical and musical nexus. He also ilooks at Zemlinsky's close relationship with his friend, and later brother-in-law, Arnold Schoenberg.
Lyric Symphony (1st movt. Ich bin friedlos)
Matthias Goerne, baritone
Orchestre de Paris
Christophe Eschenbach, conductor
Clarinet Trio (3rd movt. Allegro)
Emma Johnson, clarinet
Frank Helmerson, cello
John Lenehan, piano
Sinfonietta (1st movt. Sehr lebhaft)
Czech Philharmonic Orchestra
Anthony Beaumont, conductor
String Quartet No 2 (5th movt. Langsam)
Escher String Quartet
Fantasies after poems by Richard Dehmel
Stanislav Khristenko, piano
Irmelin Rose
Hans Peter Blochwitz, tenor
Cord Garben, piano.
More episodes
Previous
You are at the first episode