Main content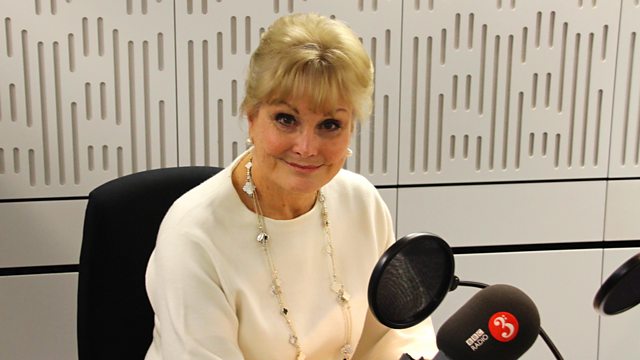 Monday - Rob Cowan with Angela Rippon
With Rob Cowan. Musical challenge; Music in Time: Mahler: Symphony No 2; Artists of the Week: Borodin Quartet, featured performing Beethoven's String Quartet in A, Op 18 No 5.
9am
Rob sets the tone and mood of the day's programme with a range of music to intrigue, surprise and entertain.
9.30am
Take part in today's musical challenge: which location is being depicted in this piece of music?
10am
Rob's guest this week is the newsreader, broadcaster and writer Angela Rippon. Angela started her career in print journalism before moving into television at BBC South West. She went on to present the Nine O'Clock News, making her the first female journalist to regularly present national news. After her remarkable appearance dancing with Morecambe and Wise on one of their Christmas specials, Angela went on to host Come Dancing, and since has presented shows such as Antiques Roadshow, Top Gear, and more recently Rip-Off Britain and How to Stay Young. Aside from broadcasting Angela has written a series of children's books and was one-time chair of English National Ballet. As well as discussing her life and career, Angela shares some of her favourite classical music, including Mendelssohn, Canteloube and Villa Lobos.
10.30m
Music in Time: Romantic
Rob dips into the Romantic period to cast a spotlight on an early symphonic poem by Mahler that ultimately became the first movement of his 2nd Symphony.
11am
Artists of the Week: Borodin Quartet
Rob's Artists of the Week are without question one of the great chamber ensembles of the last century: the Borodin Quartet. Founded in 1945 and still going strong today, the Borodins are stylistically distinctive, yet their performances are always at the service of the music. Across the week Rob features them in string quartets by Beethoven, Borodin and Shostakovich, whose work they have always championed; in Brahms's Second Piano Quartet (with Sviatoslav Richter); and in Schnittke's Piano Quintet (with Ludmilla Berlinsky).
Beethoven
String Quartet in A major, Op.18 No.5
Borodin Quartet.
Music Played
Angela Rippon's Choice No.1

Angela Rippon's Choice No.2

Angela Rippon's Choice No.3

Music in Time: Romantic

Artist of the Week: Borodin Quartet
Musical Challenge: Mapping the Music
The answer was: Venice. The piece played was the 'Venetian Boatsong" from the Songs Without Words by Mendelssohn - Op.18 No.6 in G minor.