Main content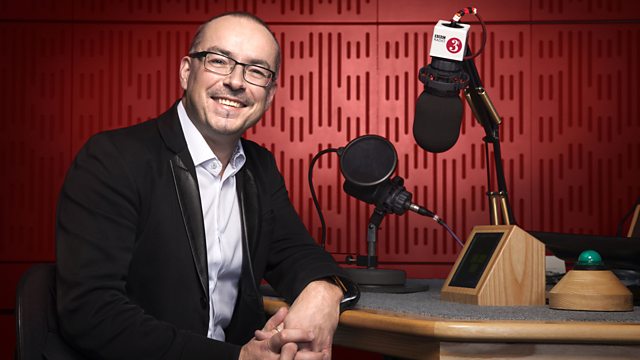 Andrew McGregor with Nicholas Kenyon and Chi-chi Nwanoku
With Andrew McGregor. Building a Library: Bach's B Minor Mass; Chi-chi Nwanoku with favourite recordings of music by black composers, including Bologne and Wallen; Disc of the Week.
Andrew McGregor and guests review the best recordings of classical music.
0930
Building a Library: Sir Nicholas Kenyon sifts through the available recordings of Bach's B minor Mass. It was one of Bach's last compositions, completed in 1749, the year before his death. He refashioned music that he had composed throughout his career. The Mass was never performed in its entirety during Bach's lifetime but is now regarded as a supreme masterpiece.
1030
Andrew is joined by Chi-chi Nwanoku to explore some favourite recordings of music by black composers that deserve to be better known including music by the champion fencer and virtuoso violinist, Chevalier de Saint-Georges; Samuel Coleridge Taylor, known as the "African Mahler"; Florence Price, the first African-American woman to be recognized as a symphonic composer; the Ghanaian drummer Obo Addy, who was one of the first native African musicians to bring the fusion of traditional folk music and Western pop music to Europe; and contemporary composers Jeffrey Mumford and Errollyn Wallen.
1145
Andrew chooses an outstanding new release as his Disc of the Week.
Last on

9am
Mendelssohn: A Midsummer Night's Dream - incidental music Op. 61 & Overture Op. 21
MENDELSSOHN: A Midsummer Night's Dream - incidental music Op. 61; A Midsummer Night's Dream Overture Op. 21
Ceri-lyn Cissone (Hermia/Fairy/Titania); Alexander Knox (Lysander/Puck), and Frankie Wakefield (Oberon/Theseus), London Symphony Orchestra, The Monteverdi Choir, Sir John Eliot Gardiner (conductor)
LSO LIVE LSO0795 (2SACD + Blu-ray)
Halvorsen & Nielsen: Violin Concertos
HALVORSEN: Violin Concerto Op. 28
NIELSEN: Violin Concerto Op. 33 (FS61)
SVENDSEN: Romance for Violin and Orchestra Op. 26
Henning Kraggerud (violin), Malmo Symphony Orchestra, Bjarte Engeset (conductor)
NAXOS 8573738 (CD)
New Era
DANZI: Concertino for clarinet, bassoon and orchestra B flat major Op. 47
MOZART: Se viver non degg'io (original version) (from Mitridate, Re di Ponto); Batti, batti, o bel Masetto (from Don Giovanni)
STAMITZ, C: Clarinet Concerto No. 7 in E flat major
STAMITZ, J: Clarinet Concerto in B flat Major
Andreas Ottensamer (clarinet), Emmanuel Pahud (flute), Kammerakademie
Potsdam, Albrecht Mayer (conductor)
DECCA 4814711 (CD)
The Routes of Slavery 1444-1888
Kasse Mady Diabate, Violet Diallo (Mali), Jordi Savall (viola da gamba and Artistic director), Hesperion XXI - La Capella Reial de Catalunya, Tembembe Ensamble Continuo
ALIA VOX AVSA9920 (2 SACDs + DVD Video)
9.30am – Building a Library
Building a Library: a weekly look at a piece of music, a comparison of the available recordings, and a recommendation.
Composer: Johann Sebastian Bach
Piece: Mass in B Minor, BWV 232
Reviewer: Nick Kenyon
Building a Library: Bach's B Minor Mass
Recommended recording: Maria Keohane (soprano), Joanne Lunn (soprano), Alex Potter (countertenor), Jan Kobow (tenor), Peter Harvey (bass), Concerto Copenhagen, Lars Ulrik Mortensen (conductor)
CPO 7778512 (2Hybrid SACD)
Other recommended recordings:
Below is a shortlist of other recordings which Nick Kenyon also liked, although we can't guarantee the availability of these discs.
Jennifer Smith (soprano), Michael Chance (counter-tenor), Nico van der Meel (tenor), Harry van der Kamp (bass), Netherlands Chamber Choir, Orchestra of the 18th Century, Members, Orchestra Of The 18th Century, Frans Bruggen (conductor)
DECCA 4800098
Emma Kirkby (soprano I), Emily Van Evera (soprano II), Panito Iconomou (alto), Rogers Covey-Crump (tenor), David Thomas (bass), Solisten Des Tolzer Knabenchors, Taverner Consort, Players, Andrew Parrott (conductor)
ERATO 5619982 (2CD)
10:25am
The Film Music of William Alwyn, Volume 4
ALWYN: Manchester Suite, from A City Speaks; Fortune Is a Woman: Prelude; Mermaid's Song (composed for Miranda); On Approval: Suite; Shake Hands with the Devil: Suite; The Ship That Died of Shame: Suite; The Black Tent: Suite; The Master of Ballantrae: Suite; They Flew Alone: Suite; Saturday Island: Prelude (reconstructions and arragements by Philip Lane)
BBC Philharmonic, Rumon Gamba (conductor)
CHANDOS CHAN10930 (CD)
Alwyn: String Quartets Nos. 10-13
ALWYN: String Quartet No. 10; String Quartet No. 11; String Quartet No. 12; String Quartet No. 13
Tippett Quartet
SOMM SOMM0165 (CD)
Leighton: Complete Organ Works
LEIGHTON: Fantasies (6) on Hymn Tunes Op. 72; Martyrs; Improvisation (In Memoriam Maurice de Sausmarez); Festival Fanfare; Et Resurrexit (Theme, Fantasy & Fugue); These Are Thy Wonders (A Song of Renewal) Op. 84; Veni creator spiritus; Prelude, Scherzo and Passacaglia Op. 41; Paean; Elegy; Ode; Fantasy on a chorale 'Es ist genug' Op. 80; Chorale Prelude on Rockingham; Fanfare; Veni Redemptor - A Celebration; Improvisation (In Memoriam Maurice de Sausmarez)
Stephen Farr (the organs of St Giles' Cathedral, Edinburgh; Symphony Hall, Birmingham; and St Paul's Church, Knightsbridge) John Butt (organ), Nicky Spence (tenor), Chloe Hanslip (violin)
RESONUS CLASSICS RES10178 (3CD)
10.45am – Chi-chi Nwanoku on music by black and ethnic minority composers
Pieces of Africa
ADDY, O: Wawshishijay for vocals, Donno, Brekete, Pretia, Gidi & Aketse "Our Beginning"
EL DIN: Escalay for tar & string quartet "Waterwheel"
HAKMOUN: Saade for voice, sintar, oud, bander & string quartet ("I'm Happy")
MARAIRE: Mai Nozipo, for ngoma, hosho & string quartet ("Mother Nozipo"); Kutambarara, for vocals, mbira, hosho, chorus & string quartet ("Spreading")
SUSO: Tilliboyo for kora & string quartet ("Sunset")
TAMUSUZA: Ekitundu Ekisooka for string quartet
VOLANS: String Quartet No. 1 - White Man Sleeps
David Harrington, Dumisani Maraire, Joan Jeanrenaud, John Sherba, Hank Dutt, Kronos Quartet
NONESUCH 7559792752 (CD)
Recorded Music of the African Diaspora, Vol. 3
PRICE: Concerto in One Movement; Symphony in E Minor
Karen Walwyn (piano), New Black Music Repertory Ensemble, Leslie B. Dunner
ALBANY TROY1295
through a stillness brightening
Miranda Cuckson (violin), Julia Bruskin (cello), Christina Jennings (flute), Lura Johnson (piano), Eliesha Nelson (viola), Scott Dixon (double bass), Winston Choi (piano), Wendy Richman (viola), Argento Chamber Ensemble, National Gallery Chamber Players, Avalon String Quartet, Michel Galante, Peter Wilson
ALBANY TROY1473/74
Errollyn Wallen: Photography
WALLEN: Cello Concerto; Hunger; Photography; In Earth
Matthew Sharp (cello), Ensemble X, Nicholas Kok, The Continuum Ensemble, Ensemble X, Philip Headlam, Tim Harries (bass guitar), Quartet X, Errollyn Wallen
NMC NMCD221 (CD)
Butterworth: The Banks of Green Willow; A Shropshire Lad/ /McGunn: The Land of the Mountain and the Flood/Coleridge-Taylor: Symphonic Variations on an African Air, Ballade in A minor &c.
Royal Liverpool Philharmonic Orchestra, Grant Llewellyn (conductor)
ARGO 4364012
Violin Concertos by Black Composers of the 18th & 19th Centuries
COLERIDGE-TAYLOR: Romance in G Op. 39 (1899)
MEUDE-MONPAS: Violin Concerto No. 4 in D Major
SAINT-GEORGES: Violin Concerto in A major Op. 5, No. 2
WHITE, JOSEPH: Violin Concerto in F-sharp minor
Rachel Barton Pine (violin), Encore Chamber Orchestra, David Hege
CEDILLE CDR90000035 (CD)
11:45am
Mieczyslaw Weinberg: Chamber Symphonies & Piano Quintet
WEINBERG: Chamber Symphony No. 3 Op. 151; Chamber Symphony No. 2 for string orchestra & timpani Op. 147; Chamber Symphony No. 1 for string orchestra Op. 145; Quintet for pianoforte, two violins, viola & cello in F minor Op. 18 (1944) (arr. Pushkarev and Kremer); Chamber Symphony No. 4 for string orchestra & clarinet Op. 153
Gidon Kremer (violin/director), Yulianna Avdeeva (piano), Mate Bekavec (clarinet), Kremerata Baltica, Mirga Gražinyte-Tyla
ECM 4814604 (2CD)
Broadcast