Main content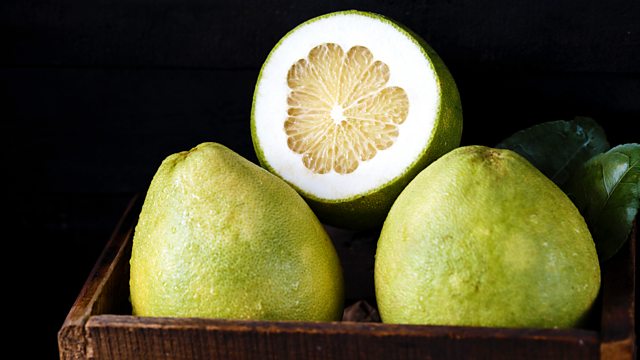 Citrus
Sheila Dillon goes on a citrus journey, discovering new flavour possibilities and hidden histories.
Sheila Dillon goes on a citrus journey, discovering vivid flavour possibilities and hidden histories.
Joining Sheila are Catherine Phipps, food writer and creator of a new book 'Citrus - Recipes that Celebrate the Sour and the Sweet' out this week, Helena Attlee author of 'The Land Where Lemons Grow' and Michael Barker, Editor of Fresh Produce Journal.
Presenter: Sheila Dillon
Producer: Rich Ward.
Last on

Two citrus recipes by Catherine Phipps featured in the programme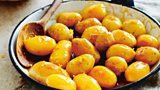 Caramelized Potatoes with Orange (pictured)
Serves 4
Ingredients:
1kg/2lb 3oz small new potatoes, scrubbed but unpeeled
100g/ ½ cup caster (superfine) sugar
75g/1 1/3 cup butter
Finely grated zest of ½ sour orange and juice of 2 sour oranges (or zest
of ½ orange and ½ lime, juice of 1 orange and 1 lime)
Sea salt
Method:
Put the potatoes in a saucepan and cover with water. Bring to the boil and add salt. Simmer until knife-tender, around 12–15 minutes. Drain and cool under running water, then peel them, if you like – you should find that the skins slip off very easily.
Melt the sugar in a large, heavy-based frying pan over a medium heat. Leave it alone, perhaps just giving it a shake every so often, until it has caramelized – it will start around the edges and eventually turn a light golden brown. Add the butter (be careful, it may splutter) and allow it to melt into the caramel, keeping the stirring to a minimum.
Whisk in the zest, juice and a pinch of salt. Add the potatoes then leave to cook, slowly, and turning regularly, until the caramel has reduced down and the potatoes are well coated.
Cheat's Preserved Lemons (or Limes, or Oranges …)
I have made this with Seville oranges, blood oranges, limes and grapefruit. All wonderful. Citrus preserved this way will keep indefinitely in the refrigerator, but will gradually lose its vibrancy of colour. To preserve it for longer, you can freeze it.
Ingredients:
4 unwaxed lemons (or any other type of citrus, see above)
1 tsp sea salt
Method:
Pare the zest from the lemons in large slices, preferably with a swivel peeler, then trim off any excess white pith. Put in a small saucepan, squeeze the pared lemons and add the juice to the pan along with the sea salt. Bring to the boil, then turn down the heat and simmer for around 10 minutes or until the zest is tender.
Allow to cool and keep in a sterilized jar in the refrigerator until needed. It will keep for months, but can be used immediately.
Recipes are from 'Citrus' by Catherine Phipps (Quadrille)
Potato photo: Mowie Kay
Credits
| Role | Contributor |
| --- | --- |
| Presenter | Sheila Dillon |
| Producer | Rich Ward |
| Interviewed Guest | Catherine Phipps |
| Interviewed Guest | Helena Attlee |
| Interviewed Guest | Michael Barker |
Broadcasts