Main content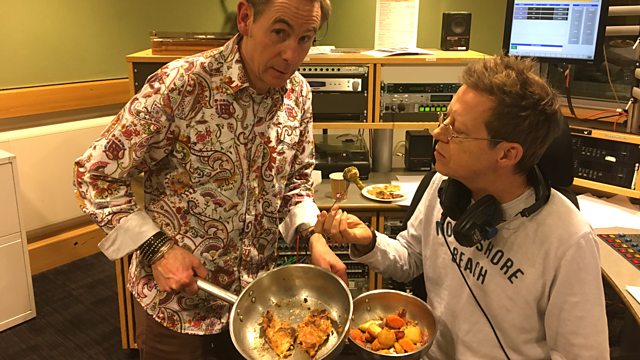 Baked smoky yoghurt chicken
Baked smoky yoghurt chicken is Nigel Barden's latest offering for another mouth-watering 'Foodie Thursday'.
Last on
Music Played
The Jackson 5

Can You Feel It

Fantastic 80's Go For It! - Various.
Parlophone.

Shaun Escoffery

Healing Me

10cc

Good Morning Judge

The Very Best Of 10cc.
Mercury.

The Beatles

Octopus's Garden

The Clash

I Fought The Law

Bon Jovi

Born Again Tomorrow

The Byrds

Mr Tambourine Man

Fifty Number Ones Of The 60's (Variou.
Global Television.

Junior Murvin

Police And Thieves

Young Gifted & Black (Various).
Trojan.

Dusty Springfield

Nothing Has Been Proved

All Woman 2 (Various Artists).
Quality Television.

The Divine Comedy

To The Rescue

(CD Single).
Divine Comedy Records.

Judas Priest

Breaking The Law

Coldplay

Yellow

Glorious (Various Artists).
Columbia.

Michael Bolton

Old Time Rock & Roll

Songs Of Cinema.
Frontiers Records.

Jim Moray

Lord Franklin

Upcetera.
NIAG Records.
10.
Baked Smoky Yoghurt Chicken
by Mina Holland from Mama – Reflections on the food that makes us (Orion)
Yoghurt also tenderises.  In the recipe below, it combines with the mustard, garlic and spice to soften and season the meat over 48hrs of marinating.  I like a quick-fix meal as much as the next person, but leaving the chicken to marinate overnight really pays off here.  You want all the flavours to marry and mature, seeping into the pores of the meat.
Serves 4
Prep time:
10mins + 24hrs marinating
Cooking time:
30-40 mins
Ingredients
400g natural yoghurt1 heaped tbsp Dijon mustard1 heaped tsp pimento
(paprika, as it's normally known)
2 large garlic cloves, peeled and minced2 tbsp extra virgin olive oilbig pinch of salt8 boneless chicken thighs, skin on
(Nigel says your butcher will do this for you if necessary)
2 onions, peeled and quartered
Method
Mix the yoghurt, mustard, pimento (paprika), garlic, olive oil and salt together in a large bowl.  Put the chicken thighs in the bowl and coat them in the mixture, making sure each thigh is covered with the pinkish sauce.  Transfer to a big, sealable freezer bag or cover the bowl with cling film and leave in the fridge to marinate overnight, or 2 nights if you have time.When you are ready to cook, preheat the oven to 200C/400F/Gas mark 6.  Arrange the chicken in a baking tray and add the onion quarters, tossing them in the residual marinade that forms a moat around the chicken thighs.Bake for 30-40 mins, until the tops and edges of the chicken are crisping up and developing a tan (the onion will be blackening in some areas – I consider this a good thing).  At this point, should you want your chicken crispier or even charred, you can heat a frying pan and fry it for a couple of mins.Once ready, slice the chicken at an angle and arrange it on a board.  Serve with a chopped salad and something to soak up the fatty, yoghurty juices, like plain white rice, or naan bread.
Broadcast