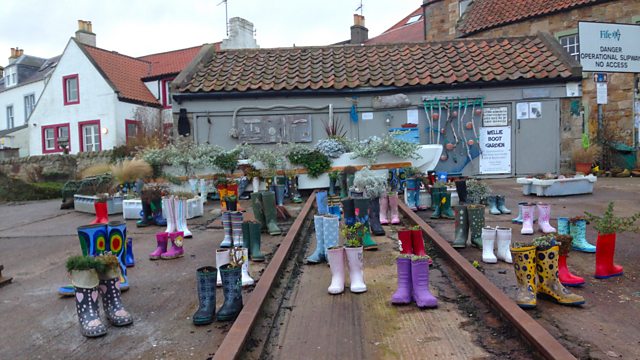 St Monans, Scotland
Eric Robson and the panel are in St Monans in Scotland. Anne Swithinbank, Bunny Guinness and Matthew Wilson answer the questions.
This week, the panel help out with suggestions for growing plants in wellington boots, and discuss when to prune roses and what to do with a non-flowering Kiwi. They also offer advice on aiding ailing Yews and debate whether or not a Giant Redwood could be grown in Scotland.
And Anne Swithinbank visits the Royal Botanic Garden in Edinburgh to admire the snowdrops.
Produced by Hannah Newton
Assistant Producer: Laurence Bassett
A Somethin' Else production for BBC Radio 4.
Last on
Fact Sheet
Q – Can you offer suggestions to which plants might do well in wellington boots?
Matthew – Sedums or Sempervivums.  You can make holes in the sides for things to grow through.  Mediterranean sub shrubs.  Herbs like thyme. 
Bunny – Rosemary.  Ferns.  Strawberry plants. 
Anne – Nasturtiums.  Or a leek in one and a parsnip in the other.
Q – I've been told I shouldn't put lawn moss in the compost. Is this right or wrong?
Bunny – It will rot down and be fine to put on beds
Matthew – As long as it is green waste it's fine
Q – I grow my own peas and keep dried ones for the next year. Is this ok?
Bunny – You can keep them for about two to three years before they weaken so good to refresh every so often.  If I'm doing pea shoots or pea leaves I would buy marrow fat peas dried from the supermarket. 
Anne – Keep going whilst you're getting good results
Q – When should I prune my roses (living in the East Neuk of Fife)?
Matthew – The plant should ideally be dormant but I've got a Rosa 'Winchester Cathedral' that just hasn't stopped flowering!  Don't leave it too late but otherwise prune whenever you can.
Bunny – Do it on a warm day so it's enjoyable
Q – We have an Actinidia deliciosa (a Kiwi plant) that's been growing for five years with foliage but no fruit or flowers. Advice please.
Anne – They can take a while to get established.  Wait and give it a higher potash fertiliser.
Q – I've got some Yew in clumps and hedges.  They've gone a bit brown and not put on much growth – what should I do?
Bunny – The browning could be a sort of transport shock. Let them get going again next year.  It could be Phytophthora but I think it unlikely.
Matthew – Use a liquid feed from April onwards to help with growth
Bunny – Water them in dry periods
Q – Am I ok not to cut back in autumn?
Matthew – Absolutely fine – there's no science to cutting back in autumn
Q – I've brought back a Giant Redwood from California. How long do I have to wait until it reaches 100ft (30.5m)?
Matthew – In the right conditions a Redwood can grow a metre a year (3.2ft)… but it has to be the right conditions!
Anne – In your conditions it could take fifty years I'm afraid.  Compost: 50/50 John Innes No2 and soilless compost and then mix that 3/1 with grit.  But you've got a fight on your hands.