Main content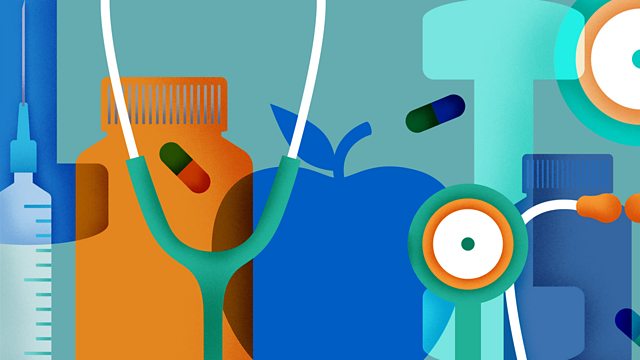 Over-the-counter prescriptions, Virtual reality in rehabilitation, Sore throats and antibiotics
Mark Porter reports on GPs prescribing over-the-counter items, how virtual reality is being used in neuro-rehabilitation, and on detecting sore throats that need antibiotics.
Prescriptions for over-the-counter items cost the NHS millions each year; in 2015 paracetamol prescriptions alone cost £87.6 million. Mark talks to Paula Cowen, medical director at Wirral CCG, one of a growing number of Clinical Commissioning Groups that are asking GPs to restrict prescribing of these items, and to Andrew Green, a GP and the prescribing policy lead at the BMA, who has reservations.
Virtual Reality is being harnessed to help people recover from serious brain injury following accidents or strokes, and in conditions like Parkinson's disease and dementia. Mark visits a clinic in Salford where they're using virtual reality in neuro-rehabilitation.
And treating sore throats with antibiotics. Sore throats are common accounting for 1.2 million GP consultations every year in England alone - and they affect many millions more who don't see their doctor. Most are viral and self-limiting, but around 1 in 10 are caused by a bacteria and may benefit from antibiotics. The tricky bit is telling the difference between the two but a new pharmacy-based test and treat initiative may help. Mark speaks to Peter Wilson, one of the authors of the pilot study, and Margaret McCartney is on hand to examine the evidence.
Last on
Programme Transcript - Inside Health
Downloaded from www.bbc.co.uk/radio4
THE ATTACHED TRANSCRIPT WAS TYPED FROM A RECORDING AND NOT COPIED FROM AN ORIGINAL SCRIPT.  BECAUSE OF THE RISK OF MISHEARING AND THE DIFFICULTY IN SOME CASES OF IDENTIFYING INDIVIDUAL SPEAKERS, THE BBC CANNOT VOUCH FOR ITS COMPLETE ACCURACY.
INSIDE HEALTH
Programme 6.
TX:  07.02.17  2100-2130
PRESENTER:  MARK PORTER
PRODUCER:  LORNA STEWART
Porter
Coming up today:  Treating sore throats – we take a closer look at the new pharmacy based initiative that helps separate people who need antibiotics from the vast majority who do not. But is it going to help or hinder the management of sore throats?
And virtual reality gaming – the latest development in neuro-rehabilitation for conditions ranging from stroke to dementia.  I try out of a new state-of-the-art machine being used to treat patients on the NHS.  And it's harder work than it sounds.
Clip
Bird trying to crash into me.  Right, okay.  It's an odd feeling because you feel a little bit unstable so the platform's just tilted down now, you're walking at the same time, you're focusing on this…
It is.
…and here comes another of those damn birds.
Porter
More on that new CAREN virtual reality system, and the neuroscience behind its use, later.
But first a question from an Inside Health listener that may have implications for us all, if not now, then soon.
Sarah from Cambridge has emailed insidehealth@bbc.co.uk to ask us to look into new cost cutting measures being introduced in some parts of the country which stop GPs prescribing treatments that are available over-the-counter – things like painkillers, head lice lotions, and treatment for thrush and athlete's foot.
Sarah
I am in receipt of ESA benefits and therefore eligible for free NHS prescriptions.  This last week I made a prescription request as usual, only to be told that the NHS no longer prescribes anti-histamines as they are available over-the-counter.  I started to explain that this was unfair and would eat into my benefits but was told not to shoot the messenger and that this was a recent nationwide thing and out of the GPs' surgery's control.  Can you find out anymore about this and if it affects other over-the-counter drugs?
Porter
Well Wirral Clinical Commissioning Group is one CCG that has recently adopted this approach – a move it hopes could save hundreds of thousands of pounds every year.
Dr Paula Cowan is a GP and Medical Director of Wirral CCG.
Cowan
All CCGs are allocated a fixed budget and we need to look at how best to spend that money.  So in the summer of 2016 we went out to public consultation of patients on Wirral and 89% of respondents supported the development of a prescribing policy which would limit prescribing over-the-counter medications.  When I talk about over-the-counter medications this is for acute self-limiting conditions, for example we looked at paracetamol and ibuprofen prescribing, we looked at treatments for athletes' foot, we looked at treatments for head lice and a variety of different minor ailments.  And when you look at the overall prescribing of products for, as I've mentioned, head lice, sore throat, ear wax, coughs and colds, that comes to a total of £541,000 – that's quite a significant amount of money which could be used in another way within the NHS to support our patients.
Porter
And I suppose the other advantage, potentially, from your point of view is that people might bypass the GP altogether, so this is not about someone who with head lice, for instance, going to the GP, them being sent to the pharmacist, you would hope, would you, that people would go direct to the pharmacist to buy their own lotions?
Cowan
Absolutely.  I think we've been talking about educating our patients for a long time but we need to do that and support patients to understand where best to have treatment for minor ailments.  And yes we need to work closely with our pharmacies and encourage patients to use the pharmacies and not necessarily have to contact the GP.
Porter
The obvious problem with this strategy is that four out of five people that we see in general practice don't pay for the prescriptions and so these medicines, if they go to their GP, are essentially free but if they go direct to the pharmacy they'll have to pay for them?
Cowan
They may be free to the individual patient but they're not free to the NHS.  But I need to stress here – I think one of the issues around this and one of the concerns that a lot of clinicians and a lot of patients have is that if a patient can't afford to buy liquid paracetamol for their child and the child would be at risk of fever etc., that decision has to be made between the clinician and the patient or the parent of that child as to whether they feel that not prescribing would be a risk to the patient.  As clinicians we have a duty of care to our patients and that trust has to be maintained.
Porter
Well listening on the line is Dr Andrew Green, who's the prescribing policy lead at the BMA and a GP.  Andrew, I know that you're broadly supportive of self-care and of people buying OTC medicines themselves but you have some concerns?
Green
We do.  I mean the opening statement from Paula could have been written by me – I agreed with every single word of it.  But that's not actually what this debate is about, we're not debating about encouraging self-care or encouraging use of community pharmacy.  This is about a very specific situation where a GP has recommended a treatment to a patient but then CCGs are trying to prevent a prescription being issued purely on the basis that it's also available over-the-counter.  And our concerns here is that it's putting GPs directly in conflict with their regulations.  And for those of us who are into that sort of thing – regulation 56 says a prescriber must order any drugs, medicines or appliances and then goes on to explain how they should do that.  The words are must and any, there is nothing in that statement which has a differential for drugs that are available over-the-counter.
Porter
So as far as you're concerned I mean although the principles behind this initiative are good professionally they're wrong?
Green
Yes legally they're wrong.  I mean we support the initiative.  In my surgery I have a big poster up saying Don't Swallow up the NHS which encourages patients to self-care.  And I have a form of words that I use that our CCG is completely happy with which goes along the lines of – Well Mrs Smith you've got hay fever, that's best treated with an antihistamine and you can get that from the chemist.  Now four out of five patients will be quite happy with that but if a patient then turns round to me and says – Could I have a prescription?  I have an obligation to provide that.  And it's at the point where CCGs go from encouraging to banning that we have the issue.
Cowan
Can I come in on that because whilst I understand what you're saying Dr Green and I agree that we have a duty of care to our patients and what we're encouraging our GPs to do is exactly what you're saying, Wirral CCG is not banning a GP from prescribing for a patient.  This is not a never situation, and this is not a banning.  This is an encouraging situation. 
Porter
Andrew?
Green
Well that's encouraging to hear but that's not what the Wirral policy says, which says Wirral CCG will not fund the prescribing of medicines and treatments that are available to buy over-the-counter.  And what we're hearing from GPs, not necessarily in the Wirral but in other parts of the country, is that the CCGs are taking a very hard line and are instructing GPs not to prescribe and they just can't do that.  And if GPs come down to having to upset their CCG or obey the regulations then they should always obey the regulations.  You know if society decides that the NHS shouldn't be prescribing these drugs that's fine, I can deal with that, but the politicians have to make the decisions and to change the regulations.  I think that, to be honest, both CCGs and GPs are being instructed by the government to do the government's dirty work and that's unacceptable.
Porter
Paula, this does put some doctors in a difficult position.  Let's assume somebody wants a head lice treatment and they say well I'd like you to prescribe it doctor and they can well afford it but they insist on the doctor prescribing it, essentially the regulations say the doctor has to prescribe it.
Cowan
Well I suppose again it comes down to that discussion between the patient and the doctor.  But if a patient is being very adamant that they cannot afford it the GP has to make that clinical decision as to whether they feel a prescription is warranted.
Porter
GPs Dr Andrew Green and Paula Cowan.  And, if Wirral CCG's new guidance results in the massive savings on its annual drug budget that it is hoping for, then expect similar changes at your surgery in the near future.
Now I have never been much a computer gamer, but even I know that virtual reality is transforming the scene as it immerses players in their make believe world. But the same technology is now being harnessed to help people recover from serious brain injury following accidents or strokes, and in those with neuro-degenerative conditions like Parkinson's disease and dementia. Michael Grey is Reader in Motor Neuroscience at the University of East Anglia.
Grey
When we think about virtual reality what it's really doing is stimulating the brain.  We can think of rehabilitation of the brain effectively as relearning.  And one of the tenets of learning we know is providing a stimulating environment.  And so that's effectively what virtual reality is doing – providing something that we wouldn't normally have.
Porter
But the brain's renowned, certainly in lay circles, for not having a particularly good repair process so how does it repair, what's actually happening?
Grey
Well I'm really glad you bring that up because I think that's a real misconception and it actually stems from work more than a hundred years ago where people were saying that the brain was really fixed and once we had some damage there wasn't really much that we could do about it.  Now within the last 25 years or so we know that's absolutely not correct and there's this whole concept we call neuroplasticity whereby the brain can actually rewire itself, it's a little bit harder when it's damaged but it can rewire itself, it can relearn.
Porter
And the latest virtual reality set up to be used this way is the Computer Assisted Rehabilitation Environment system or CAREN for short. There are currently only three CAREN systems in the UK and the Brain and Spinal Injury Centre in Salford has the only one being used for NHS patients so far.  So, to Salford we went.
Reception
Good afternoon.
Porter
Hi.
Reception
Radio 4?
Porter
Yes, come to see Sylvia.
Reception
Yeah.
Porter
Hi Sylvia.
Moss
Hi, you must be Mark?  Hi.
Porter
Sylvia Moss is a neuro-physiotherapist and one of the team using the CAREN system in Salford.
Moss
Okay, does that feel comfortable?
Porter
Well time for me to have a go I think.
Moss
It is, indeed.
Porter
And perhaps I should just describe what we're looking at.  I mean it's essentially, if you've played an arcade game, it's a room sized arcade game, we're looking at a big semi-circle in front of me, I mean the wall's – what – 10 feet high, 20 feet across or whatever and in the middle is this platform, which I presume is on hydraulics is it?
Moss
It is, it is.
Porter
And over the top's an A frame which I can connect to a harness, so that if I was unsteady and fell over, not going to come to any harm.
Moss
Yes, you're very safe.
Porter
So what do I do?
Moss
Right.  This is going to be the rope bridge…
Porter
The rope bridge okay.
Moss
When the birds come towards you on the right you will step to the left.  The treadmill will move.  Because the actual bridge goes undulating we will incorporate the platform as well to tilt.
Porter
So the platform will move underneath me as well as the treadmill on the platform moving?
Moss
It will, it will.  It'll also, because you're on a rope bridge, it swings, so you will actually incorporate some swing of the bridge.  If you feel unsteady please hold on.
Porter
Yeah okay.
Grey
VI provides that real stimulating environment that would otherwise be very difficult to achieve.  If you think of, for example, somebody who's lost the ability to walk very well, for example after a stroke, we typically put people on a treadmill and we'll sometimes even manually move the legs with each step and what people are doing on that treadmill is they're staring at a blank wall typically or out a window.  So the visual environment is not as if one were walking.  So with the virtual reality we can put someone in a very different environment, we could put them on a path, for example, and so the visual environment they get is as if they were actually walking down a path.
Porter
Right, so here we go, first step onto the bridge.  Oh yeah so I'm heading downhill a little bit now.
Moss
So there's the wind blowing.  You should be able to feel some rumbles…
Porter
Oh he's going.
Moss
Yeah he's cheeky.
Porter
Bird trying to crash into me.  Right, okay.
Grey
The other thing that we can do with this is make more motivating training.  Everybody that has gone through any rehabilitation knows that it's incredibly boring but what if we could put you in an environment that's really very motivating, we then find that the patients will continue with the rehabilitation, they'll try harder and they'll have that stimulating environment.
Porter
It's an odd feeling because you feel a little bit unstable, so the platform's just tilted down now, you're walking at the same time, you're focusing on this surround screen.  You're having to work at it aren't you?
Moss
You certainly are.
Porter
It's surprising, yeah.  Subtle but it's…
Moss
It is.
Porter
So all of this is making lots of different bits of my brain talk to each other and that's the idea.
Moss
It is.
Porter
And here comes another of those damn birds.
Moss
Do you want to slow it down and stop whenever you're ready?
Porter
Yeah all ready.
Moss
People with progressive disorders like Multiple Sclerosis and Parkinson's to people with head injuries and to the strokes and recently within the last 12 months we've actually had dementia clients using the CAREN as well.
Porter
What difference have you seen it make to your clients here?
Moss
We've actually seen a big difference really.  They all seem to improve on the balance, their walking speed and actually what they're doing – their activities of daily living as well.  I think with the ones with dementia it's actually a lot will say or their partners will it's the first time they've actually talked to somebody, that's one of the biggest things.  They've actually been able to walk into the countryside again.
Porter
Because that's the key isn't it – that people can experience something here, albeit computer animated, that they wouldn't be experiencing – I mean you can't ski down a ski slope if you've got bad Multiple Sclerosis, you won't be walking across a rope bridge Indiana Jones style if you've got dementia.
Moss
No that's very, very true yes.  They all say it's so much fun, it's so motivational and we're able to do things which perhaps we've not been able to do since the injury etc.
Ormsby
My name is Seth Ormsby.
Porter
And Seth what did you think when you first saw it?
Ormsby
I thought it was great.  But I was a little bit apprehensive.
Porter
Apprehensive yeah.  What does it enable you to do that you can't do at home?
Ormsby
I use the car thing…
Porter
I had a go on the car thing yeah.  Well it enables you to drive a car for starters which I presume you're not driving a car, so…
Ormsby
I have – I haven't had since I was about 30.
Grey
So with some injuries time is actually very, very important.  So if we take a stroke, for example, we really have a window of opportunity where the brain is changing rapidly and after that period of time we get into what we call the chronic phase where it's much more difficult to change the brain.  That's not to say that the brain is unchangeable when in the chronic period, it just takes a little bit longer and it's a little bit more difficult.
Porter
What about where the brain is degenerating in cases like dementia, where the function possibly month by month is decreasing, does neuroplasticity disappear with that as well?
Grey
No it doesn't disappear at all, it becomes harder to effect but effectively what we're trying to do in the world of dementia is stave off the negative effects of dementia.  With current technology we won't get rid of dementia but if we can delay its onset then we're doing something good I think.
Porter
Here in the suite are Peter and Ann.  Now can you tell me a little bit about what the problem was?
Peter
Yes, I've got a problem with my memory.
Porter
How did it start, can you remember?
Peter
I don't know how it started, it started some time ago.
Ann
Before August 2015 he was diagnosed with early onset dementia.  We were just getting accustomed to the fact that he might be worse or whatever, then he went and had a stroke.
Porter
Peter, you've been using this machine, what's it like?
Peter
It's hard.  It's fun up to a point.
Porter
It's quite hard work isn't it?
Peter
It's hard work on my legs and it's hard work on my eyes.
Porter
Do you think it's helping you?
Peter
Yes it does help me eyes a little bit, it makes them work and it makes me brain work because I can feel me brain rattling around saying where the heck's this thing gone I've been looking for.
Porter
Ann, do you think this has helped him using the machine?
Ann
Yes it has.  All I can see is better with having this to do, does that make sense?
Moss
We're trying to get people to come a minimum of twice a week.  Six sessions as a start but we know there's probably going to be very minimal change on that, so we're advocating 12 sessions as a minimum.
Porter
How do people get access to this machine here?
Moss
There's several ways:  they can do self-referrals, they can come through the medical sector – from the consultants at the hospital or the GPs – they can come through the voluntary sector like the strokes.
Porter
And how's it all funded?
Moss
Some projects have been funded by Salford CCG, that's been for the dementia…
Porter
Presumably it's part of a pilot study is it to see how…
Moss
It was yes, it was and that's going to be finishing at the end of February.  Some of it is self-funding and some of it's through the private…
Porter
Looking at the data that's out there how do we know that this is an effective treatment?
Moss
Lots of evidence is coming through, lots of small studies.  There's been recently a very small pilot study done with Multiple Sclerosis.  Again the results are looking very, very good, that they are seeing subtle changes by using the CAREN.  One recently done with the Parkinson's which actually has seen improvement in their walking.  And there's certainly lots coming through with stroke.
Grey
In the virtual reality world there's nothing that will be as good as the CAREN system but they are very expensive, there are only a few of them in the country and I do envisage virtual reality technology being available in the home.  So you could think of things like the oculist rift goggles that now people are using for gaming, many of us are now starting to use those in our research laboratories with rehabilitating patients.
Porter
What about frequency of treatment, is this something that has to be done often to have an effect?
Grey
Yes it is, so frequency is really very important and we're still trying to best understand in neuro-rehabilitation this concept of what dose do we do for our rehabilitation, so how long should a therapy session be, perhaps how many times per day.  We still don't really know the answers to these questions and of course there's also the economic issue and many times with rehabilitation there's only so much time we have with a therapist.
Porter
Rehabilitation therapy, if you're having physiotherapy for your muscles for instance, isn't just about the session that you have, it's about your homework, so what you do when you get home, is that the same with VR that people are encouraged to find their own stimulus in their home environment and do things that help the VR work better?
Grey
Most definitely, that repetition throughout the day is really important.
Porter
Michael Grey from the University of East Anglia, and Sylvia Moss putting me through my paces at the Brain and Spinal Injury Centre in Salford.  More details on the Inside Health page of the Radio 4 website, where you will also find details of how to get in touch.  And we'll be returning to virtual reality in a couple of weeks to see how it is being used to help amputees with phantom limb pain.
Sore throats are common accounting for 1.2 million GP consultations every year in England alone and they affect many millions more who don't see their doctor.  Most are viral and self-limiting, but around one in 10 are caused by a bacteria, typically streptococcus, and may benefit from antibiotics.
The tricky bit is telling the difference between the two.  Which is where a new pharmacy based test and treat initiative comes in.  It's a walk-in service available at high street pharmacies that uses a symptom scoring system and a swab test to decide who should have antibiotics and who shouldn't.  And it seems to be much more accurate than the current triage system used by GPs based on criteria like a high temperature, nasty looking tonsils and swollen glands.
An initial pilot of just under 400 patients suggested the Sore Throat Test and Treat initiative could have quite an impact, with NHS England claiming that if rolled out nationally it could save 800,000 GP consultations and over £30 million a year.  Really?
Peter Wilson is Professor of Microbiology at University College London and one of the authors of the pilot study.
Wilson
The problem is that even if you use one of these scoring systems there are probably still around two-thirds of those patients who do not need an antibiotic, even though they've been picked out by this system as being – are likely to be bacterial.  And that's still a lot of wasted antibiotic. 
Porter
Explain the technology behind the test and treat then, how's this working this test?
Wilson
So a patient goes into a pharmacy, in this case, they complain of a sore throat, they are then referred to a pharmacist who has been trained.  They apply the same questions as they would in a GP practice.  And if they flag up as being – this is maybe a bacterial infection they are offered a test, a throat swab, and this throat swab is very highly specific and sensitive for the Group A Strep, if that's positive then they are offered a course of penicillin or Clarithromycin, an antibiotic.
Porter
So what it's essentially doing is fine tuning the criteria that we're using already to further, one would hope, reduce and target the use of antibiotics?
Wilson
Yes, so it brings the number of people actually having antibiotics down from anything between 40-60% down to 10%.
Porter
And looking at the results of this study that was done, I mean did it work in that respect, was it accurate?
Wilson
I mean yes it did work.  Bear in mind this is only a feasibility study, so the only reason it was being done was to show that it could be done and it could be done.  So with those limitations yes it worked but it's now got to go on to much more extensive trials to see does it actually reduce the total amount of antibiotic in reality.  And that's because – because it's in a pharmacy, rather than a GP's surgery, it's probably easier for the general public to get into a pharmacy than to get an appointment with a GP.  There may be people using the service who would not otherwise have used it.  So you can't be sure that you actually don't make it more antibiotic use unless you do a controlled trial.  So that would be the next step.
Porter
Margaret McCartney's listening in our Glasgow studio.  First of all Margaret, before we discuss the trial that's been done and the claims that were made off the back of that, this technology – is that appealing to you as a clinician having something that you might be able to use to tell whether someone needed antibiotics or not?
McCartney
Well on the face of it it would seem yes because it's sold to us – this idea – that this will reduce antibiotic prescribing.  But in fact we don't know that for sure and in fact NICE don't recommend it because many people carry this Group A Strep as a commensal, it's not causing any problems, it's not causing any difficulties.  So the problem is you then are in the league where you start picking up more people who are carrying this but are not ill because of it and that's the problem – you start to over treat people who can't get a benefit from it because it wasn't that infection that was causing a problem, they were carrying that bug anyway.
Porter
Peter, you say this was a feasibility study, but some of the claims that were made off the back of it, not your claims, I hasten to add, but some of the claims that were made off the back of it were pretty substantial – reduce the number of people coming to see their doctors by hundreds of thousands, would save £30 plus million a year, that's a pretty big extrapolation from your data do you not think?
Wilson
Yeah I think you do need to be terribly careful when you're extrapolating from a small number to a national number and that's why it's really important to do a full economic analysis of a proper control trial.  And that's going to be done.  But yes I think you take it with a pinch of salt.
Porter
Margaret?
McCartney
Well in fact I think what we need to be looking at is why we're prescribing antibiotics routinely in sore throats at all.  So when you look at it you have to prescribe antibiotics to 4,000 people in order to prevent one episode of quinsy and abscess in the back of the throat, you have to treat 200 people with antibiotics in order to prevent an ear infection because of it.  So the vast majority of the time we're using antibiotics when we're not getting much advantage at all and in fact 90% resolve within seven days and the pain is only reduced by 16 hours with antibiotics.  And when we're considering the massive harms that over prescription of antibiotics do I really question why we're offering antibiotics so often.  And I'm very worried that when we use less clinical judgement about who is very seriously unwell with it and who's actually coping okay with this illness we're actually going to end up prescribing more antibiotics routinely and by rote.  So the NICE guidelines for sore throat, for example, will talk about offering people antibiotics on a delayed prescription basis, so you don't use them immediately, just in a few days if you're still feeling very unwell.  Whereas this study that was done in a high street pharmacy every single person that had a clinical score supposedly meriting antibiotics did get them.
Wilson
Just one point to pick up there though that two-thirds of the people who scored as having likely bacterial did not get antibiotics because the point of care test that was done said there was no Group A Strep there.  So it's narrowing it down by two-thirds in that group.  And also bear in mind that if a patient goes into a GP practice, and depending on which study you believe, it maybe 60% of them get an antibiotic.  So there's, at the moment, huge over prescription…
McCartney
Well I agree that there is but the problem is that these are different populations that have been looked at.  So we know that only about one in 10 people who've got a sore throat go and see their doctor and that may indicate that those people are more severely unwell.  Whereas most of the people that went for the sore throat test at the Boots Pharmacy, where these studies were done, said that they would not have gone to see their doctor had that service not been available.  Now rather than that being something to say that's great, more people are getting care, I say actually that's a bad idea because more people are being put at risk of getting antibiotics that they would not have got in the absence of that service.
Wilson
So that's why we need a randomised control trial.
Porter
Because that is the concern, isn't it Peter, that actually what you're doing is you're encouraging more people to come forward with sore throats potentially…
Wilson
Of course, yes.  And I mean it would be foolish to suggest otherwise.
Porter
Professor Peter Wilson and there are more details on that initiative on our website.
Next week it's you that sets the agenda for an hour long panel discussion on the NHS – what has to give?  Thank you for all the comments and questions that you have sent in – I'll be putting as many of them as I can to our panellists and guests.  As you can imagine, there is a quite a lot to get through.  So please do join us for what should be a rather lively debate.
ENDS
Broadcasts