Main content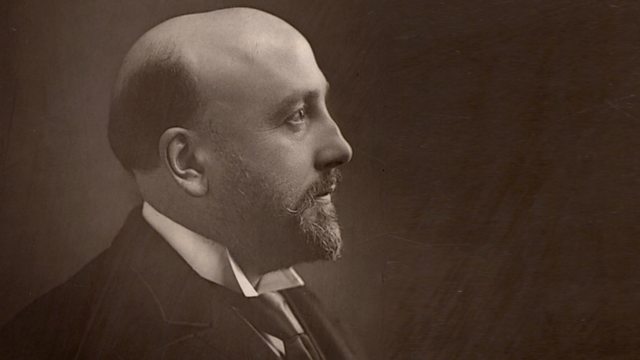 Donald Macleod focuses on Mackenzie's promotion of British music in Canada and Europe. With The Sound of the Drum; Canadian Rhapsody; The Cricket on the Hearth (Overture).
Sir Alexander Mackenzie promotes British music in Canada and Europe. Presented by Donald Macleod
Sir Alexander Mackenzie rose from humble beginnings in Edinburgh, to become not only a celebrated and international composer, but also the Principal of the Royal Academy of Music. Along with Parry and Stanford he was a significant player in the renaissance of British music, and was pivotal in establishing the Associated Board of the Royal Schools of Music. During his career commissions regularly came his way, including concertos, oratorios and operas. He eventually returned to London, after further spells in Edinburgh and Italy, where he remained for the rest of his life, composing and managing the RAM. He was honoured by Queen Victoria for his services to music, and he received the Gold Medal from the Royal Philharmonic Society. During his long career his music was premiered by the likes of Sarasate and the Carl Rosa opera company. W.S Gilbert and Lewis Carroll both approached Mackenzie with collaborative projects in mind, and as a conductor he worked with Tchaikovsky, Dvorak, Liszt, and Saint-Saëns to name only a few.
In 1903, Sir Alexander Mackenzie accepted an invitation to tour Canada, introducing British repertoire to new audiences. He travelled the country working with fourteen choirs, and orchestras. During these travels Mackenzie became interested in Canadian folksong, which became the inspiration for an orchestral work, his Canadian Rhapsody. A few years later, in 1910, after much hard work in his role as Principal, a new building was at last built for the Royal Academy of Music in London. Among the music performed at the laying of the foundation stone, was Mackenzie's partsong My Soul Would Drink Those Echoes. Mackenzie remained Principal of the RAM until the early 1920s, when he decided to retire. He was still actively composing though, including two a cappella grace settings, written in 1931. A few years later, in 1935, Sir Alexander Mackenzie died, aged 87. He'd been a pivotal figure in British music-making for many decades. His funeral took place in the church of St Marylebone, just along the road from the Royal Academy of Music, and it was followed by a memorial service held at St Paul's Cathedral.
The Sound of the Drum
Kathryn Rudge, mezzo-soprano
James Baillieu, piano
Canadian Rhapsody, Op 67
BBC Concert Orchestra
John Andrews, conductor
My Soul Would Drink Those Echoes (Four Partsongs, Op 71)
BBC Singers
Martin Fitzpatrick, conductor
Revery; Ariel (Varying Moods, Op 88)
Hiroaki Takenouchi, piano
Some hae meat and canna eat; O Thou in whom we live and move (Two Graces, Op 92)
BBC Singers
Martin Fitzpatrick, conductor
The Cricket on the Hearth, Op 62 (Overture)
BBC Scottish Symphony Orchestra
Martyn Brabbins, conductor
Producer Luke Whitlock.
More episodes
Next
You are at the last episode