Main content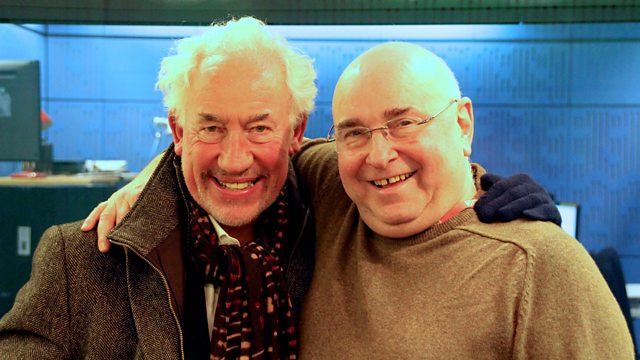 Tuesday - Rob Cowan with Simon Callow
With Rob Cowan. Including Musical challenge; Music in Time: Brumel's Earthquake Mass; Artist of the Week: Thomas Beecham, featured conducting Sibelius's Symphony No 2.
9am
Rob sets the tone and mood of the day's programme with a range of music to intrigue, surprise and entertain.
9.30am
Take part in today's musical challenge: can you remember the television show or film that featured this piece of classical music?
10am
Rob's guest is the actor, writer and director Simon Callow. Sir Laurence Olivier gave Simon his first theatre job - in the box office of the National Theatre - and after that the young Callow soon found his way onto the stage, first coming to prominence playing Mozart in Peter Shaffer's play Amadeus. He has since become one of the UK's best-loved actors, not only on the stage, but in TV series such as Chance in a Million, and films such as Four Weddings and a Funeral. Simon is often referred to as a writer who acts, having produced not only books about his own life as an actor, but also biographies of Charles Dickens, Shakespeare, Orson Welles and most recently Richard Wagner. During the week Simon discusses all this and more and chooses music by Sibelius, Grainger, Mozart and Wagner.
10.30am
Music in Time: Renaissance
Rob places Music in Time. Today, he travels back to the Renaissance period to experience music from a monumental work by the French composer Antoine Brumel: his ground-breaking 'Earthquake Mass'. It's the first mass to be written for 12 independent voices, and the effect is scintillating.
Double Take
Rob explores the nature of performance by highlighting the differences in style between two recordings of Rachmaninov's Prelude in G flat major, Op.23 No.10, played by the Brazilian pianist Yara Bernette and by the composer himself.
11am
Artist of the Week: Sir Thomas Beecham
'The Beecham Touch' is an epithet for all that is stylish, delicate, mischievous and spontaneous in conducting. Sir Thomas was the living embodiment of charm, genuine authenticity (in that he conducted from the heart as well as from the head) and a sense of theatre that could leave an audience breathless with excitement. Rob's selection of Beecham recordings ranges from Handel and Haydn to Delius and Sibelius, all of them 'first-loves' for this most charismatic of conductors.
Sibelius
Symphony No.2 in D major
BBC Symphony Orchestra
Sir Thomas Beecham (conductor).
Music Played
Simon Callow's Choice No.1

Simon Callow's Choice No.2

Music in Time: Renaissance

Double Take

Artist of the Week: Thomas Beecham
Musical Challenge: Heard on Screen
The piece played was Chopin's Nocturne in C sharp minor B49, which features in 'The Pianist' (2002)