Main content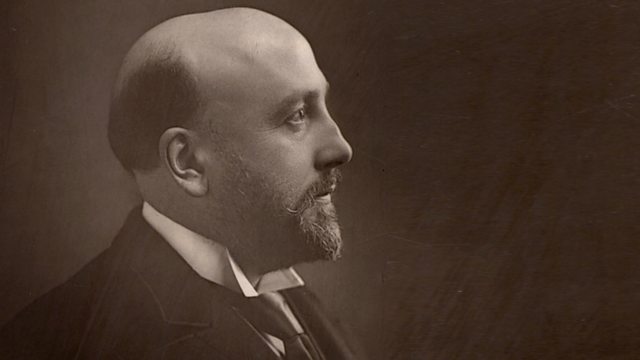 Donald Macleod focuses on Mackenzie's time in Germany, where he studied at a young age with Kapellmeister Eduard Stein, and performed violin in the Weimar Ducal orchestra.
Presented by Donald Macleod. Young Alexander Mackenzie is left by himself to study in Germany.
Sir Alexander Mackenzie rose from humble beginnings in Edinburgh, to become not only a celebrated and international composer, but also the Principal of the Royal Academy of Music. Along with Parry and Stanford he was a significant player in the renaissance of British music, and was pivotal in establishing the Associated Board of the Royal Schools of Music. During his career commissions regularly came his way, including concertos, oratorios and operas. He eventually returned to London, after further spells in Edinburgh and Italy, where he remained for the rest of his life, composing and managing the RAM. He was honoured by Queen Victoria for his services to music, and he received the Gold Medal from the Royal Philharmonic Society. During his long career his music was premiered by the likes of Sarasate and the Carl Rosa opera company. W.S Gilbert and Lewis Carroll both approached Mackenzie with collaborative projects in mind, and as a conductor he worked with Tchaikovsky, Dvorak, Liszt, and Saint-Saëns to name only a few.
Alexander Mackenzie was born in 1847 in Edinburgh, where his father performed as a violinist in the Theatre Royal. In the light of his own deteriorating health, Mackenzie senior wanted to make provision for his son's musical education and so took him to Germany, where he studied at a young age with Kappelmeister Eduard Stein, and played violin in the Weimar ducal orchestra. Aged fifteen, young Alick, as he was known, returned to Britain and took up further studies at the Royal Academy of Music, earning his keep by playing in theatre orchestras in London. He started writing music at this time and when he returned to live in Edinburgh in 1865, he was instrumental in setting up regular chamber music concerts there, along with founding a string quartet which gave the premiere of his own Quartet in G major.
Benedictus, Op 37 No 3
BBC Scottish Symphony Orchestra
Martyn Brabbins, conductor
The Bonnie Banks o'Loch Lomond
Kathryn Rudge, mezzo-soprano
James Baillieu, piano
April Weather (Spring Songs, Op 44 No 5)
Kathryn Rudge, mezzo-soprano
James Baillieu, piano
Valse sérieuse (Trois Morceaux, Op 15 No 1)
Hiroaki Takenouchi, piano
String Quartet in G
Edinburgh Quartet
Producer Luke Whitlock.
More episodes
Previous
You are at the first episode