Main content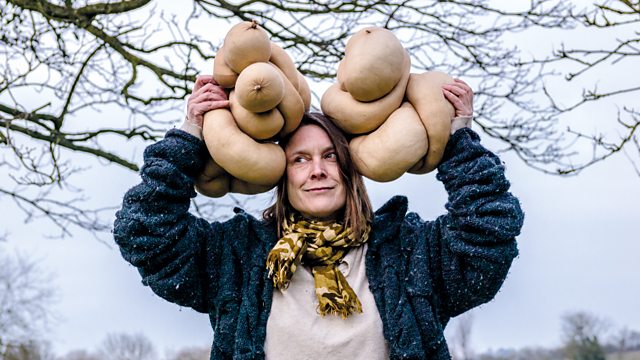 Sarah Lucas
Michael Berkeley's guest is sculptor Sarah Lucas. Her musical choices include Purcell's King Arthur, songs by Britten and Gurney, and music by her partner, Julian Simmons.
Sarah Lucas burst onto the art scene in the early 1990s, one of the wildest and most provocative of the Young British Artists. Her work was challenging, bawdy, revolutionary: her first solo show in 1992 was called "Penis Nailed to a Board". She challenged macho culture with sculptures such as "Two Fried Eggs and a Kebab" in which she constructed a naked female body - from a table, two eggs, and a kebab. Lucas makes sculptures from worn-out furniture, stuffed tights, fruit (particularly bananas), and cigarettes - she's a passionate smoker. In 2015 she represented Britain at the Venice Biennale, and the centrepiece with a massive yellow sculpture named after the footballer Maradona - part man, part maypole, with dangling breasts and a nine-foot phallus.
In Private Passions, Sarah Lucas looks back on the wild days of the 90s, and her upbringing in North London "a childhood completely without ambition". She talks about leaving school at 16, becoming pregnant, but then deciding not to keep the baby; and how that decision enabled her to know clearly what she wanted to do with her life. She reflects on how the central relationships in her life lead to artistic collaboration - with her partner, the composer Julian Simmons, and with her girlfriends, whose lower bodies she cast in plaster. And Sarah Lucas reveals that the wild London party girl is now happiest in Suffolk, living at the end of a country lane, and listening to Benjamin Britten. How seriously are we supposed to take her work? "Just because you're funny doesn't mean you can't be serious too."
Sarah Lucas's music choices include Purcell's King Arthur; songs by Benjamin Britten and Ivor Gurney; and music by her partner Julian Simmons.
Produced by Elizabeth Burke
A Loftus production for BBC Radio 3.