Main content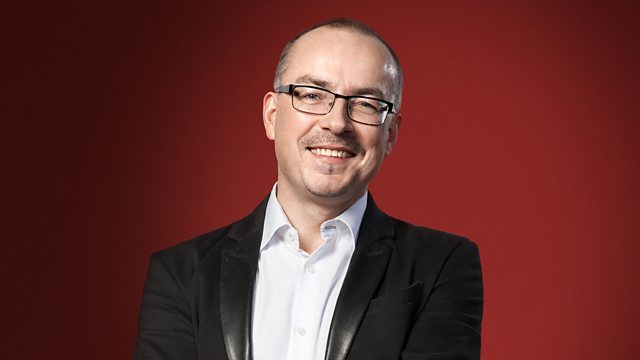 Andrew McGregor with Ben Walton and Anna Picard
With Andrew McGregor. Including Building a Library: Rossini's The Barber of Seville; Recent releases, including discs from Anne Sofie von Otter and Renee Fleming; Disc of the Week.
Andrew McGregor and guests review the best recordings of classical music.
0930
Building a Library
Ben Walton compares audio recordings of Rossini's hugely popular opera buffa The Barber of Seville, after Beaumarchais's comic play written 40 years earlier. There are so many renowned recordings, spanning over 60 years, but it's perhaps the coloratura mezzo-soprano role of Rosina which defines each one. We'll hear from Callas, Garanca, de los Angeles, Sills, Larmore to name but a few, not to mention the legendary conductors! Which will be chosen above all others as the recording for your library?
1045
Anna Picard chats to Andrew about some striking, and very contrasted, recent releases including discs from Anne Sofie von Otter and Renée Fleming with some unexpected repertoire in common.
1145
Andrew chooses an outstanding new release as his Disc of the Week.
9am
Telemann, Corelli & Bach: Chamber Music
BACH, J S: Keyboard Concerto No. 6 in F major, BWV1057
CORELLI: Concerto grosso Op. 6 No. 8 in G minor 'fatto per la notte di Natale'; Concerto grosso Op. 6 No. 4 in D major
TELEMANN: Overture (Suite) TWV 55:C3 in C major for wind, strings & b.c. 'Hamburger Ebb und Fluth' ('Wassermusik'); Concerto TWV 54:B2 in B flat major for 2 recorders, 2 oboes, strings & b.c.
Emelie Roos (recorder), Anna Paradiso (harpsichord), Dan Laurin (recorder and director)
BIS BIS2235 (Hybrid SACD)
The Piano Music of Ralph Vaughan Williams
VAUGHAN WILLIAMS: The Lake in the Mountains; Introduction and Fugue for two pianos; Fantasia on a Theme by Thomas Tallis; Hymn-tune Prelude on Song 13 by Orlando Gibbons; Fantasia on Greensleeves; A Little Piano Book; Suite of Six Short Pieces
Mark Bebbington, Rebeca Omordia (pianos)
SOMM SOMM0164 (CD)
Ligeti: Concertos
LIGETI: Cello Concerto; Chamber Concerto for 13 instruments; Melodien for orchestra; Piano Concerto
Christian Poltera (cello), Joonas Ahonen (piano), BIT20 Ensemble, Baldur Bronnimann
BIS BIS2209 (Hybrid SACD)
Rostropovich Encores
CHOPIN: Etude Op. 25 No. 7 in C sharp minor
DEBUSSY: Nocturne et Scherzo; Preludes - Book 1: No. 12, Minstrels; Clair de Lune (from Suite Bergamasque); Nocturne et Scherzo
POPPER: Dance of the Elves Op. 39
PROKOFIEV: Cinderella Op. 87: Adagio of Cinderella and the Prince; Cinderella: Waltz-Coda (transc. M. Rostropovich); The Love for Three Oranges: March
RACHMANINOV: Oriental Dance Op. 2 No. 2
RAVEL: Vocalise-etude en forme de habanera
ROSTROPOVICH: Humoresque Op. 5; Moderato
SCRIABIN: Etude Op. 8 No. 11 in B flat minor
SINDING: Suite for Violin & Orchestra Op. 10 'im alten Stil': Presto
STRAVINSKY: Le Baiser de la Fee: Pas de Deux; Chanson Russe
Alban Gerhardt (cello), Markus Becker (piano)
HYPERION CDA68136 (CD)
9.30am – Building a Library
Building a Library: a weekly look at a piece of music, a comparison of the available recordings, and a recommendation.
Composer: Giaccomo Rossini
Piece: Il barbiere di Siviglia
Reviewer: Ben Walton
Building a Library: Rossini's The Barber of Seville
Recommended recording:
Roberto Servile (Figaro), Sonia Ganassi (Rosina), Ramón Vargas (Count Almaviva), Hungarian Radio Choir; Failoni Chamber Orchestra, Budapest, Willi Humburg
NAXOS 8660027-29 (3CD)


Other recommended recordings:
Below is a shortlist of other recordings which Ben Walton also liked, although we can't guarantee the availability of these discs.
Sesto Bruscantini (Figaro), Victoria de los Angeles (Rosina), Luigi Alva (Count Almaviva), Glyndebourne Festival Chorus, Royal Philharmonic Orchestra, Vittorio Gui (conductor)
WARNER CLASSICS 5677622
Nathan Gunn (Figaro), Elina Garanča (Rosina), Lawrence Brownlee (Count Almaviva), Choir of Bavarian Radio, Munich Radio Orchestra, Miguel Gomez-Martinez (conductor)
SONY CLASSICAL 82876 80429-2
Tito Gobbi (Figaro), Maria Callas (Rosina), Luigi Alva (Count Almaviva), Philharmonia Orchestra and Chorus, Alceo Galliera (conductor)
WARNER CLASSICS 4564442 (2CD)
10.20am – Chopin recitals
Chopin: Late Works
CHOPIN: Barcarolle in F sharp major Op. 60; Mazurkas (3) Op. 59; Polonaise No. 7 in A flat major Op. 61 'Polonaise-fantaisie'; Two Nocturnes Op. 62; Mazurkas (3) Op. 63; Waltz No. 6 in D flat major Op. 64 No. 1 'Minute Waltz'; Waltz No. 7 in C sharp minor Op. 64 No. 2; Waltz No. 8 in A flat major Op. 64 No. 3; Mazurka No. 49 in F minor Op. 68 No. 4
Maurizio Pollini (piano)
DG 94796127 (CD)
Chopin: Sonata in B minor / Nocturnes / Polonaises / Mazurka
CHOPIN: Nocturne No. 17 in B major Op. 62 No. 1; Etude Op. 25 No. 5 in E minor; Etude Op. 10 No. 12 in C minor 'Revolutionary'; Ballade No. 3 in A flat major Op. 47; Polonaise No. 7 in A flat major Op. 61 'Polonaise-fantaisie'; Waltz No. 8 in A flat major Op. 64 No. 3; Polonaise No. 5 in F sharp minor Op. 44; Rondo in E flat major Op. 16; Prelude Op. 45 in C sharp minor (No. 25); Barcarolle in F sharp major Op. 60; Mazurkas (4) Op. 33; Nocturne No. 18 in E major Op. 62 No. 2; Piano Sonata No. 3 in B minor Op. 58
Charles Richard-Hamelin (piano)
FREDERICK CHOPIN INSTITUTE NIFCCD617 (2CD)
Chopin: Piano Concerto No. 1 & Mazurkas Op. 33
CHOPIN: Piano Concerto No. 1 in E minor Op. 11; Mazurkas (4) Op. 33; Etude Op. 10 No. 1 in C major; Etude Op. 10 No. 10 in A flat major; Fantasia in F minor Op. 49; Ballade No. 2 in F major Op. 38; Waltz No. 4 in F major 'Grande Valse Brillante' Op. 34 No. 3
Warsaw Philharmonic Orchestra, Jacek Kaspszyk (conductor), Seong-Jin Cho (piano)
FREDERICK CHOPIN INSTITUTE NIFCCD625 (CD)
Chopin: Piano Concerto No. 1 and Ballades
CHOPIN: Piano Concerto No. 1 in E minor Op. 11; Ballades Nos. 1-4
London Symphony Orchestra, Gianandrea Noseda (conductor), Seong-Jin Cho (piano)
DG 94795941 (CD)
Chopin: Piano Sonata No. 2 and other works
CHOPIN: Piano Sonata No. 2 in B flat minor Op. 35 'Marche funebre'; Mazurkas (4) Op. 17; Scherzo No. 1 in B minor Op. 20
Aimi Kobayashi (piano)
FREDERICK CHOPIN INSTITUTE NIFCCD626 (CD)
Chopin: Les Etats D'ame
CHOPIN: Preludes (24) Op. 28; Piano Sonata No. 2 in B flat minor Op. 35 'Marche funebre'
Julien Brocal (piano)
RUBICON RCD1001 (CD)
10.50am – Anna Picard
SMETANA: Ma Vlast
Bamberger Symphoniker, Jakub Hruša (conductor)
TUDOR TUDOR7196 (Hybrid SACD)
Martinu: Cantatas
MARTINU: Legend of the Smoke from Potato Fires; Mikes of the Mountains; The Opening of the Wells; Dandelion Romance
Pavla Vykopalova (soprano), Ludmila Hudeckova (contralto), Martin Slavik (tenor), Jiri Bruckler (baritone), Petr Svoboda (baritone), Jaromir Meduna (recitation), Ivo Kahanek (piano), Members of the Bennewitz Quartet, Prague Philharmonic Choir, Lukas Vasilek
SUPRAPHON SU41982 (CD)
Pictures of America
GRACIANE FINZI: Scenographies d'Edward Hopper
BARBER: Adagio
Arrangements of songs by Lerner, Sondheim, Bernstein, Sinatra and Thelonius Monk
Natalie Dessay (soprano), Paris Mozart Orchestra, Claire Gibault (conductor)
SONY 88985342842
Distant Light
BARBER: Knoxville: Summer of 1915 Op. 24
BJORK: Virus; Joga; All is Full of Love
HILLBORG: The Strand Settings
Renee Fleming (soprano), Royal Stockholm Philharmonic Orchestra, Sakari Oramo (conductor)
DECCA 4830415 (CD)
So Many Things
ADAMS, J: Am I in Your Light?
BJORK: Cover me
BUSH, K: Pi
COSTELLO: Speak darkly, my angel
HILLBORG: Kvall
JACOBSEN, C: For sixty cents
MEHLDAU: Love Sublime
MUHLY: So many things
SHAW, C: Cant voi l'aube
STING: Practical arrangement
WAINWRIGHT, RUFUS: Les feux d'artifice t'appellent
Anne Sofie von Otter (mezzo-soprano), Brooklyn Rider
NAIVE V5436 (CD)
11.45am – Disc of the Week
Vaughan Williams: Job & Symphony No. 9
VAUGHAN WILLIAMS: Job - A Masque for Dancing; Symphony No. 9 in E minor
Bergen Philharmonic Orchestra, Sir Andrew Davis (conductor)
CHANDOS CHSA5180 (Hybrid SACD)