Main content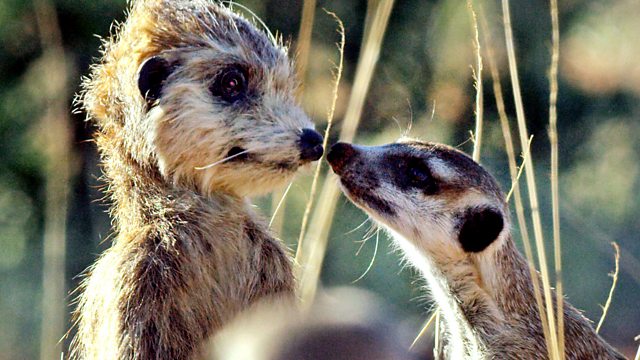 Documentary. Animatronic spy creatures go undercover to discover how friendships are a vital part of animal societies, helping them survive in a dangerous world.
The Spy Creatures are on another extraordinary mission as they discover how friendships are a vital part of animal societies. Spy Wolf Cub joins a pack of arctic wolves, where a real cub's survival depends on friendships in one of the harshest environments in the world. Spy Cub is anointed into the pack by a she-wolf that marks him with her own scent.
Spy Warthog meets some real warthogs and discovers the extraordinary relationship they have with mongoose. He even experiences the mongoose's personal grooming service as they explore every nook and cranny. Spy Hippo comes face to face with an angry hippo, before discovering their relationship below the surface with some very fishy skin clinicians. Spy Cobra meets the real meerkat mob and is quickly dispatched with a show of unified force.
A walking and swimming Spy Crocodile finds the nest site of a real crocodile and reveals the extraordinary relationship they have with the tiny dikkop bird, who will not only stand up to the crocodile but joins them in a neighbourhood watch scheme against marauding monitor lizards. Spy Rattlesnake helps uncover the mysteries of prairie dogs - who have the most extraordinary and complex language in the animal world. In the colony, Spy Prairie Dog finds the cutest owls on earth and we learn how they rely upon each other for protection against coyotes.
Chimpanzees take a bath in a jungle pool and show us that their social life is as sophisticated as our own. In the extraordinary climax, the chimps show how human organisation may have begun, as they spectacularly unite to hunt baboons.
Clips

Credits
| Role | Contributor |
| --- | --- |
| Narrator | David Tennant |
| Producer | John Downer |
| Director | John Downer |
| Series Producer | Philip Dalton |
| Series Producer | Rob Pilley |
| Series Producer | Matthew Gordon |
| Production Company | John Downer Productions Ltd |