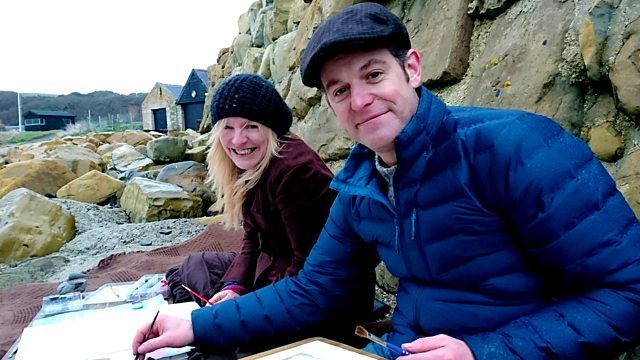 Jurassic Coast
Countryfile is on the Jurassic Coast, where Matt Baker meets the man who's been digging for fossils for more than thirty years, with extraordinary results. Ellie Harrison visits the family who've been photographing their farming life for generations, with the captivating images making up an important part of promoting their business.
In the third part of a series of special films from New Zealand, Adam Henson helps with a sheep muster on an impressive scale. Plus comedian Susan Calman voyages across the Firth of Clyde to the beautiful Isle of Arran, in search of an elusive creature.
Last on
Etches Collection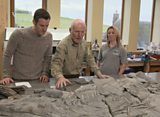 The Jurassic Coast has hidden its secrets for millions of years in the rock as all the way from Exmouth to Studland. Matt Baker is in Kimmeridge in Dorset, on the eastern end of the Jurassic Coast where he visits The Etches Collection. It houses some incredible specimens from the Kimmeridgean geological era. Matt meets the man behind it, from plumber, Steve Etches. He shows Matt some of his greatest finds and introduces his daughter Carla Crook who like her Dad has been fossil hunting almost all of her life.
The Hole family farm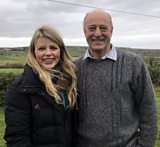 Ellie Harrison is on the Isle of Purbeck in Dorset where she meets the Holes, a third generation farming family. John Hole, the eldest son introduces Ellie to his father, Guy who originally hails from New Zealand and she learns how he came to the UK. Over the years the family have captured their farming lives through a series of photographs and slides and John shows Ellie a selection of their collection which as well as being a lovely collection for the family is a real insight into farming through the ages.
Livestock rustling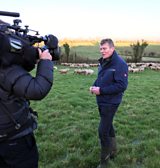 For as long as humans have farmed, livestock rustlers have stolen their animals. Tom Heap looks into this ancient crime and discovers it is much more common than you might expect, with thieves costing the industry £20 million in just the last 4 years. Tom meets John Vigar who lost 220 sheep one night last summer and learns how much more seriously police forces across the country are taking this crime as they fight back against the livestock rustlers.
Susan Calman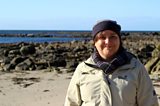 In this week's my Countryside we join comedian Susan Calman as she journeys across the Firth of Clyde to the beautiful Isle of Arran. It's place she's visited with her family for the past fifteen years. We take a trip down memory lane and hear all about what this place means to Susan. With the island boasting a huge array of wildlife, we go in search of an elusive creature that after all her years visiting Susan has never managed to see… could this be her chance? 
From farm to yarn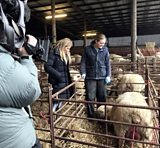 Ellie is with the third generation farming family, the Holes, on the Isle of Purbeck, and finding out how they have diversified in unexpected ways. Through the use of photography and social media they have created a thriving wool trade with customers all over the world.  Sue Hole now heads up the business and she introduces Ellie to knitwear designer Sarah Hazel. Over in the lambing shed Ellie meets the youngest of the Holes, Lizzie, who started helping with lambing when she was just four.  Lizzie has won a scholarship through the National Federation of Young Farmers to spend three months working in New Zealand, returning to where her grandfather started out. 
New Zealand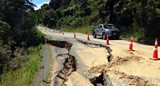 Adam continues his New Zealand journey, but his plans have had to change. The day he arrived an earthquake devastated parts of the South Island. It caused mass destruction to the infrastructure, something Adam gets to see for himself. He also visits a farm near Havelock in the Marlborough region and helps out with the sheep muster. Adam is keen to discover how they can produce lamb cheaper than in the UK. He also finds out how they manage to keep their farmland looking so lush and green. 
Squink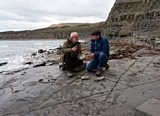 Matt Baker is on the Jurassic Coast and meets with geologist Paddy Howe who has some fossils with a special hidden surprise, an ink sac belonging to a phragmoteuthid. These creatures were somewhere between a squid and a cuttlefish and lived approximately 200 million years ago. Paddy's wife Rikey Austin is an artist who uses this precious fossilised squid ink in a rather special way, she powders it up and recreates the ink using it to create beautiful images of fossilised creatures. Rikey shows Matt how she uses this incredibly rare ink and he is lucky enough to have a go.  
Credits
| Role | Contributor |
| --- | --- |
| Presenter | Matt Baker |
| Presenter | Ellie Harrison |
| Presenter | Tom Heap |
| Presenter | Adam Henson |
| Participant | Susan Calman |
| Production Manager | Susan Aartse-Tuyn |
| Series Producer | Joanna Brame |
| Executive Producer | William Lyons |