Main content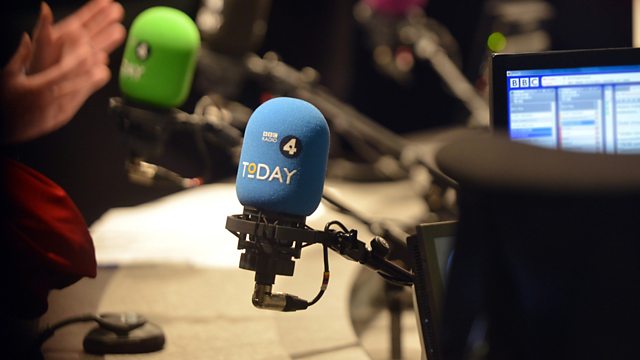 03/02/2017
Morning news and current affairs. Including Yesterday in Parliament, Sports Desk, Weather and Thought for the Day.
Last on

Today's Running Order
0650
One of the key points set out in the Government's White Paper for exiting the EU is about borders. It says 'the UK will seek to maintain the soft border between Northern Ireland and the Republic of Ireland by protecting the Common Travel Area, which was set up in 1923, long before the EU'. Michael Lux is a former customs trade lawyer and is a trade and customs advisor.

0655
The boss of Butlin's is urging the government to cut VAT in the tourism sector during school holidays. Dermot King is the managing director of Butlin's and chairman of the Cut Tourism VAT campaign.

0710
The company behind Snapchat, a teen-oriented social network famous for its quickly disappearing messages, has filed for what could be one of the largest tech float in years. Steven Bartlett is the CEO of the Social Chain, they claim it is Europe's largest social media marketing agency.
0715
Today 27 EU heads of state & government will meet in Malta to reflect on what the EU will look like post-Brexit. Kevin Connolly is our European correspondent.
0720
Former chancellor George Osborne and Lord Jim O'Neill launch the first report from the Northern Powerhouse Partnership. Lord O'Neill is a UK economist.
0725
A deal to end part of the industrial action, which has paralysed services for months and caused travel chaos for commuters on Southern Rail, has been reached. Steve Hedley is the senior assistant general secretary at the RMT.
0730
The government will set out new plans to build more houses in England in a White Paper next week. Ian Mulheirn is the director of consulting at Oxford Economics and former economic adviser at the treasury.

0740
In one area of Bristol this weekend residents are holding an event called "Window Wanderland". Local residents pull back their curtains and put on a show, turning their front rooms into mini galleries, museums and concert halls. Jon Kay is the BBC's reporter.

0750
A skills shortage and "chaotic" handling of personal data breaches are undermining confidence in the government's ability to protect the UK from cyber-attacks. Meg Hillier is an MP and chair of the public accounts committee, Brian Lord is the former deputy director of Intelligence and Cyber Operations at GCHQ and is managing director of PGI Cyber.
0810
Today 27 EU heads of state & government will meet in Malta to reflect on what the EU will look like post-Brexit. Margot Wallstrom is deputy prime minister and foreign minister of Sweden. John Pienaar is the BBC's deputy political editor.

0820
Gene editing is the process of altering DNA sequences in living cells. The theory is that it could be used to stop genetic diseases passing from one generation to the next. Kiruna Stamell is a stage and screen actor with dwarfism. She's arguing against gene editing in a Royal Society of Medicine debate today. Johnjoe McFadden is professor of molecular genetics at the University of Surrey.
0830
Cases brought by a disgraced lawyer against Iraq War veterans are to be reviewed after he was struck off for misconduct and dishonesty. Hilary Meredith is the lawyer representing ongoing IHAT (Iraq Historic Allegations Team) cases soldier.
0835
Tadcaster Bridge, which was washed away by floodwater in December 2015, should be back in action today. Jayne McCubbin is the BBC's Breakfast TV reporter.
0840
A dress believed to have been worn by Queen Charlotte is on display for the first time at a new exhibition on Lace at the Fashion Museum. Elly Summers is the exhibition curator at the Fashion Museum in Bath.

0850
The White House announced last night that the Australian ambassador to the United States had a "productive meeting" with Donald Trump's chief of staff and top strategist. It follows a rather acrimonious phone call on Wednesday night that ended with President Trump reportedly hanging up on the Australian Prime Minister, Malcolm Turnbull. It leads to a lot of questions about phone etiquette. Neville Wilshire runs a call centre in Swansea that featured in the BBC Three programme The Call Centre and Daisy Buchanan is the guardian journalist.

All subject to change.
Broadcasts