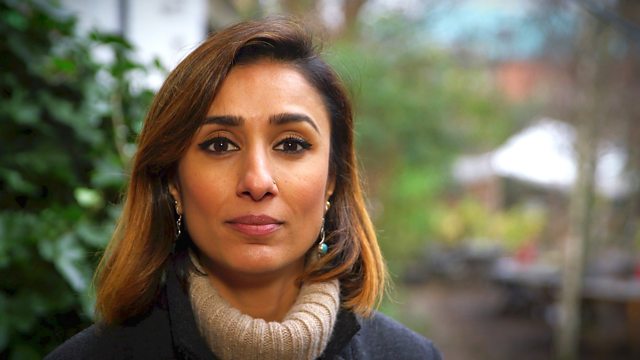 ECPAT UK
An appeal on behalf of ECPAT UK, a charity that campaigns against child trafficking and helps children who have been trafficked to recover from their experiences.
Anita Rani presents an appeal on behalf of ECPAT UK, a charity that campaigns against child trafficking and helps children who have been trafficked to recover from their traumatic experiences.
Nearly a thousand children are known to be trafficked into Britain every year. Some are forced into cannabis cultivation, sexual exploitation or made to work as domestic slaves. Anita hears the distressing stories of Lisa and Sophie, who were both young girls when they were forced into domestic servitude in the UK.
With the help of ECPAT's group sessions, they and other young people are rebuilding their lives and making big plans for the future.
Anita Rani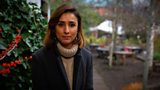 Anita Rani's work as one of the BBC's most versatile and intrepid presenters has taken her to wildly contrasting locations: from a refugee camp in Jordan to the streets of downtown Manhattan; from the shiny floors of Strictly Come Dancing to the railway carriages of Mumbai. Closer to home, she's appalled to find out about the level of human trafficking and modern slavery in the UK, which is why she wanted to present the BBC Lifeline appeal on behalf of ECPAT UK. 
Anita says: "It's hard to imagine just how lonely and damaging the experiences of being trafficked are for children, but there is something you can do, support ECPAT UK"  
While filming this Lifeline appeal, Anita was able to meet some of the young people from ECPAT UK's groups. The group, who are filmed anonymously in the appeal, met with Anita to share some of the ways that ECPAT UK has improved their lives. "I could see the transformation in their eyes," remembers Anita. 
ECPAT UK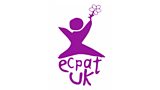 Child trafficking seems like it should be an overseas problem, but it's happening right here in the UK, and it's getting worse.
It is believed that 3,000 trafficked children are living in the UK. They are exploited in domestic servitude, forced criminality (such as cannabis cultivation), and sexual exploitation. Victims often endure years of abuse by their traffickers, who control children through threats, violence and debt bondage. Alone in the UK and often unable to speak English, victims are isolated and vulnerable. Even after victims escape, their needs are not always understood by the authorities, and children may end up being prosecuted for crimes they were forced to commit, or placed in adult accommodation where they are at risk from further abuse.
ECPAT UK campaigns to protect children from trafficking and transnational sexual abuse. Last year we supported the cases of nearly 50 children and trained more than 1700 professionals to be able to identify and support child victims of trafficking. Ten years of campaigning ensured that the rights of child victims of trafficking are now protected in the Modern Slavery Act 2015.
Unfortunately, more and more children are trafficked to the UK each year. We're a relatively small charity, and through we punch way above our weight, we need your help to prevent child trafficking and protect victims.
Lisa
"Lisa" is 23. Today she's a young mum who loves cooking for her children. She was born in Nigeria and was brought up by her parents until she was 13. One day a local woman offered to send Lisa to London, to work for her daughter and get an education. It sounded promising: "I had the opportunity to go to school myself because I couldn't know how to read or write. I was so excited." 
But from the moment she arrived, Lisa realised she had been badly misled. She spent all her waking hours cleaning and serving the woman's family. There was no chance to go to school. And aged 13, completely alone in this country, she was effectively a slave. Lisa had to wake up at 5 o'clock and start cleaning the house. "She made it very hard for me. She said that she spent a lot of money to get me over here. That if I'm not doing my job properly, she would do anything to hurt me. She beat, she pulled my hair. She kicked me. She make me sleep in the cold. She said, 'your parents are not here. Who is going to come to look for you? Nobody!'"
Lisa fled, empty-handed, into the unknown. "I was just walking down the street, and I was not wearing any shoes." Now Lisa is part of ECPAT UK's group where she is safe. The other members of the group have been through a similar situation. ECPAT UK are campaigning for the rights of young women like Lisa across the country, and helping them to move on with their lives.
Sophie
"Sophie", 24, was brought to London when she was only 12 by a family friend and immediately forced to do domestic tasks in a stranger's home.
She says, "When my mum's friend went back to Nigeria,things became worse - me doing more. Like literally tidying up the whole house. If I made the bed nice and tidy, she'd come give me a slap and say 'there's some bumps, you need to smarten up the bed'. The part I hate to talk about the most is being introduced to different men coming to the house".
After several months, Sophie could take no more of the abuse, and ended up alone on the unfamiliar streets of London.  "I was roaming about.  I was sleeping on the streets for 8-9 months, jumping on buses, just to keep warm really. I had nowhere to go."
Finally Sophie was taken in by a fellow Nigerian. And then it was thanks to ECPAT UK that she managed to make plans for her future and start at college. She is hugely grateful for the support that ECPAT UK's groups have brought to her. "Basically because we've all been through the same situation, it gives you that little bit of relief to say ok you're not alone, and you didn't go through all that all by yourself."
Credits
| Role | Contributor |
| --- | --- |
| Presenter | Anita Rani |
| Producer | Fiona Cushley |
| Director | Fiona Cushley |